Microsoft Is Getting In-Your-Face About Windows 10 Privacy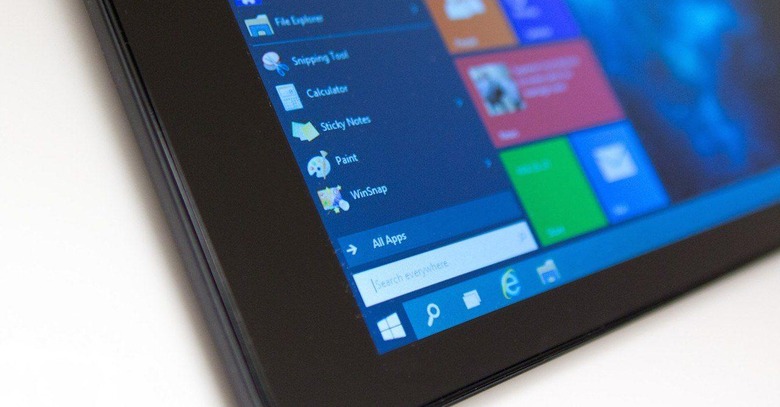 Microsoft is pretty darn keen for you to be on the latest version of Windows, to the point that it now plans to pester users to install Windows 10 Creators Update. The strong-arm tactics will kick off this week, with Microsoft pinging PC owners who are yet to upgrade to the most recent version with a privacy settings review. For a while you'll be able to avoid it, Microsoft says, but not forever.
Indeed, you'll be able to postpone completing the review up to five times. Eventually Microsoft will assume you want to keep whatever settings you currently have, though you'll need to confirm that one final time. The new privacy settings system was launched earlier this year as part of the software giant's attempt to better communicate – and offer clearer control over – things like location sharing, relevant advertising, and what personalization Cortana, the Microsoft assistant, could do based on individual information.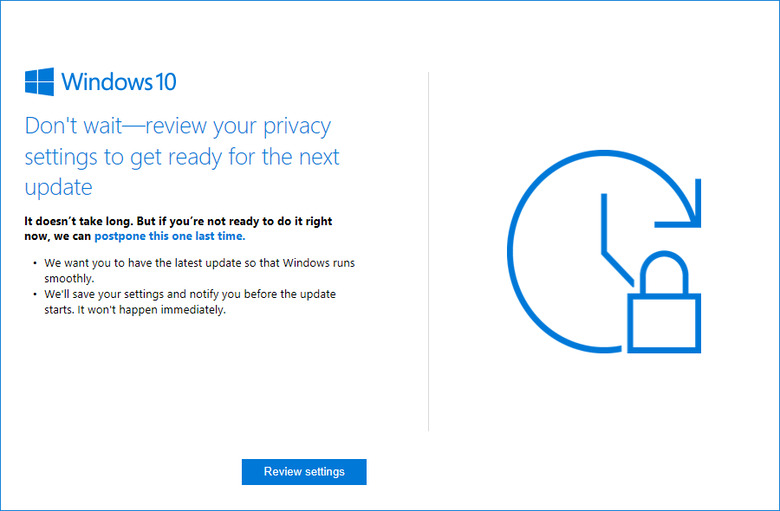 Microsoft initially opted to show that dialog as part of the Windows Updater process, when users were installing the Windows 10 Creators Update itself. Now, however, it'll be pushed out as a reminder in its own right. "It will only take a few moments for what we believe provides you with the best balance between privacy, security, and control."
What's important to note is that completing the privacy review won't actually trigger the Creators Update itself. That will still be down to individual users to install, though Microsoft is unsurprisingly keen to get them started.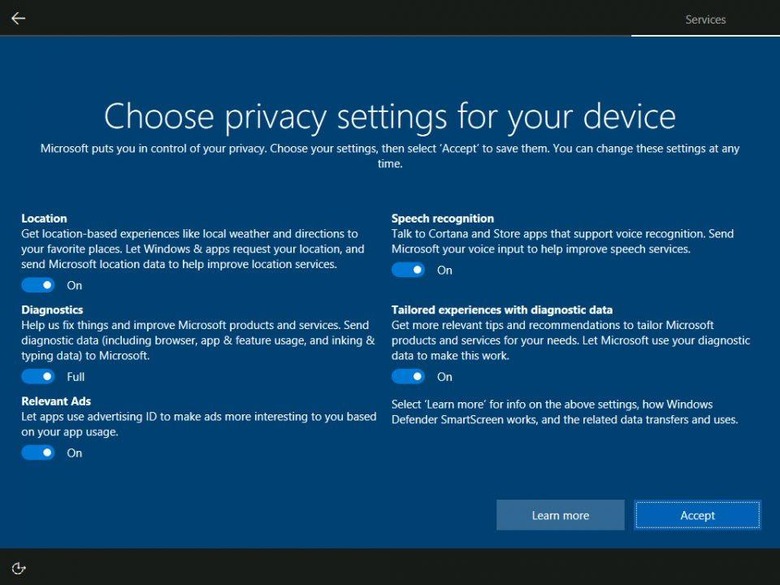 With that in mind, it's pointing out that the first version of Windows 10 is now at "end-of-service". "While you can continue to use this version and your computer will still work," Microsoft points out, "you will no longer receive the monthly quality updates that contain protection from the latest security threats." Windows 10 version 1507, still in use by many, passed out from under the umbrella of Microsoft's security and quality updates on May 9, 2017.
Keeping up to date on what software you're running has become a topical point of advice over the past few months. Widespread malware infections like the so-called "ransomware" WannaCry have taken advantage of tens of thousands of unpatched PCs, with users discovering that their machines have been locked down and that their files are only accessible if they pay a fee. Some goes further still, wiping user data altogether.
NOW READ: What you need to know about ransomware
Indeed, the risk of such exploits has prompted Microsoft to make the unusual decision to include Windows XP – itself long out of the period that the company promises security support – in a recent Update Tuesday. The company warned, however, that users shouldn't see this as an excuse to keep using old software, and that those with legacy PCs couldn't count on such updates in future to keep them secure.
MORE Microsoft