Microsoft eyeing Xbox LIVE gaming on iOS and Android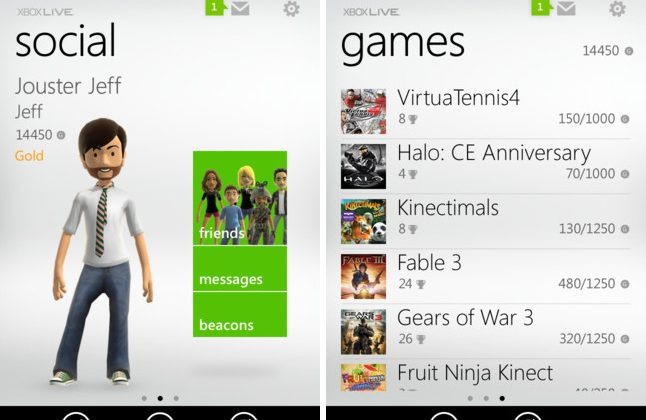 Microsoft is looking to extend Xbox LIVE to iOS and potentially Android and other platforms, according to a new job listing at the company, extending the company's gaming reach beyond its current Windows Phone focus. The posting, spotted by LiveSide, calls for a software development engineer to "define, design and implement Xbox LIVE mobile experiences on Windows Phone, iOS and other platforms" with the potential for location-based gaming, social networking-enabled titles and more.
"Xbox LIVE Mobile team is looking for a passionate and experienced developer to join us brining [sic] Xbox LIVE entertainment experiences to various mobile platforms. As the team inside IEB (Interactive Entertainment Business) dedicated to mobile experiences, we work closely with console software team and Xbox LIVE services team to bring the latest and greatest gaming and entertainment experience to mobile platforms including Windows Phone, iOS and other mobile platforms. Combining Xbox LIVE experiences together with mobile devices has enabled many new opportunities and interesting user scenarios such as location based gaming and social networking, avatar with presence, etc. As a software development engineer on the team, you will have the opportunity to help define and design the experiences for the project, you will get to work with a team of energetic and talented developers, and you will have the luxury to work with all sorts of mobile devices to create the official Xbox LIVE mobile experiences." Microsoft job description
Although until now Xbox LIVE and the Xbox gaming experience has concentrated on Windows Phone, where Microsoft has positioned the smartphone OS' integration as a differentiator from rival platforms, the company has dabbled in games on other devices. Last month, Microsoft released a version of its Kinectimals companion game for iPhone and iPad, while earlier this month the company's Microsoft Studios gaming division inked a deal with a casual game developer known for its iOS and Facebook games.
Meanwhile, a My Xbox LIVE app for iOS was also released in December, allowing iPhone and iPad users to IM with their LIVE contacts, tweak their avatar and call up a list of recent achievements. However no actual gameplay is supported, and the app is reminiscent of the fledgling support the first iteration of Windows Phone had for Xbox services.
That, however, may well be changing in the coming months, as Microsoft apparently broadens its approach to mobile gaming. Of course, there's also Windows 8 tablets to consider, something else Microsoft is believed to be looking to flesh out with gaming options, and the person selected for this new role might end up working on better integrating Xbox LIVE into Windows-proper.
[via Business Insider]