The Microsoft ebooks store you forgot existed is shutting down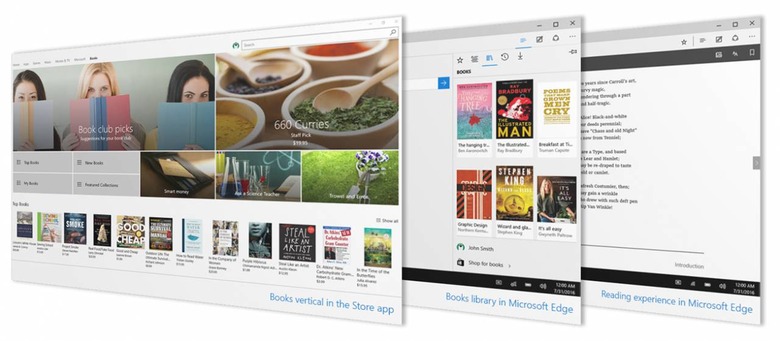 Microsoft is shutting down its ebook store, a move that may frustrate a few users but probably leave many more people surprised that the books category existed in the first place. The software giant warned its ebook users today that, not only would the virtual store be closing, in a few months time they wouldn't be able to access any books they'd purchased.
The ebook store launched as part of the April 2017 Windows 10 Creators Update. Titles purchased from the ebook category were gathered together in the Books hub in the Edge browser, rather than in a standalone ereader app. Edge already supported PDF and EPUB files.
Exactly how popular the service was, however, Microsoft never commented on. Judging by the fact that it's closing the store down, though, it seems the answer to that question is "not very popular at all." However, Microsoft is at least handling the closure in a fairly level-headed way.
"Starting April 2, 2019, the books category in Microsoft Store will be closing," the company confirms in its support pages. "Unfortunately, this means that starting July 2019 your ebooks will no longer be available to read, but you'll get a full refund for all book purchases."
As of today, there's no way to buy, rent, or pre-order ebooks from the store. Microsoft Edge will continue to offer support for reading titles from an existing library, but only until early July 2019. After that point, the catalog will disappear completely.
Pre-orders already placed for ebooks expected to deliver after today, meanwhile, will be cancelled automatically. "We recommend you pre-order at another digital book store," Microsoft suggests.
Indeed, the whole strategy for cheering up disappointed users appears to be "send them to a rival ebooks platform," complete with some money to spend. As of early July, anybody who bought an ebook through the service will automatically get a refund. It'll be made to the original payment method, unless that is no longer on-file with the user's Microsoft account, or has expired.
In that case – or if the book was bought with a gift card or other credit – Microsoft will give the refund as a Microsoft Store credit. As of the refunds being made, the books themselves will automatically disappear.
The most frustrating aspect of how all this is being handled is likely to be how in-book notes are dealt with. Unfortunately there's no apparent way to export those annotations. Instead, Microsoft will assuage the pain of losing them with some extra money.
"Mark-ups and annotations made in books acquired from Microsoft Store will be available until early July 2019 when your books are removed from Microsoft Edge," the company warns. "If you have made mark-ups or annotations in any of your acquired books prior to April 2, 2019, you'll receive an additional $25 credit to your Microsoft account at the same time refunds are processed."