Microsoft confirm XP extension for 'nettop' budget desktops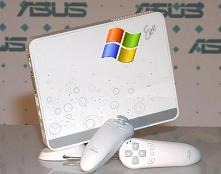 Microsoft has confirmed that it recognises a good way to spin money from old rope, with the announcement that now low-cost desktop PCs will be able to share in the retro Windows XP goodness. With the last-gen OS' lifespan already extended by virtue of Vista's bloaty plumpness being too much for budget ultraportables like the ASUS Eee and its numerous rivals, Microsoft are now working with in excess of 20 OEMs (partial list after the cut) to "address customer demand" for software that won't slow their cheap & cheerful computers down to molasses-like speeds. XP will continue to be an option on machines such as the Eee Box E202 and the MSI Wind PC.
The software giant has thrown another name into the nomenclature soup, suggesting "nettop" as the collective noun for "ultralow-cost desktop PCs". Although the press release is cagey about referring specifically to XP, the term "worldwide extension of the availability of Windows" certainly indicates this is the OS that they're talking about. It will come as a blow to Linux aficionados who thought that the unsuitability of Vista for low-power devices would force users to consider the open-source OS; however the cheaper "nettops" will likely always use Linux.
Microsoft's OEM partners:
Acer Inc.
ASUSTek Computer Inc.
BenQ Corp.
Dell Inc.
First International Computer Inc.
Gigabyte Technology Co. Ltd.
HP
Inventec Corp.
Lenovo
Medion AG
Micro-Star International Co.
Positivo Informatica
Pegatron Corp.
Quanta Computer Inc.
Wistron Corp