Microsoft Build 2012 sells-out in an hour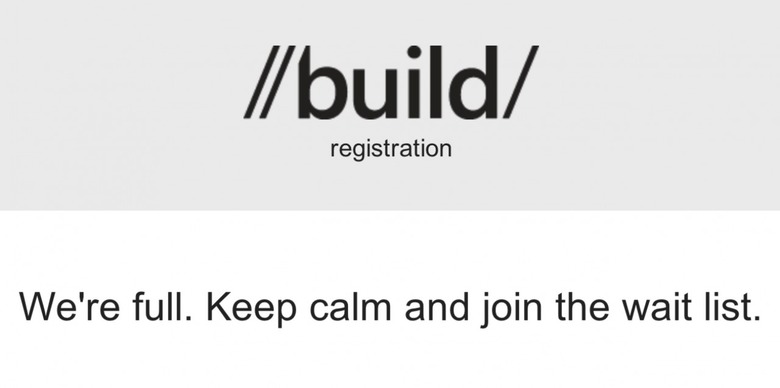 Tickets for the Build 2012 developer conference have already sold out, roughly an hour after Microsoft put them on sale. "We're full" the message on the Build registration site now reads, advising would-be attendees to "Keep calm and join the wait list." It's unclear exactly how many tickets Microsoft had to offer, though waiting for a drop-out now seems the only way to get on the guest-list.
That's despite attendance at the developer event being none too cheap. Early-bird tickets were priced at $1,595 apiece, and the 500 available sold out in minutes. Full-price tickets were $2,095 each, and took around 70 minutes to go. Microsoft also offered 100 $995 academic tickets, which required pre-approval.
The speedy sell-out is just the latest high-profile developer event to fill up in short order. Registration for Apple's WWDC has grown more frantic with each passing year, forcing the company to block ticket resales in 2012, while Google I/O has shown similar demand among Android developers.
Part of the allure is undoubtedly the potential for freebies and swag for attendees. Last year, developers at Build 2011 left with a free Samsung tablet for them to get started coding Windows 8 applications with, and with Microsoft Surface flying the own-brand flag for the OS, we wouldn't be surprised to see the Windows RT slate in the 2012 goody-bags.
SlashGear will be covering the Build 2012 keynote and bringing you all the news as it's announced, so don't fret too much if you missed out on tickets.
[Thanks @stroughtonsmith!]