Messages for OS X beta available now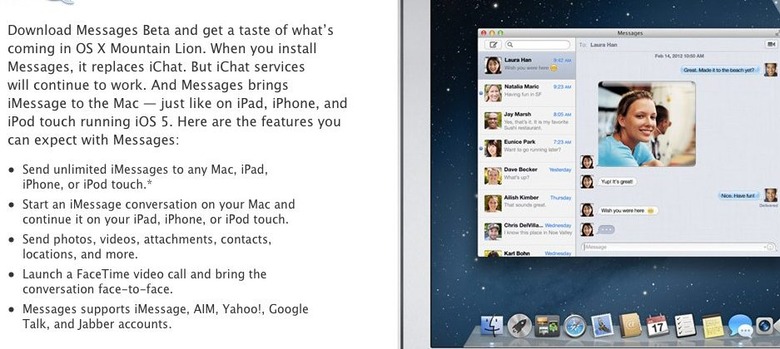 Apple has kept most of the OS X Mountain Lion fun to itself, developers, oh and us for the moment, but Lion users can try out one of the most interesting elements, the new Messages app, today. A free download for OS X Lion, Messages replaces iChat and adds support for the text, photo and video instant messaging that iOS 5 users have been enjoying for some time now.
Messages keeps the same AIM, Yahoo!, Google Talk and Jabber integration as iChat offered before, but now you can also communicate with iMessage mobile users on their iPad, iPhone or iPod touch. You can also initiate FaceTime video calls through the app itself, as well as send files up to 100MB in size.
As you'd expect, you can switch between iOS and Mac clients at will, and pick up where your conversation left off, and by the time Mountain Lion arrives this summer the sign-up process for an iMessage/Message-compatible account will be streamlined into the initial setup process.
We're seeing some hiccups with the Messages Beta site as it suffers under the attack of thousands of eager would-be users, but keep trying and you should be able to download. For all the OS X Mountain Lion details, check out our full preview.