Mercedes-Benz G63 AMG 6x6 Is A Luxury 6-Wheel Drive Beast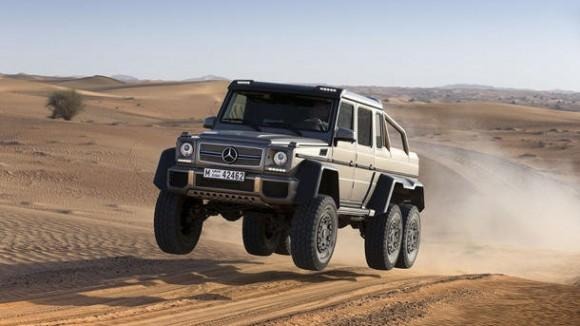 Mercedes-Benz has unveiled its G63 AMG 6x6, a beastly luxury SUV with an insane 536-horsepower and six 37-inch wheels. The vehicle is modeled after the 6-wheel drive G320 CDI, an Australian army vehicle that has been in use for the past couple years. Unlike a military vehicle, however, the G63 AMG 6x6 features all the trimmings you'd expect in a six-figure SUV, with a cabin that can hold four and a curb weight of 8,322 pounds.
The G63 AMG 6x6 will only be produced in a limited quantity, something that isn't surprising considering that the vehicle will only be out-priced by Mercedes-Benz' SLS Electric Drive, which costs $457,000. No price tag has been given for the SUV, however, although it was noted that the car will go on sale in October of this year.
You can see the machine in action in the video above. The SUV features five differential locks, a tire-control system, and low-range gearing, according to AutoWeek. The 536-horsepower is provided by a twin Turbocharged 5.5-liter V8, while torque comes in at 560lb-foot. All this is rounded out by a 7G-tronic 7-speed auto transmission.
Accompanying this power is an 18.1-inch ground clearance, providing more than ample space for mowing down zombies. The entire vehicle measures in at 231.3-inches long x 83.1-inches wide x 87-inches high, making it a tad larger on all sides than its four-wheel sibling. As far as the luxury part goes, the interior features leather and polished bamboo.
[via AutoWeek]