Mercedes-Benz G63 AMG Inspires Cigarette Huntress Boat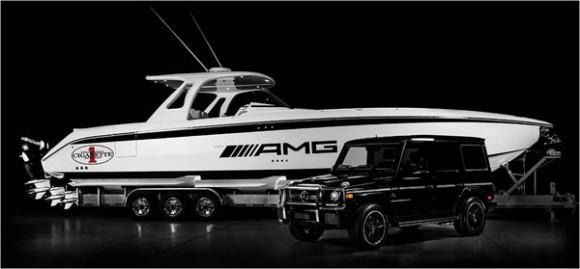 When we hear the name Mercedes-Benz, most people automatically think of cars and SUVs. One of the more iconic Mercedes-Benz vehicles is the company's G-class also called the G-Wagen. Mercedes has offered the boxy G-series in a hopped up AMG version for a number of years. Despite its large size and boxy proportions, the vehicle is impressively quick.
The G63 AMG is designed to be used in tough off-road terrain with three electrically controlled 100% differential locks, a ladder frame, rigid axle, in a giant V-8 twin turbo engine. That hand built AMG engine produces 536 hp and 560 pound-foot of torque. That means that the impressive off-roader is very quick.
Mercedes-Benz announced that the G63 AMG has inspired boat tie up with Cigarette Racing. I wouldn't have thought about a boat in conjunction with Mercedes-Benz. Bhen you hear the specifications of the impressive boat, the tie up is understandable. This isn't your typical fishing boat, this is a big high-performance racing boat and it's incredibly fast on the water.
The boat is 42-feet long and has a beam of 11'11". Power for the boat comes from five Mercury Racing Verado 350SCi engines. Those five engines propel the massive boat to a top speed of 78 mph, which is flying on the water. The giant ship also holds 500 gallons of fuel to feed the five thirsty engines.
[via Cigarette Racing]