Mercedes-AMG A45 S could be a 416hp giant-killer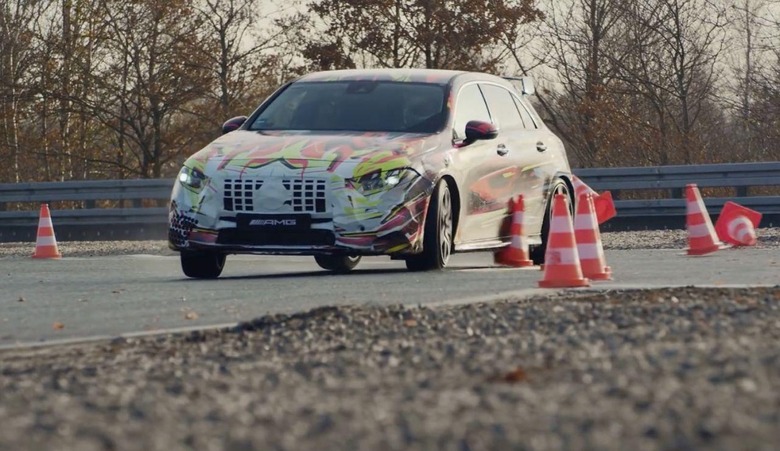 Mercedes-AMG promised us a hotter version of the new Mercedes-Benz A-Class, and now we have a good idea just how much hotter it'll be. To say we're excited at the prospect is an understatement, frankly, particularly with the idea that the AMG A45 S could well pack a heady 416 horsepower.
The all-new A-Class marked Mercedes' renewal of one of its most popular entry-level cars. The gateway to the automaker's range, it has progressed since the original A-Class launch in 1997 from a somewhat stodgy hatchback to a mini luxury model in its own right.
With the 2019 A-Class, meanwhile, that's all finally coming to the US. Back when we drove the 2019 A-Class Sedan in A220 form in November, we found it to be a veritable "mini S-Class" with its brand new MBUX infotainment system and rewarding chassis. Indeed, all we really lusted after was more power.
That, it turns out, we're going to get – and in spades. Mercedes-AMG had already teased us with the new A45 doing its best to drift around a race track in prototype form, releasing a video over the holidays that showed the A-Class hatchback getting itself into the festive spirit sideways. It didn't, however, spill how many horses were involved in pulling this particular German sleigh.
Thankfully German insurer HUK24 has stepped in with those details, it seems. Motor1 spotted that the company's site had already updated with details on two variants of the hotter car, the A45 and the A45 S. Production, according to the site, began in December 2018.
Both versions have a four-cylinder, 2.0-liter turbocharged gas engine. That might not sound big – indeed, the A220 has a 2.0-liter turbo as well, making 188 horsepower and 221 lb-ft of torque – but the engineers at Mercedes-AMG have apparently wasted no time in squeezing as much out of it as they can. The most aggressive A45 S will have 416 horsepower, in fact, the insurer suggests.
Even the "regular" Mercedes-AMG A45 will still muster up 382 horsepower. Those figures are expected to be combined with a seven-speed dual-clutch automatic transmission, not to mention 4MATIC all-wheel drive. The latter should have a drift mode so that – if you have access to a track, of course – you can replicate AMG's holiday video yourself.
What the US won't get, though, is the exact car in that video. Mercedes only plans to offer the A-Class sedan and its variants in the US, figuring that the market just isn't there for a luxury sports hatchback as it is in Europe. The likelihood is that they'll share the same engine and running gear, mind, making for one potent little four-door that could give other automakers a few sleepless nights.