2019 Mercedes-Benz A-Class Sedan first drive: Elegantly tech-savvy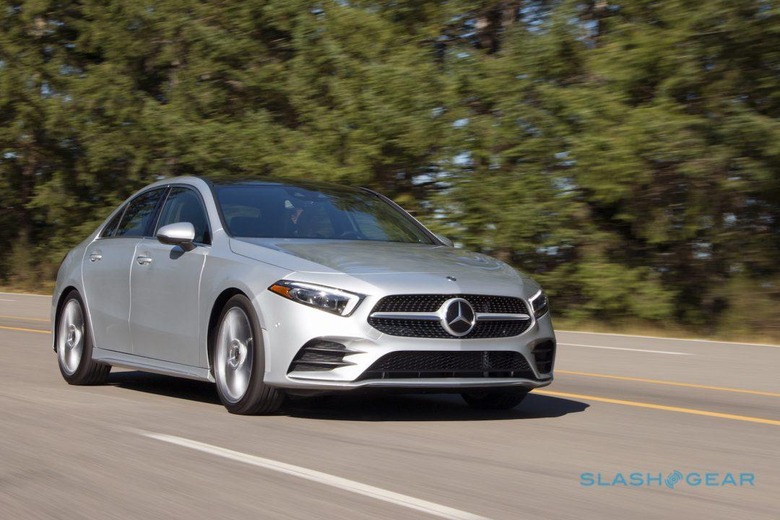 The new 2019 A-Class sedan is a gateway car, and Mercedes-Benz aren't being coy about it. They've designed it to draw in a new, younger generation of buyers and get them hooked on the brand, filling the sedan with enticing new tech you'd normally have to pay through the nose for.
"It is significant in that it's the first car in the Mercedes-Benz line-up to get our new MBUX system, and this goes to our democratization of technology," Rob Moran, Director of Communications Mercedes-Benz USA, pointed out to me. "You used to see the latest technology would be on our most expensive cars, but now we're putting it on our most important cars in our launch and that's why the A-Class is going to be the first one with this technology."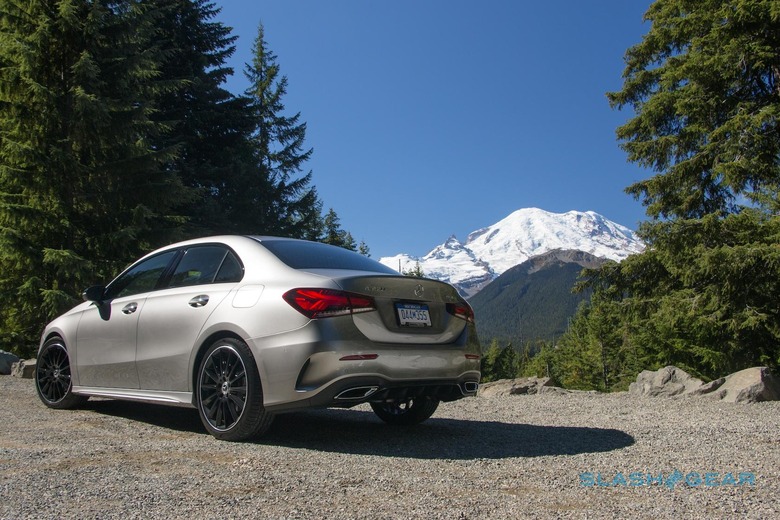 In the past, it might have taken years for something like the Mercedes-Benz User Experience (MBUX) to trickle down from S-Class, through E-Class and C-Class, and finally to cars like the A-Class. Upending that pattern is about more than just delivering technology to the market as soon as it's ready to commercialize, however. It's a recognition that, for the A-Class Sedan in particular, you need to cater to what your target audience is expecting.
Even putting technology aside, though, Mercedes-Benz has reimagined what has in the past been a fairly polarizing vehicle as the entry-level offering. With the A-Class going on sale in the U.S. in early 2019, here's why you should book yourself a test drive.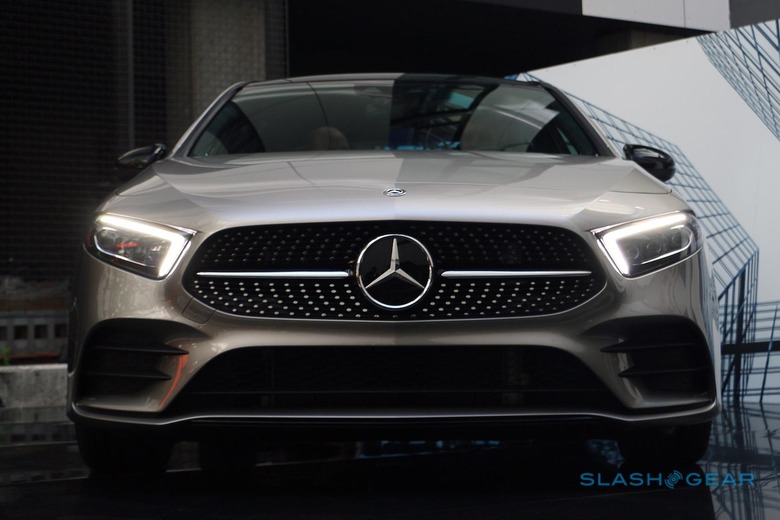 Baby of the Class
When you first lay eyes on the exterior design of the new A-Class, you'll be forgiven for doing a double take and questioning which class of Mercedes-Benz you're looking at. While it has its own distinctive design language, the A-Class feels like an extension of the range rather than the diminutive younger sister that you suspect may have actually been adopted.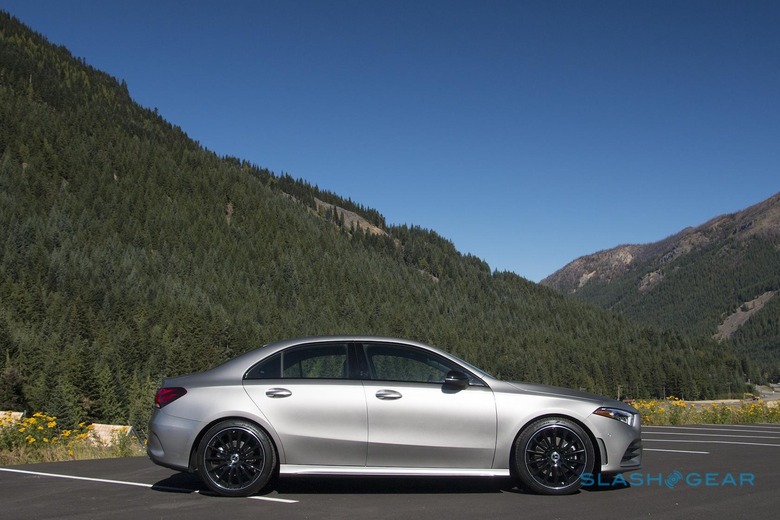 The look of the new A-Class is not for everyone, but I will say it looks good when in motion on the road. Bernie Glaser, Head of Product Management Mercedes-Benz USA described the newest design language as sensual purity.
"It means that we reduce the lines and the edges and the creases on the car. I want to quote our head of design, Gorden Wagener: 'If you take a line away and you like it, take another one away.' That takes you to sensual purity, and if you look at the car you only see one character line running through just below the belt-line and that's pretty much it. There are no more creases or edges on the car, it's a very evolutionary design, a very smooth design. That gives it a very sports-car look."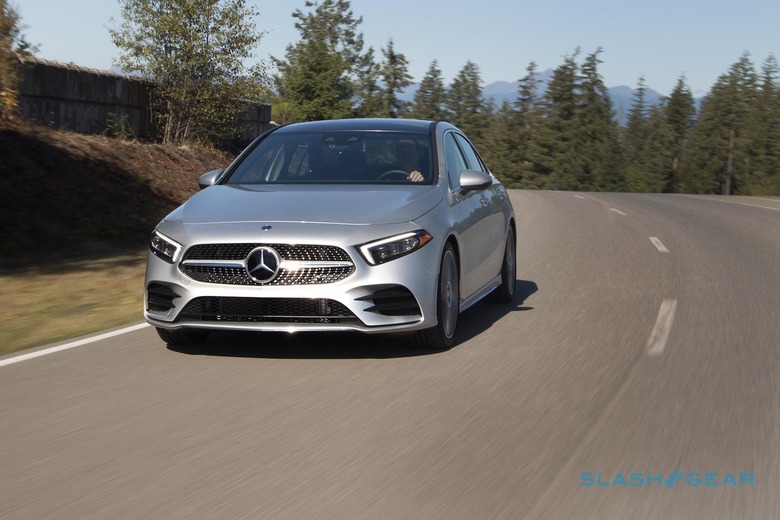 How this translates is that the A-Class has sharper angles and creases at the front than the automaker's other models. The headlights lean in toward the top of the grill, giving the viewer the overall appearance that the car is being propelled forward, even when it's standing still. The crease-lines on the side panels don't appear as deep as on other vehicles that share this same design language, with the horizontal lines placed higher up, giving the four-door a more taunt, higher 'waistline'. Overall, these visual design cues provide an agile, enthusiastic and energetic feel.
Whether or not you like the look of the exterior there is something to be said for the sleek design, with the A-Class setting a world record for production vehicles with a coefficient of drag at only 0.22. That should pay dividends for fuel-economy.
'Hey Mercedes' brings the car to life
Software is quickly becoming a major differentiator between cars, and the A-Class is the first Mercedes-Benz model to be equipped with the new MBUX. Top level, that means easy-to-use touch-screens, reinvented menus, and intelligent voice control.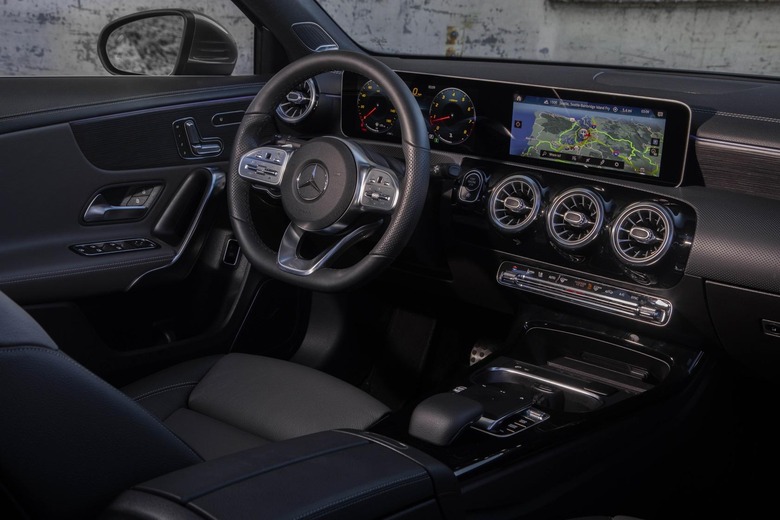 MBUX was announced at CES this year and really creates a unique experience for Mercedes-Benz. Having recently driven several new cars – from manufacturers who I'll refrain from naming here – with voice control features, I can tell you that 'Hey Mercedes' is miles ahead in terms of both functionality and consistency. Not only can you control a seemingly endless list of vehicle features — from navigation through to cabin temperature — but you can also ask Mercedes anything you like, from the current football scores to the meaning of life. If you're curious, Mercedes subscribes to the Douglas Adams Theory of 42: The answer to life, the universe and everything.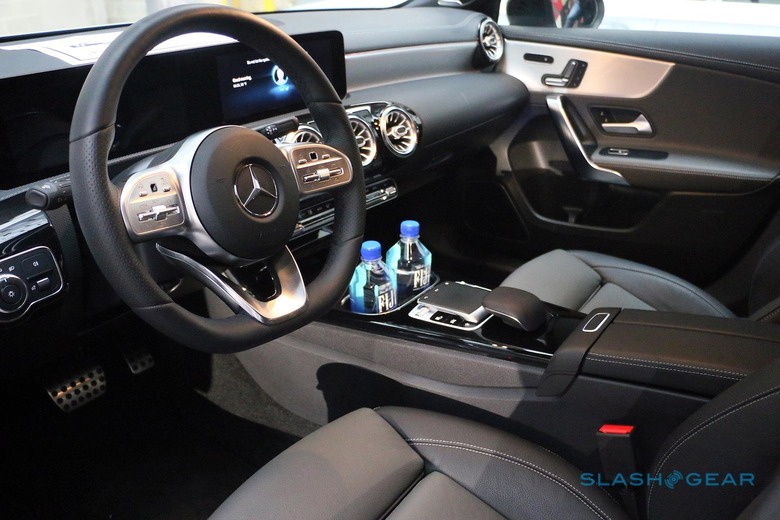 She's smart, and getting smarter all the time. The MBUX assistant learns your habits and can make suggestions: to get you to work faster via a less congested route than what you'd normally take, for instance, or be more helpful, such as automatically pulling up the contacts you call most often every Thursday morning. There are no specific phrases to be learned either, as Mercedes is using natural language recognition. Feeling chilly? All you need to say is "Hey Mercedes, I'm freezing" and she'll bump up the temperature. She can also handle complex requests and follow-up questions. Tell her you're hungry for deep dish pizza at a family-friendly restaurant along your route and she'll make some suggestions. Then ask her to sort them by price or star rating and she'll happily oblige.
A collaboration with SoundHound for the voice control here in the US is responsible for 'Hey Mercedes' accuracy, speed and ability to support context along with complex and compound queries.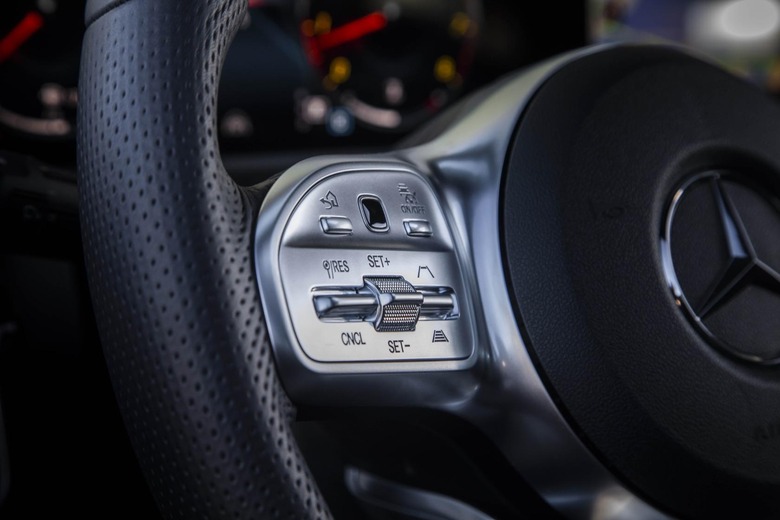 The team at Mercedes say they won't give you the option to change the name of your car: her name is Mercedes and that's how it will stay. And if the kids start demanding she re-route you to the nearest ice-cream parlor, or keep trying to change the radio to the Disney channel, you can easily cancel the request via a button on the steering wheel or central touch screen.
In addition to intelligent voice control, the whole menu experience has been redesigned. The 7-inch – or optional 10.25-inch – touchscreen offers the swipe, pinch and scroll functionality you're used to on your phone, and there's no digging through endless layers of menus to get to the things you want. For example, if you want to change your vehicle settings you can pan around a real-time render of your car, and click on things like the headlights to bring up those particular settings.
"We drastically rethought how you build a user interface," Alex Hindergard, Designer on MBUX, explained to me. "When you click on an application you can deep-dive, but in many cases you don't even have to. We designed the home screen with most of your favorite applications and features to be right there on the first or second level."
With the instrument panel also being digital, you have the option to rearrange the gauges however you'd like. Alternatively you can simply use the the built-in themes, or customized their layout.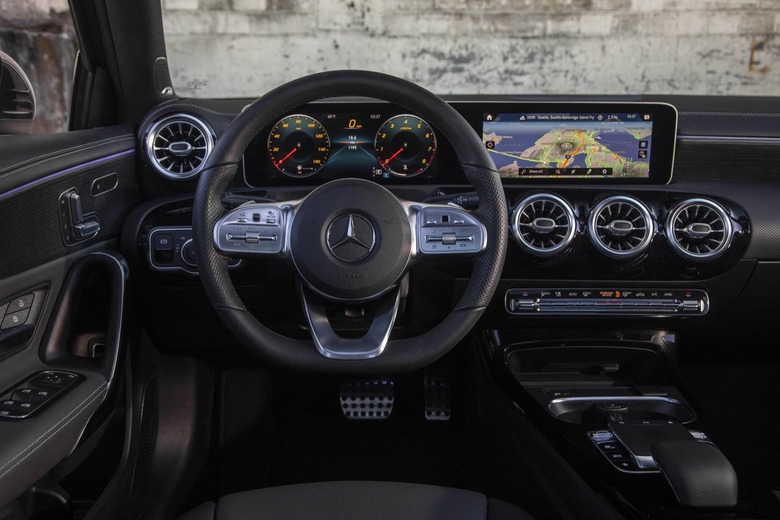 Navigation has been overhauled too, including features born from Mercedes-Benz's collaboration with UK company, What3Words. Every three meter square of earth has been designated a three-word identifier, so if you don't have a street address but you've looked up the location in the What3Words app, Mercedes will take you there, even if it's the middle of the desert.
As part of the optional multimedia package you also get Mercedes-Benz navigation with augmented reality. While it's doesn't turn the windshield into a transparent display, it does superimpose navigation instructions over your real-world view through the central screen, including floating street numbers over buildings and highlighting traffic signs.
A-Class size with S-Class safety
The interior of the A-Class is designed well, with plenty of room: it has the feel of a much larger car. You get a big panoramic glass roof as standard, while the backlit, turbine-inspired air vents have been taken from Mercedes-Benz's more expensive offerings. There are 64 different colors available for the ambient lighting, and you can even set it to change the color of the air vents as you increase or decrease the temperature.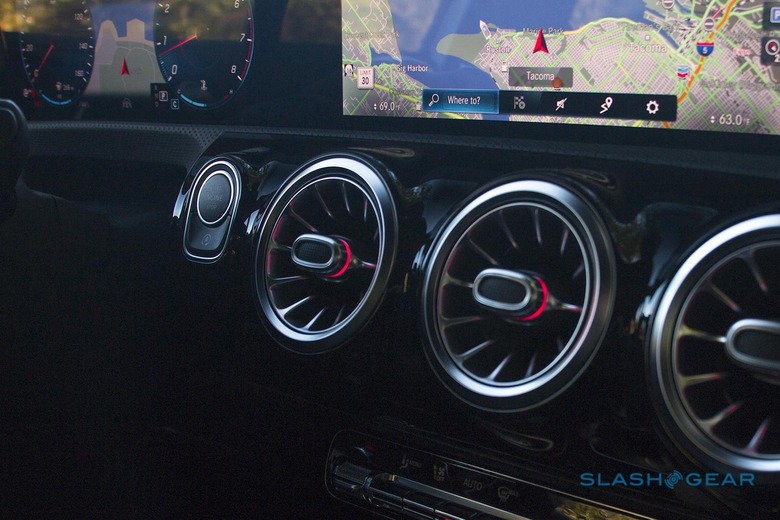 You can choose from a variety of high-quality interior finishes, with my favorite being the titanium grey and black leather with brushed aluminum trim. However, no matter which options you choose, you can expect to experience the comfort and luxury that Mercedes is known for. Even after two full days of driving I felt relaxed and refreshed.
You're also getting all the safety and assistance systems you'll find in the S-Class, from Active Distance Assist DISTRONIC, Active Brake Assist with Cross-Traffic function, Active Emergency Stop Assist to Route-Based Speed Adaption. The A-Class is capable of safely driving semi-autonomously thanks to improved camera and radar systems that allow it to see more than 1,500 feet ahead, and by tapping map and navigation data for additional assistance.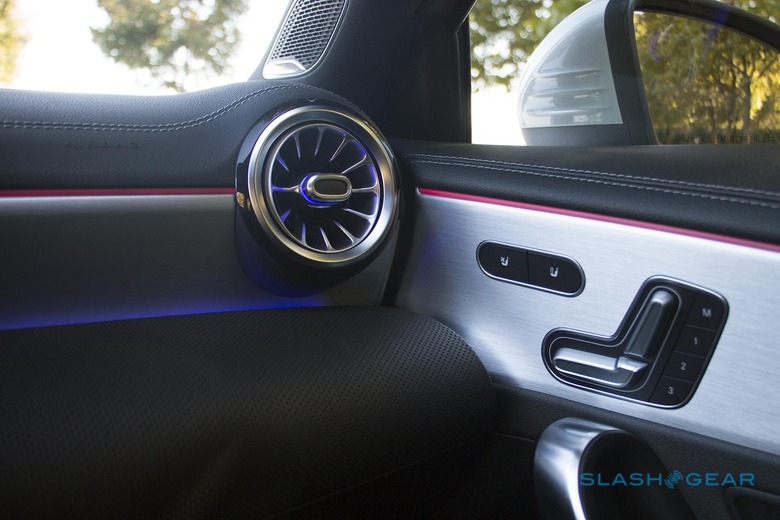 The Active Lane Keeping Assist is one of the best I've experienced, even around sharp bends at relatively high speeds, and I was able to take my hands from the wheel for much longer than most other cars will allow. There was no ping-ponging between lines and you simply tap the turn signal to make a lane change. The safety and smarts in this car almost make highways and peak-hour traffic something to look forward to.
The A-Class comes with 17-inch wheels but you can upgrade to 18-inch or even 19-inch, and add the optional AMG package for a more aggressive look. The shark-nose front end is equipped with LED lights, while the tail lamps taper towards the middle of the car to give the impression of an even wider stance.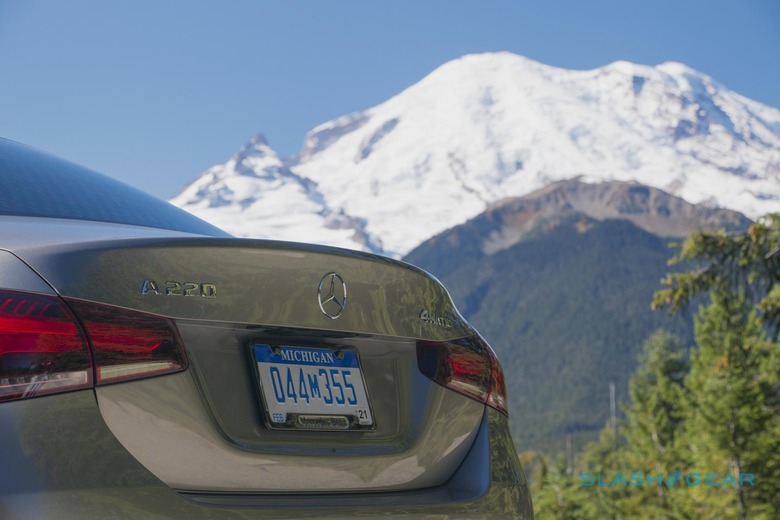 The four-door A-Class is available in A 220 and A 220 4MATIC models, both with a 2.0-liter turbocharged inline 4 cylinder engine, producing 188 horsepower and 221 lb-ft of torque. The transmission is a 7G-DCT dual-clutch. While not exactly quick off the line, the A-Class is a pleasure to drive at speed, and has more than enough overtaking power. It also hugs the road, and I was able to have some real fun when we got off the highway and into some more playful turns.
Verdict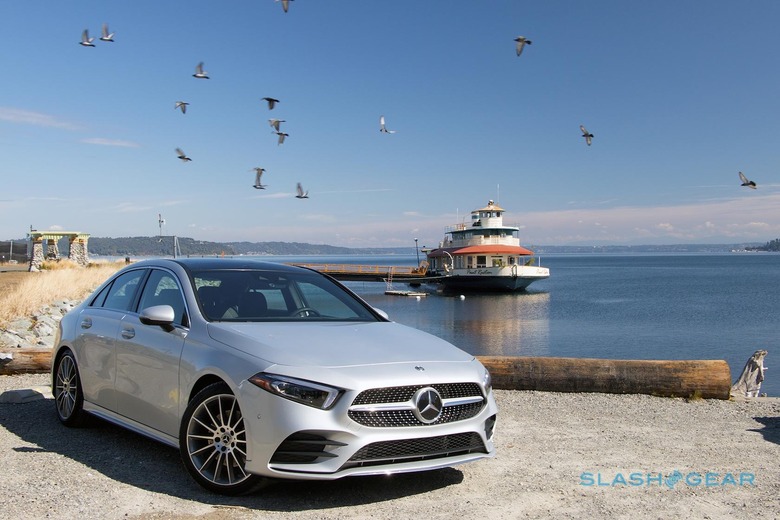 In short, you can expect to find a lot of usually-expensive features packed into this entry-level sedan which makes it an impressive offering, particularly given pricing is expected to start at around $30,000. From the hands-free trunk opening to the intelligent voice control I fell in love with the A-Class in fairly short order. It's just a pity my love was unrequited. When I told Mercedes that I loved her, she responded with 'And I love road trips'. Ouch.