Mercedes add Kleer wireless audio to E-Class and S-Class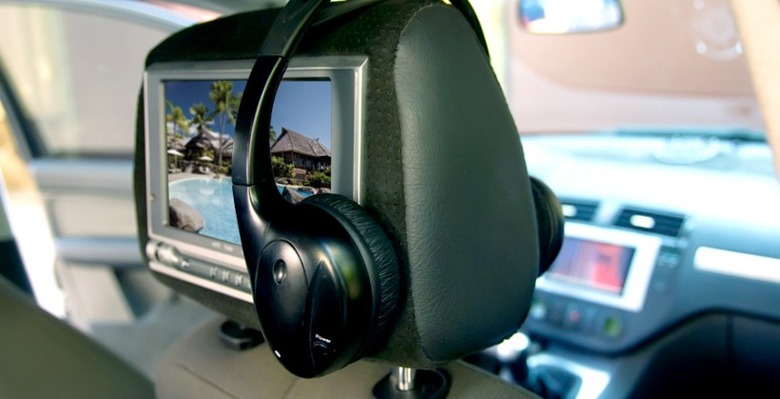 We've been banging on about Kleer and their CD quality Bluetooth-busting audio technology for ages now, and so it's good to see it trickle through into more mainstream platforms.  Mercedes has announced that Kleer-based audio systems will be used in its 2010 E-Class and S-Class cars, offering a choice of two audio streams from in-headrest LCD displays.
Because of Kleer's multipoint technology, up to five sets of headphones can be paired with any one transmitter, and since its not infra-red like other in-car audio systems it doesn't require line-of-sight and won't be overcome on sunny days.  Mercedes will be including a couple of sets of headphones in the car – as well they should, given how much an E- or S-Class will set you back – but any Kleer headphones you have will work too.
That means you could hook up a set of Sleek Audio Kleer-enabled earbuds or perhaps some cheaper DigiFi versions and still hear the same thing, only at higher audio quality and with longer battery life than Bluetooth cans.  Meanwhile Kleer won't interfere with the Mercs' WiFi or Bluetooth, either, unlike other 2.4GHz systems.
No word on how much you'll be looking for to equip your new ride with Kleer, but with the company being acquired by SMSC – who make audio equipment for Audi, BMW, Daimler AG/Mercedes- Benz, Hyundai/Kia, Jaguar, Land Rover, Porsche, Toyota and Volvo among others – we're hoping it'll trickle down into cheaper models.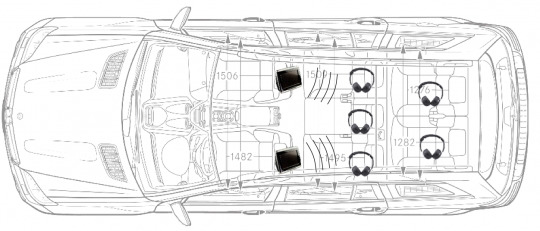 Press Release:
SMSC's Wireless Audio Using Kleer® Technology To Be Implemented in Automotive Infotainment System of Selected Mercedes-Benz Models

Model Wins Mark SMSC's First Automotive Customer for Kleer Technology

Hauppauge, New York – June 24, 2010 – SMSC (NASDAQ: SMSC), today announced that its Kleer® wireless audio technology has been selected by Daimler AG as part of the rear seat entertainment system for the company's 2010 Mercedes-Benz E-Class and S-Class models. These two Mercedes-Benz models are the first automobiles to implement Kleer technology and add to the growing list of products consumers can choose from to enjoy the high quality wireless audio that Kleer can offer.

Kleer technology transmits CD-quality digital wireless audio from two video screens on the back of the seats to multiple wireless headphones in both the Mercedes-Benz E-Class and S-Class models. Each screen can display different content and occupants can select which audio stream their headphones receive. Multiple occupants can share the same stream. The ultra low power consumption of Kleer technology ensures many hours of enjoyment before headphone battery charging is needed. Mercedes-Benz owners have the choice of using the brand's headphones provided with the car or using their favorite third-party Kleer-based headphones or earbuds as they are available for example from AKG, Sennheiser or TDK.

"We are pleased to announce Daimler AG's selection of Kleer technology in these two prestigious Mercedes- Benz models," said Dr. Christian Thiel, Vice President and General Manager of SMSC's Automotive Information Systems group. "Kleer's high quality audio, exceptional radio performance and industry-leading low power consumption make it an ideal choice for streaming wireless audio in the portable, home and automotive markets."

Kleer wireless audio technology resolves the issues associated with analog Infra-Red (IR) technology, which has been the primary technology used in wireless automotive headphones to date. Analog IR transmission of audio suffers from low quality audio, interference from visible light sources like sunlight, and high power consumption. It also requires an uninterrupted line-of-sight path from transmitter to receiver. Kleer addresses these issues and adds the ability to have multiple audio streams transmitting in the vehicle simultaneously.

"Consumer demand for in-vehicle multimedia experiences continues to grow at a rapid pace, and wireless audio is a crucial element," said Mark Fitzgerald, associate director, Global Automotive Practice at Strategy Analytics. "Wireless solutions that offer high quality audio and low power characteristics are positioned well in this expanding market."

In addition to its high audio quality and low power consumption, Kleer technology also offers excellent Wi-Fi and Bluetooth co-existence capabilities. This means that the vehicle's infotainment system, Bluetooth and Wi-Fi enabled devices can all be used simultaneously in the vehicle with no interference.

The Mercedes-Benz E-Class and S-Class also feature the MOST® multimedia networking standard, which is the de facto standard for efficiently moving high-bandwidth infotainment content around the vehicle. MOST

and Kleer are synergistic technologies. While MOST represents the backbone of the whole infotainment system and moves all signal streams between the devices, Kleer is the high quality wireless link for headphones and remote controls.

About SMSC

SMSC is a leading developer of Smart Mixed-Signal ConnectivityTM solutions. SMSC employs a unique systems level approach that incorporates a broad set of technologies and intellectual property to deliver differentiating products to its customers. The company is focused on delivering connectivity solutions that enable the proliferation of data in personal computers, automobiles, portable consumer devices and other applications. SMSC's feature-rich products drive a number of industry standards and include USB, MOST® automotive networking, Kleer® wireless audio, embedded system control and analog solutions, including thermal management and RightTouchTM capacitive sensing. SMSC is headquartered in New York and has offices and research facilities in North America, Asia, Europe and India. Additional information is available at www.smsc.com.

In February 2010, SMSC acquired substantially all the assets and certain liabilities of Kleer Semiconductor Corporation, a designer of high quality, interoperable wireless audio technology addressing headphones and earphones, home audio/theater systems and speakers, portable audio/media players and automotive sound systems. Kleer technology powers the world's best sounding wireless audio devices for use in the home, on the go and in the car. Kleer's products are based on the first wireless technology to combine high quality audio and robust ISM band coexistence with low power consumption. Unlike Bluetooth and WiFi, Kleer technology's sub-sampling radio architecture was designed from the ground up to communicate lossless, CD-quality, digital stereo audio over a robust 2.4GHz radio link while achieving several times the battery life of a comparable Bluetooth solution as well as audio coexistence with WiFi hot spots. Kleer technology is well suited for portable music players, iPod® and other personal media accessories, home audio/theater/TV systems, earbuds, headphones, speakers and automobile entertainment systems.

About SMSC's Automotive Product Line

SMSC's Automotive Information Systems is a supplier of TrueAutoTM infotainment and information semiconductor and software solutions to major automakers, including Audi, BMW, Daimler AG/Mercedes- Benz, Hyundai/Kia, Jaguar, Land Rover, Porsche, Toyota and Volvo. SMSC is a founding member of the MOST Cooperation, a cooperative of automakers, automotive systems architects and manufacturers and key components suppliers working to extend and refine the MOST® standard for the evolving requirements of automotive multimedia networking. Additional information is available at www.smsc-ais.com.