Meizu teases its Ubuntu-powered MX4 for MWC 2015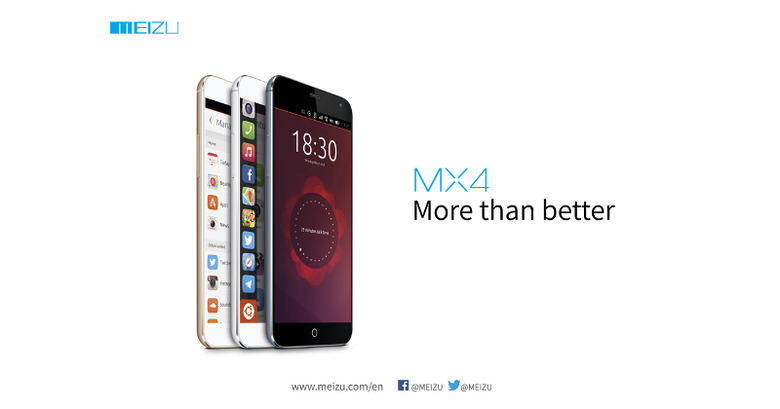 We knew that Ubuntu Phones were coming from Spain's bq and China's Meizu, so the only question really was "when?". With bq revealing the Aquaris E4.5 early this month, it was only a matter of time before others followed suit. It seems that Meizu will be taking advantage of MWC next week to do just that. It has just "teased" over at its Twitter account a Meizu MX4 that, without a sliver of a doubt, is running Ubuntu Phone instead of its own custom Android ROM.
Truth be told, there is nothing left to tease. This is more of a formal acknowledgment that an Ubuntu Phone device will still be coming from the manufacturer. That said, it does settle one question that has been lingering among those waiting for this particular device: which of Meizu's smartphone will be chosen to bear Ubuntu's mobile platform?
Sadly, it is not the MX4 Pro, despite some rumors pointing to it. It would have been nice indeed, considering that smartphone boasted of many high-end specs, including a 5.5-inch 2K resolution screen, an octa-core Exynos 5430 (same as the Samsung Galaxy Alpha), and 3 GB of RAM. That said, in comparison to the bq Aquaris, the Meizu MX4 is definitely no underdog. There's a 5.36-inch Full HD panel, a 2.2 GHz octa-core MediaTek CPU, 2 GB of RAM, and a 20.7 megapixel rear camera sensor from Sony.
Those specs are likely to really make Ubuntu Phone shine. This newcomer to the mobile platform race brings a bit of novelty to the game, perhaps enough to boost some initial interest in it. Unlike Android or iOS, the user interaction doesn't simply revolve around apps. Instead, Ubuntu employs the concept of "Scopes" or cards that group not just apps but also services, content, and even files. A Music Scope, for example, will show you your tracks as well as access to services like Spotify.
Now that all has been pretty much revealed about the Meizu MX4 Ubuntu Phone edition, all that's left is availability and pricing. The teaser comes via the OEM's English account, so there is hope that it will be available internationally. We'll know more once MWC 2015 starts next week.
SOURCE: @Meizu