Megaupload: Seven charged, Anti-piracy stance a sham say Feds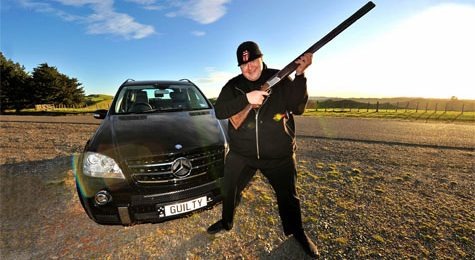 Seven have been charged in the Megaupload copyright shutdown case, including site founder Kim "Dr. Evil" Dotcom, as more details on the $500m suit emerge. At least four of the seven have been arrested so far, the NYTimes reports, though the company's legal team has said in a statement that "Megaupload believes the government is wrong on the facts, wrong on the law." The dramatic shutdown of Megaupload and the seizure of around $50m in assets led to swift response by the hacking community, with collective Anonymous taking down the Department of Justice's site, along with the RIAA, MPAA and Universal Music.
Kim Dotcom – born Kim Schultz and apparently nicknamed "Dr. Evil" unofficially within Hollywood – is said to have earned $42m from Megaupload in 2010 alone. In fact, the entire file locker company's staff shared in a spiraling bounty; among the assets seized were fourteen Mercedes-Benz cars, a Maserati, Rolls Royce and a vintage Lamborghini, Ars Technica reports, in addition to dozens of servers, domain names and other goods.
Part of the allegations from the US government include the suggestion that Megaupload's much-vaunted anti-piracy tools – and, in fact, its entire stance on being against the illegal sharing of copyrighted content – was a PR fraud. In fact, it's suggested, staff knew exactly what was being uploaded and shared, referring to content in internal messages, swapping links for their own downloading purposes, and even uploading stolen video themselves.
Meanwhile, the tools offered to content-owners themselves were artificially crippled, it's claimed, with daily limits on how many takedown requests could be filed. Those limits, internal documents indicate, were adjusted based on Megaupload's overall performance and growth. The growth itself – and the money it brought in – was flaunted at the media industry with high profile ad campaigns, such as the notorious video in which Will-i-am, Kanye West, Kim Kardashian, Ciara and others promote Megaupload as their sharing site of choice.
As of this morning, the Justice.gov, MPAA and RIAA sites are back online, though Universal Music's site is "under maintenance." All of those Megaupload staff currently under arrest have been denied bail, though "superproducer" Swizz Beatz – who helped produce the promo video – has been confirmed not to be a shareholder in the company, Forbes reports, despite being named as its CEO after the advert debuted. The full indictment can be found here.