McLaren 675LT Spider drops roof for ultra-extreme supercar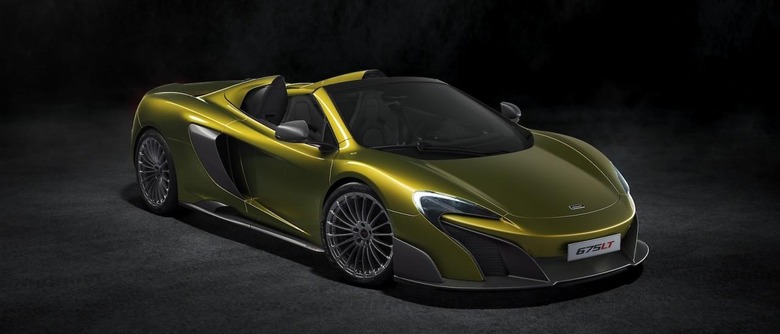 If you were tempted by the ridiculously-capable McLaren 675LT Coupe but insist on the wind in your hair, fear not, the British automaker has you (un)covered. The new 675LT Spider comes in response to what McLaren says is "significant customer demand" for a drop-top, shedding its three-piece hardtop at speeds of up to 19 mph.
You'll probably be going significantly faster than that, mind. The 3.8-liter twin turbo V8 and 7-speed SSG gearbox musters 666 HP and 516 lb-ft of torque, just as is the case with its Coupe sibling, which is good for 0-62 mph in a mere 2.9 seconds.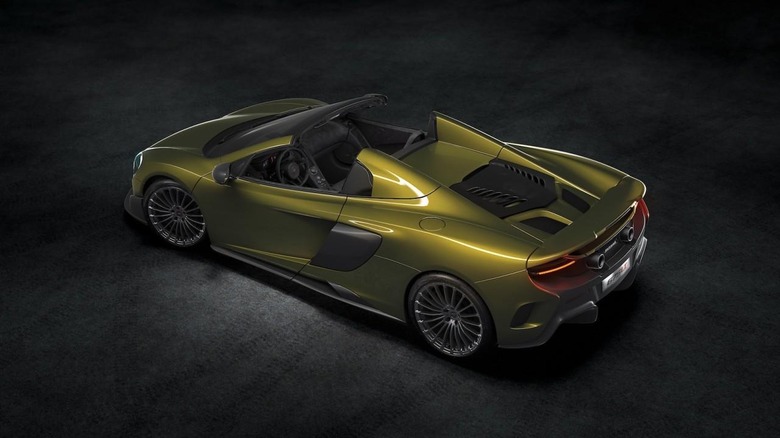 124 mph takes only 8.1 seconds, 0.2 seconds more than the Coupe. Top speed is 203 mph, but McLaren is particularly pleased about its 18 mpg city/highway mileage.
Thanks to lashings of carbon fiber – including the splitter, side intakes, rear fenders, deck, bumper, diffuser, and "Longtail" airbrake – the weight is down 220 pounds over McLaren's other convertible, the 650S Spider.
Versus the Coupe, it's up 88 pounds; McLaren says that's entirely down to the roof mechanism, since the rest of the car required no strengthening or adjustment because of the inherent stiffness of the chassis.
The open top isn't the only visually striking part. 10-spoke Ultra-Lightweight forged alloy wheels – 19-inch at the front, 20-inch at the back – are as standard, wearing custom Pirelli rubber, but there are two Super-Lightweight options, too.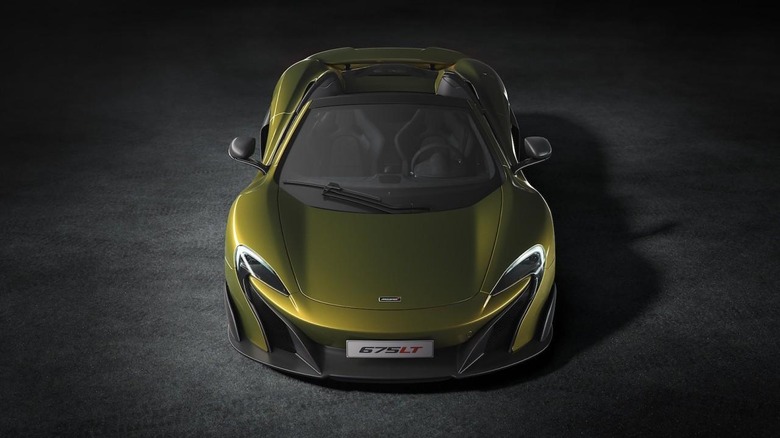 Inside, there's plenty of Alcantara and exposed carbon fiber, while racing seats are standard and a four-speaker Meridian audio system. Gone is air-conditioning, at least as standard; if you want it, it'll cost you nothing more than the 35 pound weight increase.
NOW READ: McLaren 675LT hits 62mph in 2.9s
A unique "Solis" deep gold will be only offered on the 675LT Spider. However, if that's not good enough for you, there's a Club Sport Professional Pack which throws in stealth-finish details on the Titanium Silver, Storm Grey, Onyx Black, and Chicane Grey cars.
If you want one – and if you can afford the $372,600 sticker – then you'd better act fast. McLaren is only offering 500 examples of the 675LT Spider worldwide.