McLaren 570S Live: The "Practical" British Supercar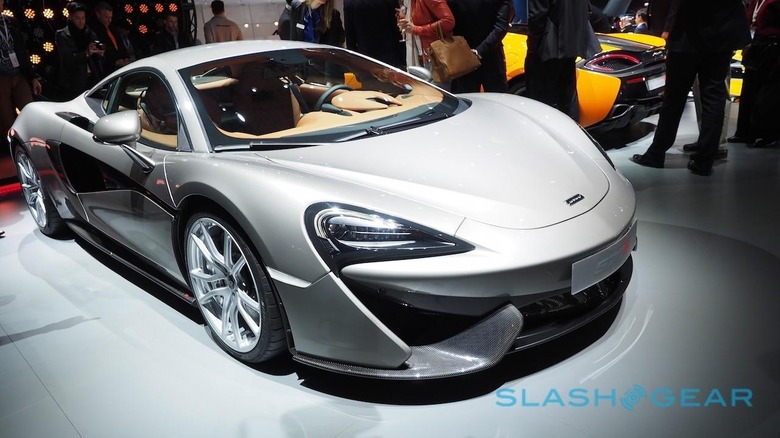 McLaren promised something special for the New York Auto Show and the company delivered with the 570S, as close to an entry-level model as you can get when you're talking in the region of $180k. The new "starter" McLaren, it's the British company's retort to Porsche's 911 Turbo S – among others – offering as much as 562 HP and 443 lb-ft of torque while still keeping outlandish supercar staples like gullwing doors and lashings of carbon-fiber.
The throbbing heart is a 3.8-liter V8 twin-turbo engine, dubbed M838TE by McLaren's engineers, its core borrowed from previous models but with 30-percent new components for the 570S. Its power gets funneled to the rear wheels through a seven-speed "seamless shift" gearbox.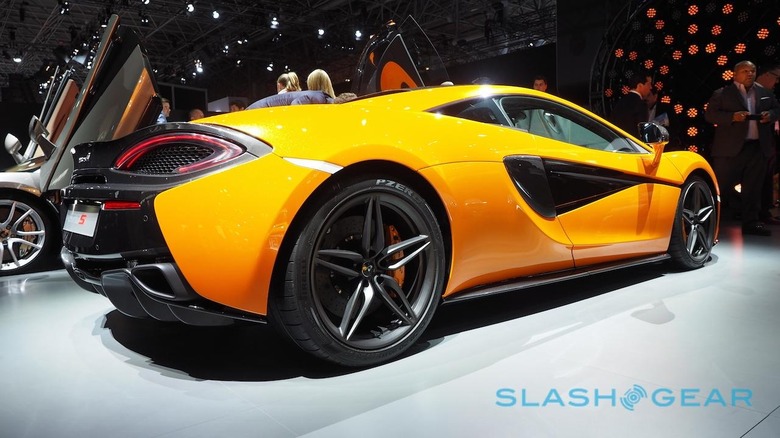 The whole thing sits in a carbon fiber chassis with aluminum structures front and rear, and which McLaren claims is 25-percent stiffer than its all-aluminum counterparts. However, the aluminum parts can be more easily replaced, should you inadvertently smash your 570S into a tree.
The bodywork is aluminum too, rather than the carbon-fiber of the 570S' more expensive stablemates, but thanks to a new method which blows hot aluminum over a mold, the company says both the unusual shapes and light weight are still possible.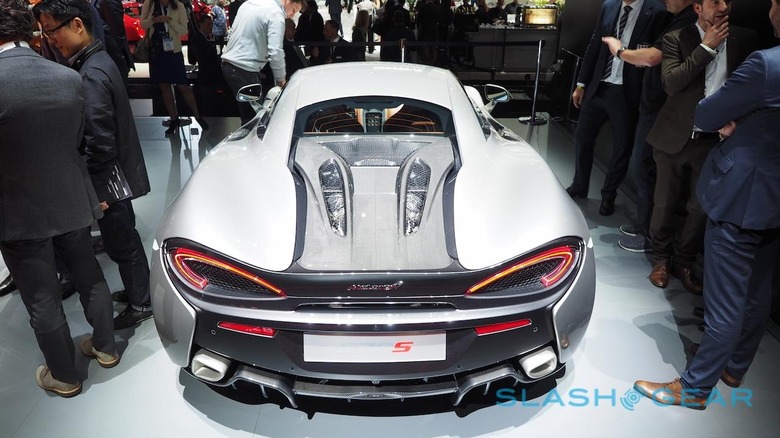 Suspension, meanwhile, uses a new system with adaptive dampers, driver-switchable into normal, sport, and track modes. McLaren's Brake Steer technology – developed for the 1997 F1 season, and subsequently banned for its performance advantage – is also included, by braking the inside rear wheels during sharp turns.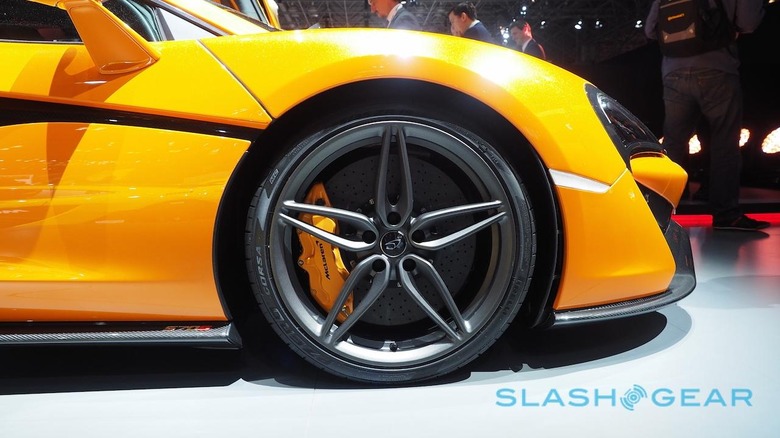 The brakes themselves use carbon ceramic discs as standard, paired with six-piston calipers on the front and four-piston on the back. There's new ABS and ESC software, too, which can be selectively disabled in the more aggressive driving modes.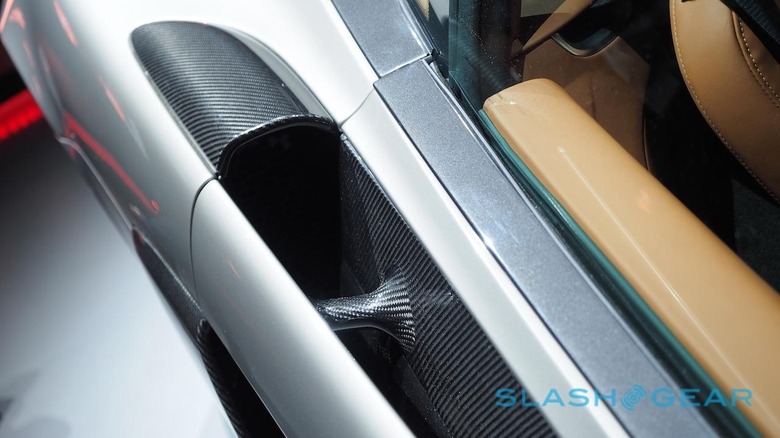 Part of the charm is in the detailing. The doors are distinctive in their own right, especially when you peer into the layered surfaces and see the "floating tendons" which help channel air for downforce.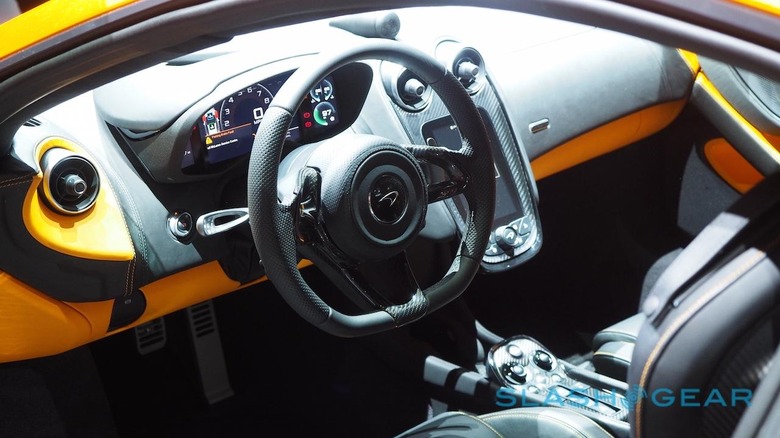 Inside there's a greater focus on space than in other McLaren models, helping position the 570S as more of an everyday supercar, with the A-pillars pushed out to improve visibility. Make no mistake, though, the small rear window and low seating position mean this isn't something you want to be reverse-parking into tight spaces.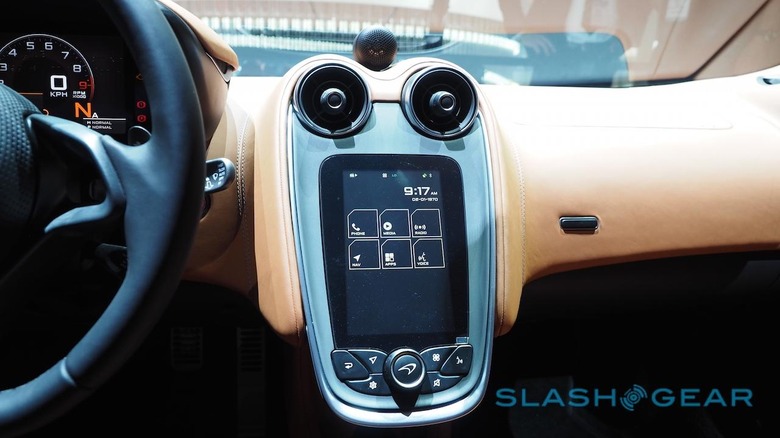 McLaren's infotainment system uses a 7-inch touchscreen, integrating all the controls including HVAC, Sirius radio, navigation, and Bluetooth streaming. It also records track day telemetry, including driver profile graphs and video footage. Storage bins are squeezed into the doors, adding to the glovebox and central armrest space.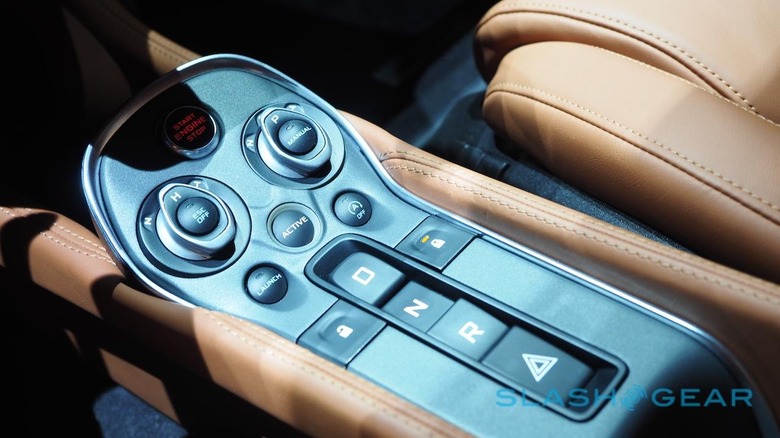 Various levels of seating are offered, each increasing the quality of the leather and the degrees of electric adjustment. McLaren tweaked the chassis and door-opening arc, too, to make getting in and out less embarrassing, while an optional add-on will automatically push the seats to their rearmost position to maximize the room to get in.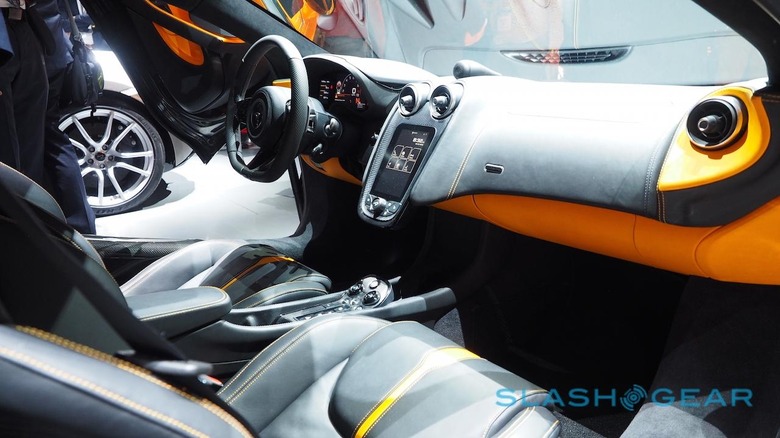 On the flip side, carbon-fiber shelled racing seats, borrowed from the McLaren P1 are on offer, with manual adjustment, 15kg less heft to carry around, and various mounting options for racing harnesses.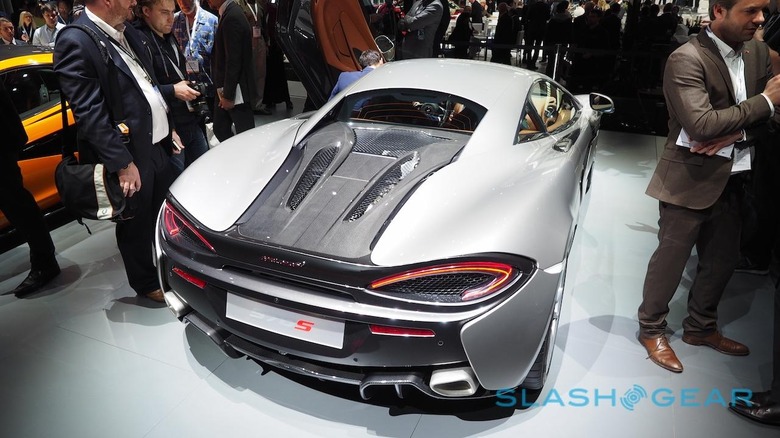 Oh, and the performance for this baby McLaren? Expect 0-62 mph in a ridiculously brief 3.2 seconds, and 0-124 mph in just 9.5 seconds; it'll keep hurtling on to 204 mph.
Somewhat bizarrely for a supercar, McLaren is pushing economy with the 570S too. In fact thanks to its light curb weight, and its stop/start engine tech, it manages 25.5 mpg (on the EU tests), while pumping out 256 g/km of CO2.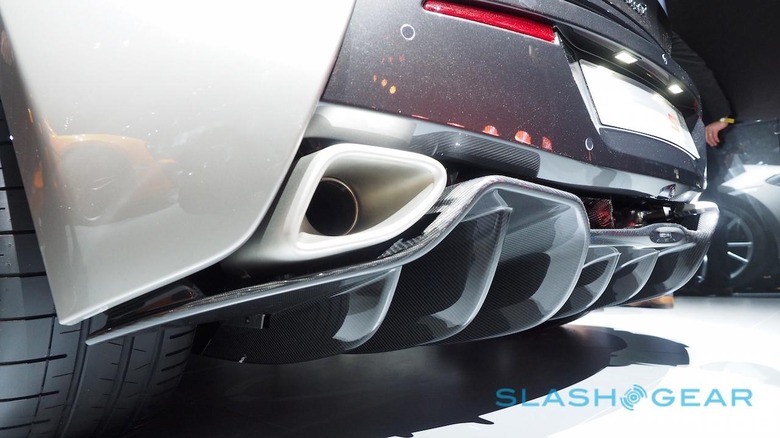 If you're swayed – and we can't exactly blame you – you'll be able to pick one up later in 2015. Those on even more of a budget will also have the McLaren 540C Coupe, set to be unveiled at the Shanghai Motor Show later in April, with an even lower price tag.