McGraw-Hill dumped from iPad keynote over loose-lipped CEO?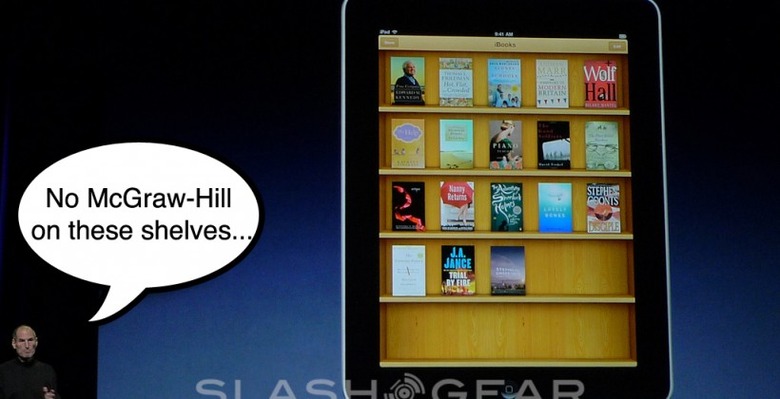 Steve Jobs proudly announced five publisher partners for the iPad's new iBooks app yesterday -Penguin, HarperCollins, Simon & Schuster, MacMillan and Hachett Book Group – but according to Apple insiders one print heavyweight was conspicuously missing.  McGraw-Hill was unceremoniously dropped from the keynote, after CES Harold McGraw III prematurely spilt the iPad beans earlier in the week.
According to those unnamed sources, as soon as McGraw made his CNBC gaffe on Tuesday, Jobs had the publisher axed from Wednesday's event.  At the moment it's unclear whether this is a long-term decision or merely a quick smack for McGraw-Hill; we're guessing the company will be back on board by the time would-be readers are shopping for ebooks.
Obviously there's no comment or confirmation from Apple themselves as to the omission – or even whether McGraw-Hill actually were a partner in the first place – and the publishers themselves are keeping quiet (perhaps a little too late, though).  More on the iPad here.
Apple iPad detailed video demo:
[vms f030b4f67eeaeba30110]