Mazda's stunning Miata RF "baby Porsche Targa" now has a price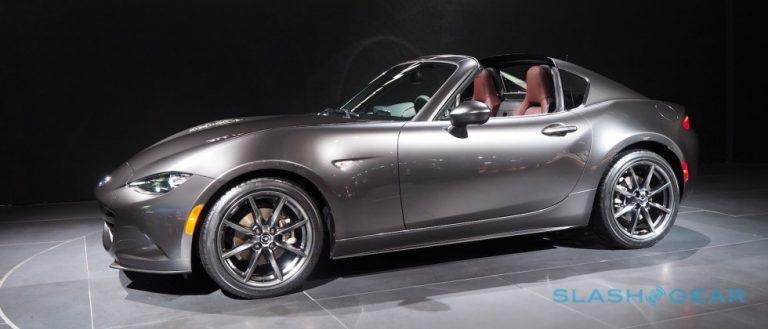 Mazda has priced up the Miata RF, the hardtop convertible version of its MX-5 roadster, which the automaker unveiled unexpectedly back in March. Surprise star of the New York Auto Show, the slick fastback does away with its sibling's fabric roof and puts in its place a multi-section hard roof that unfolds and unfurls in a pleasingly origami style.
To accommodate the hardtop, Mazda had to change the rear deck of the Miata. Rather than being flat behind the headrests, the Miata RF has two trailing strakes and a glass window.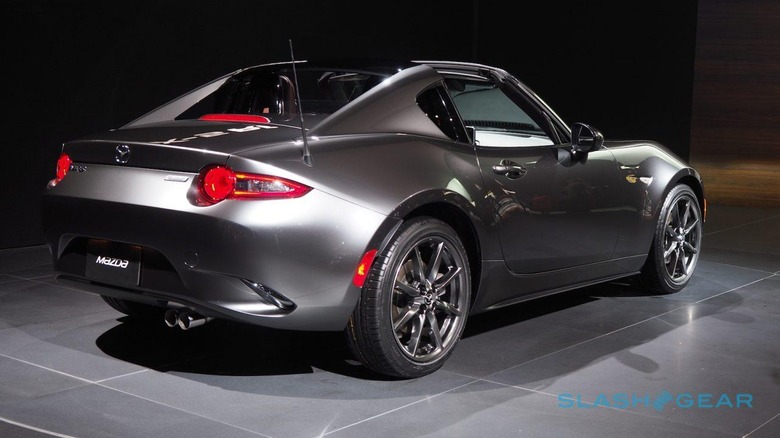 That whole section lifts up, allowing the two-piece roof to pull back, fold in half, and tuck away. It's all done automatically, of course, and can be operated at speeds up to 6 mph.
It was more than enough to wow us back in March, but at the time we had no indication of what sort of premium the car would carry over the regular Roadster. Now, Mazda has confirmed pricing for the first version of the Miata RF, the so-called MX-5 RF Launch Edition.
Only 1,000 of these cars will be offered, based on the top-spec Grand Touring trim. That means Machine Gray Metallic paint on the outside and Auburn Nappa leather inside, along with a black, hand-painted roof panel.
Bespoke doorsill plates and keyless entry will also be included, and buyers will get a custom-designed, serialized 42mm Tourneau watch to match the car.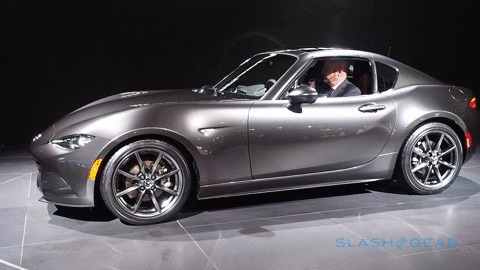 Only one choice will be offered: either the six-speed manual transmission or the six-speed automatic. The former will be $33,850, while the latter will be $34,925.
In contrast, the MX-5 Miata Roadster starts at $30,065 in Grand Touring trim, though metallic paint and keyless entry add $430 to that amount, suggesting a roughly $3.4k delta between the two versions.
In the US, both share the same 2.0-liter, 4-cylinder engine with 155 HP and 148 lb-ft. of torque.
Deliveries of the MX-5 RF Launch Edition are expected to begin in the US come February 2017, with regular Miata RF cars to follow. Mazda has already begun sending out invitations to purchase to existing "loyal" customers but, assuming they don't snap up all 1,000 cars with a $500 refundable deposit, everyone else will have a chance to get in line for the remaining Launch Edition cars from October 3.