Mazda Skyactiv-D clean diesel engine launch delayed in North America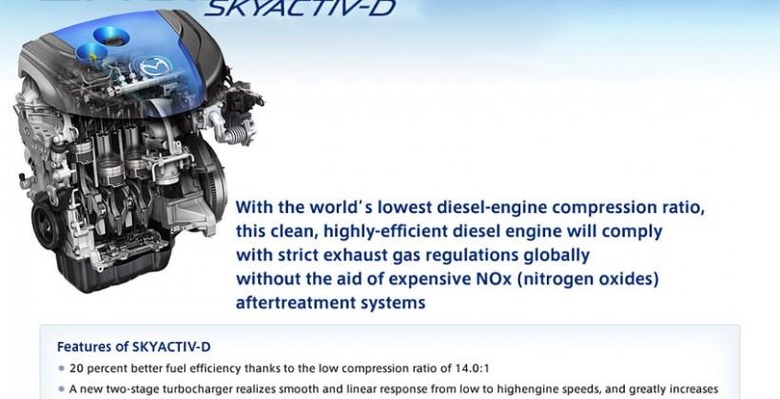 In the US, the vast majority of cars rolling the streets have gasoline-powered engines. Diesel power isn't uncommon in trucks in the US, but it is rather uncommon for cars. There are a few diesel-powered cars in the US, notably from Volkswagen.
Mazda has been pushing to bring its new clean diesel engines to the US and North America. Part of the push involved bringing diesel-powered racing cars to notable racing venues around the world. Mazda entered a diesel-powered Skyactiv-D clean diesel racing car in the 2013 24 Hours of Le Mans last summer.
Mazda had previously announced that it would be bringing production versions of the Skyactiv-D clean diesel engines to the US under the hood of its Mazda6. The automaker has now announced that it will be delaying the launch of the Skyactiv-D engine in North America.
The official reason for the delay is to allow for further development to deliver the ideal balance of fuel economy and driving performance. Rumors had circulated in the past that the Skyactiv-D engines were having difficulty passing US emissions. Mazda noted that it "understands" the Skyactiv-D engines are able to meet emission requirements without using a NOx after-treatment system. There is no indication of when the engines will launch at this time.
SOURCE: Mazda