Mazda to offer diesel engine in new Mazda6 for the US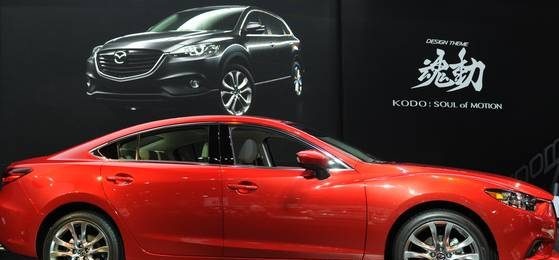 The Los Angeles auto show is in full swing and automotive news is coming at a frantic pace. A new bit of information from Mazda has surfaced at the auto show having to do with the new mid-sized Mazda6. The car made its US debut at the Los Angeles Auto Show and Mazda has confirmed that the vehicle would be offered with a diesel engine in the US.
Buyers in the US typically shun diesel engines in anything other than large pickups. That fact makes diesel-powered cars relatively uncommon on the US market. However, a greater concern with fuel efficiency has more US buyers considering the diesel option.
The 2014 Mazda6 will go on sale in January with a 184 hp 2.5-liter gasoline-powered four-cylinder engine. Later in 2013, a 2.2-liter diesel engine will be offered. Mazda offered no pricing details on the vehicle or engine options during the debut. The addition of the diesel engine for the Mazda6 will make Mazda the second US automaker to offer diesel in a passenger car.
The other automaker offering a diesel engine is Volkswagen. VW says that diesels make up more than 20% of its sales in the United States. Even more interesting for fans of auto sports is that Mazda will be racing a diesel-powered 400-horsepower Mazda6 in the Rolex 24-hour endurance race next year.
[via USA Today]