Mastone Prowave Android tablet hands-on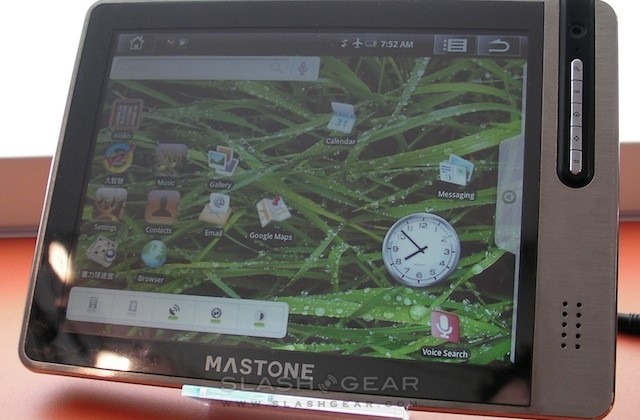 Archos may be planning a couple of new Android home tablets, but over in China there's already a few options to be had.  One such model is the Mastone Prowave, on show at MWC 2010 this week at Freescale's booth, and we stopped by for a quick play with the compact touchscreen device.
The Prowave runs Freescale's i.MX515 chipset, just like Freescale's tablet prototype we played with at CES 2010 last month.  Connectivity includes WiFi and 3G, together with a USB port and an integrated webcam, and Mastone have customized the standard Android UI with a number of new apps and widgets; some of those were in Chinese language only, however, so we couldn't really tell what they did.
Performance was fair and build quality was very high, with a brushed metal body and solid feeling buttons, and only the resistive touchscreen proved a mild disappointment (since we'd like to have seen a capacitive panel).  Still, we're guessing that will help Mastone keep the Prowave price down; so far we don't know what that price will be, though given Freescale have said that their reference design could come in at around $200 we're hoping for a similar level for this tablet.