Two Archos Android home-use tablets at CeBIT 2010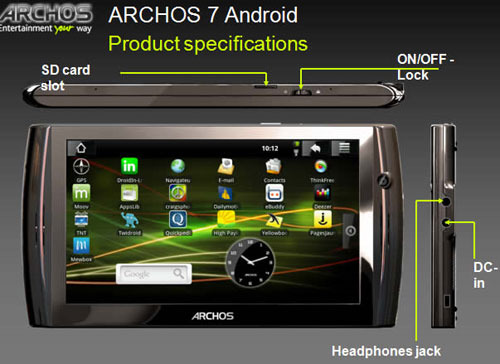 The Archos 7 looks pretty much to be locked-in for CeBIT in around a week's time, but according to Archos' German PR team the company have a second Android-based internet tablet to bring to the show. CarryPad have heard that two new devices are in the works for the Germany-based show, both described as "good value Android Tablets that are specially designed for use in the home".
That's based on a German to English translation, obviously, but the interpretation seems pretty clear all the same. The Archos 7 is in effect a scaled up version of the Archos 5, already on sale, which runs a custom UI and media enhancements on top of the Android OS.
That leaves the second new model to be puzzled over, and with Archos apparently positioning the next tablet range for in-home use, a 9-inch version seems likely. Archos already have the Archos 9 PC Tablet, which runs Windows 7 and has a 9-inch resistive touchscreen; however it runs an Intel Atom processor, rather than the more usual ARM-based chipset Android devices are seen with.