Marvel vs Capcom Infinite confirmed for 2017 on PS4, Xbox One, PC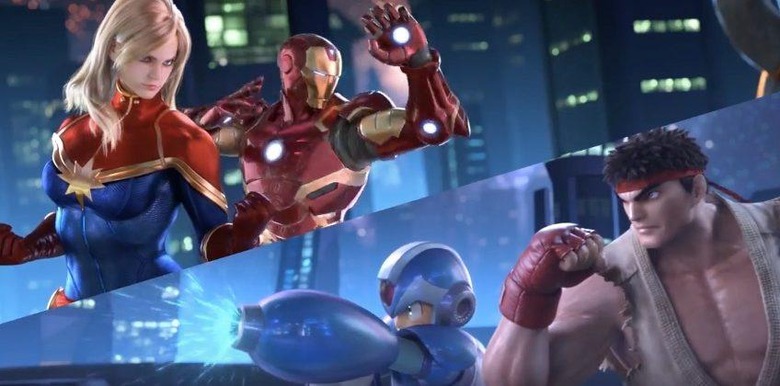 Just as was predicted last week, this weekend's PlayStation Experience (PSX) event saw the announcement of Marvel vs. Capcom Infinite, the fourth entry in the mash-up fighting game series. A teaser trailer was revealed featuring Capcom's Ryu and Mega Man facing off against Iron Man and Captain Marvel from the Marvel side. While the game made its debut at an official PlayStation event, Capcom has confirmed it will be released on PS4, Xbox One, and PC sometime in late 2017.
A brief gameplay clip was also shown off, confirming that Marvel vs. Capcom Infinite will maintain the series' frantic fighting action, including off the charts special and super moves, 2 vs 2 partner battles, and gorgeously rendered characters. The four previously mentioned characters were the only ones to appear in the videos, however it was reported earlier this week that the Marvel side of the line-up will draw heavily from the Marvel Cinematic Universe films, due to their growing popularity in recent years.
Sadly, this could even mean a departure for X-Men characters from the game, including series mainstays Wolverine and Cyclops. The theory about the Marvel Cinematic Universe influence on Marvel vs. Capcom Infinite is backed up by the presence of the Infinity Stones — which will soon be playing a much bigger part in the upcoming movies for The Avengers and more — appearing in combat.
While a full character line-up wasn't revealed, among the features for the upcoming fighting game are an in-depth cinematic story mode that will draw from both the Marvel and Capcom universes, training, mission, arcade modes, and online multiplayer with global leaderboards.
To celebrate the announcement of Marvel vs. Capcom Infinite, Ultimate MvC3 has been released on the PS4 and is available to download now from the PlayStation Store, with Xbox One and PC releases coming in March. The game features 1080p, 60fps graphics, and includes all its DLC.
SOURCE PlayStation Blog