Marshall Major Pitch Black Headphones Review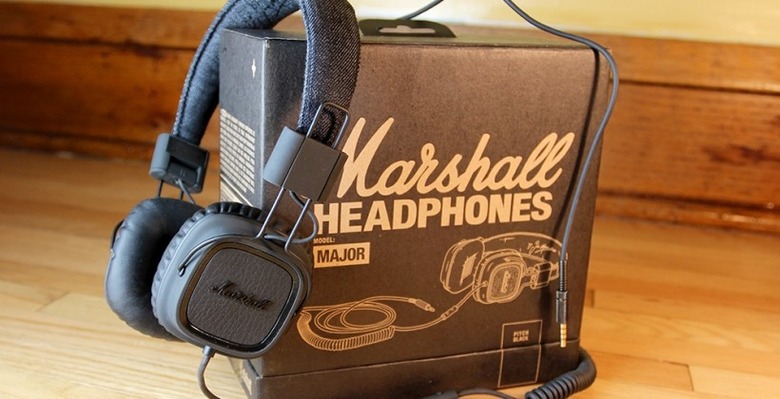 When we were first informed that
would be creating a pair of
here in 2012, it seemed too good to be true. One of the most major brands in the amplification of sound, providers of sound for no less than Slayer, greatest creation of Jim Marshall himself, they were going to push that sound right up to our eardrums? Yes, of course that seemed like a good idea. As it turns out, they've not only taken their major experience in sound and hammered it down to a pair of fine over-ear headphones, they've made them comfortable to wear, too!
These headphones are basically Frankenstein's monster of parts, with a near-black denim-like material covering the band between the phones, complete with padding, black metal bars holding the phones extending from a soft-plastic set of holders, and a slightly harder, yet just as matte black, set of backs for each phone, complete with the Marshall signature brand name popping out with clarity.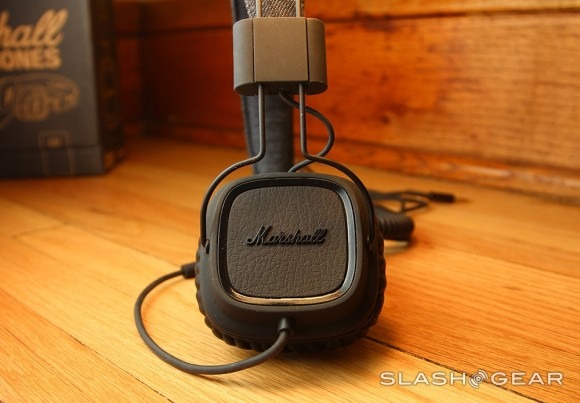 From there you've got a non-removable cord going down to a metal 3.5mm tip, the end of which is protected by what appears at first to be a fragile spring right near the end. This spring does work, regardless of how apprehensive you are about springs – its made of high-quality metal that does not stretch and stick like a lower-quality spring would. This is no toy.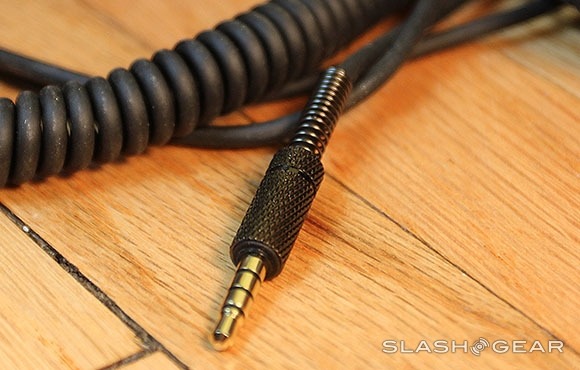 The cord itself then is covered by a rubbery black plastic which has a lovely curl to it through the portion nearest the user – this feature is surprisingly helpful, as millions of landline phone users from the 80's will tell you. Don't worry about getting it curled up though, it's just the right length and definitely not prone to doing so. The cord also has a microphone/control button combo which will be compatible with your Mac computer with iTunes and iPhone/iPad right out of the box – but feel free to make use of it in a host of ways if you've got the technical knowhow. The microphone is certainly decent, but not made to replace your smartphone's advanced noise-cancellation abilities.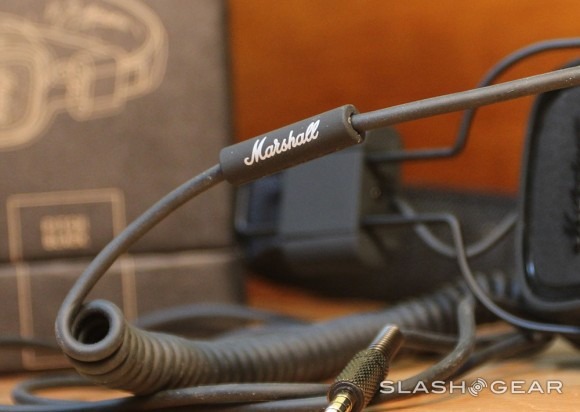 The fronts of each headphone have a prominent pillow for your ear. These rims are made to be comfortable enough for you to wear the headphones all day long – and indeed they are. The only reason I cannot leave the headphones on for extended periods is my above-average paranoia that someone is calling my name at all times: these headphones do noise cancellation quite well even though they aren't over-ear, believe it or not.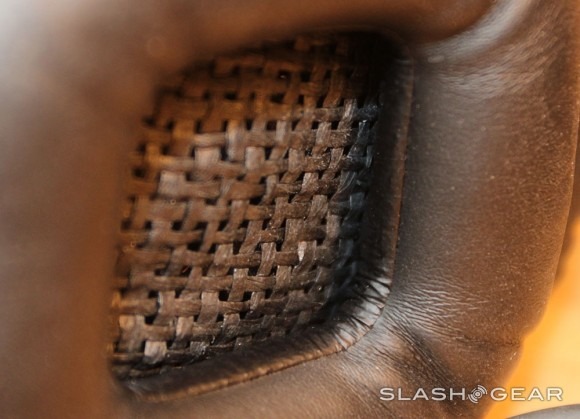 Inside the phones you'll find some interesting mesh rather than the traditional foam or un-named material substance. Because of this mesh, you'll have just a TINY bit more of a clear line between the actual sound blasters and your eardrums. These headphones take the falsehood that the little bit of padding between the speaker and your ear in most headphones offer some protection and they toss it out the window. There are headphones that cost several times as much as this pair that offer metal blocks and other next-level protection for professional audio users, but these aren't those.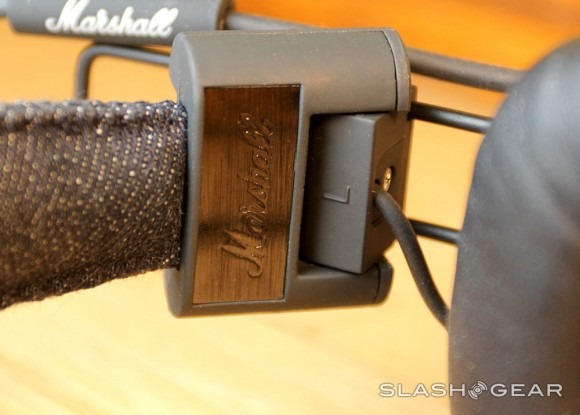 That said, you can rest assured that you've got top-quality speakers in your ears when you toss on this Marshall model. Even at the lowest volume they can project, and even at the highest volume we could muster they presented well-tuned results. We amped up with these headphones on several devices: with a standard non-hacked MacBook, HTC Android smartphone (
), and a Marshall amplifier. As with any speaker system, we could blow these out if we really wanted to, but with essentially any device you've got on hand, these headphones will go up to 11.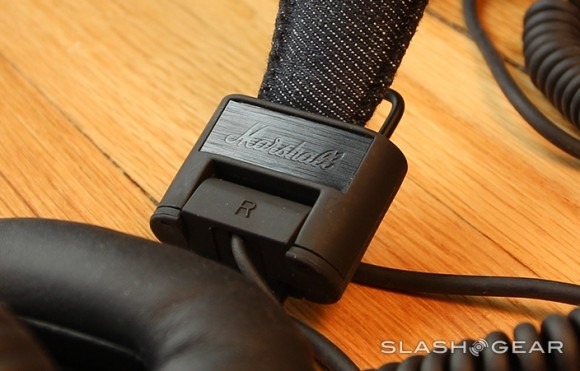 The bass is thunderous, the highs sound like lovely pixies in the forest, and everything in between just plain sounds good. Marshall has not let us down with this total package that of course also includes several headphone jack converter tips and a lovely box as well. You might end up tossing the box out, truth be told, but know this: the design of the packaging here as well as the brand power on the phones is top-notch. The signature printed in shiny black in on the inside top bit of this set of headphones lets you know: they're good enough to be Marshall brand approved.

Grab the Marshall Major Pitch Black Heaphones today from the
[Marshall Headphones Online Store]
for $120 USD. This is one of several color combinations you can pick up, and there's a lovely "Minor" pair of earbuds up for sale there as well – check em out!