Maingear Vybe Packs AMD Phenom II X6 CPU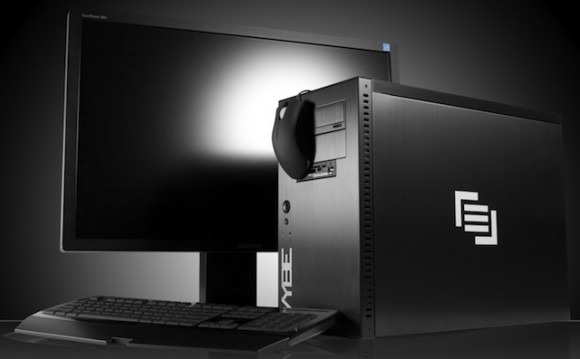 Unsatisfied with the AMD hexacore offerings today from CyberPower and iBUYPOWER today, and want more choice?  You're a fussy swine, but because we love you nonetheless we'll point you in the direction of Maingear's Vybe, latest gaming PC to get the Phenom II X6 as an option.
Two versions of the Vybe – listed as limited edition – have been introduced, with prices starting at $999 for the Phenom II X6 1055T based model (paired with an ATI Radeon HD 5670 GPU, 4GB of DDR3 memory and 640GB HDD) and rising to $1,299 for the Phenom II X6 1090T version.  The latter gets an ATI Radeon HD 5830 GPU and 6GB of DDR3 memory.
Buy now, incidentally, and they'll throw in a copy of Call of Duty: Modern Warfare 2, giving you something to actually do with your new PC.  For more on the AMD hexacores, check out our review roundup from earlier today.

Press Release:
MAINGEAR Debuts Limited Edition VYBE Gaming PC with Phenom II X6

Maingear integrates AMD's latest 6 core CPU to deliver elite performance to gamers and content creators starting at $999

Kenilworth, New Jersey – April 27, 2010 – MAINGEAR Computers, award-winning builders of custom computers for PC gamers, enthusiasts, and content creators, debuts the VYBE Limited Edition. VYBE leverages AMD's latest Phenom II X6 CPU to provide intelligent, powerful computing performance at an affordable price. VYBE users can now embrace AMD's Turbo Core technology that dynamically transfers performance to three dedicated cores operating at a higher frequency. These three turbocharged cores automatically give you the extra speed you need for intense gaming sessions or advanced content creation tasks.

Another nice feature of the 6-core Phenom II is AMD's OverDrive software, an all-in-one performance tuning utility that includes hardware monitoring and fan control capabilities. The latest VYBE also incorporates ATI Radeon 5000 series graphcs with DirectX11, and the AMD 890GX chipset featuring SATA 6Gb/s and USB 3.0. Customers who purchase the VYBE featuring the AMD Phenom II X6 and select ATI Radeon graphics will also receive a complimentary copy of Call of Duty: Modern Warfare 2.

"AMD's latest technology enables us to provide gamers and content creators with extremely capable 6 core performance at a price point that wasn't feasible up until now," said Wallace Santos, CEO and Founder of MAINGEAR. "We're now able to reach a new segment of the market with a value priced rig that delivers highly advanced computing power."

"The Phenom II X6 empowers gamers and creative professionals with elite performance and visually immersive computing," said Leslie Sobon, Vice President of Worldwide Product Marketing at AMD. "The MAINGEAR Vybe integrates a complete platform of AMD technologies for a fantastic computing experience."

Consumers can purchase the VYBE at MAINGEAR's Web site www.maingear.com/custom/desktops/vybe/ or order by phone at (888-MAINGEAR). The base price for the Vybe Limited Edition is $999 and comes with MAINGEAR's premium Lifetime Labor and Phone Support with a 1 year hardware warranty and is backed by the best in-house support team in the country.