MAINGEAR Solo 21 custom all-in-one PC gets sleek styling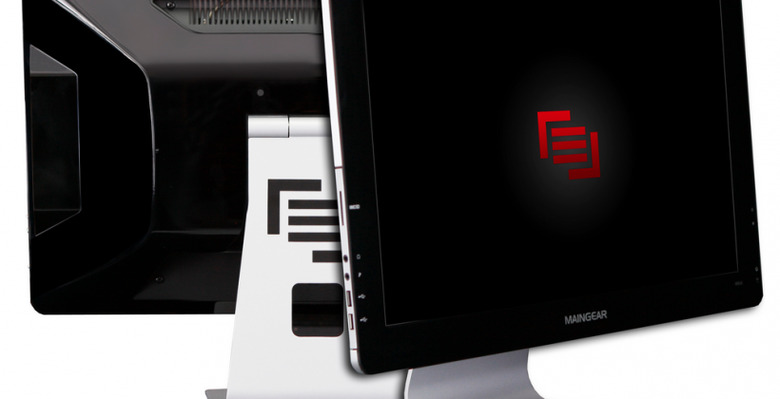 The folks at Maingear have revealed their next generation all-in-one PC design with the MAINGEAR Solo 21, a beast that truly appears to be ready to take on the most beautifully designed exterior casing designs on the market. While the innards of a Maingear custom-built PC are certainly bound to be well put together, it's their exterior look that sets them aside from the competition – when you buy a Maingear computer, you buy an amazing looking machine just as much as you buy a powerful machine.
Here with the MAINGEAR Solo 21, you've got an all-in-one machine that comes with the components you want inside, is able to be upgraded, and brings on the power of a full-size desktop computer with next to nothing in the way of ugly masses of cords and space-stealing components. You'll be able to build this beast with Intel's 3rd Generation Core technology (that's Ivy Bridge), and the whole thing is able to either sit on the mount it comes with OR work with a standard VESA mount up against your wall.
You've got the choice of Intel Core i3 2125 3.3GHz or upgradeable to Intel Core i7 3770S inside. You've got Intel DH61AG motherboard supporting USB 3.0, SATA 6G, 32nm and 22nm processors as well as optional Intel DQ77KB motherboard support with USB 3.0, SATA 6G, Intel SRT and vPro. Right out of the box this machine has a 500 GB HDD and the ability to upgrade to 1TB SATA HDD. You'll get a DVD burner built-in with the option to upgrade to a Blu-ray drive, the standard build has 4GB DDR3-1333 and upgradeable to 16GB DDR3-1600 memory, and you've got the Intel 802.11n as well as a Bluetooth wireless adapter.
This machine comes with Windows 7 Home Premium 64-bit and has up to four USB 3.0 ports so you can move forward with top speed. This machine is able to work with enterprise users with an optional Intel Q77 chipset – with said architecture you'll have he latest AMT 8.0 as well as Intel Identity Protection Technology and Intel Anti-Theft Technology to keep you safe.
The MAINGEAR Solo 21 will be popping up immediately if not soon direct from the company's online shop. The standard build will cost you just $899, and you'll be able to rack up one whole heck of a lot more of a bill depending on what you want to add on or change out. This machine take the previous all-in-one model from Maingear and amps up the build to a whole new level.