MAINGEAR Solo custom all-in-one revealed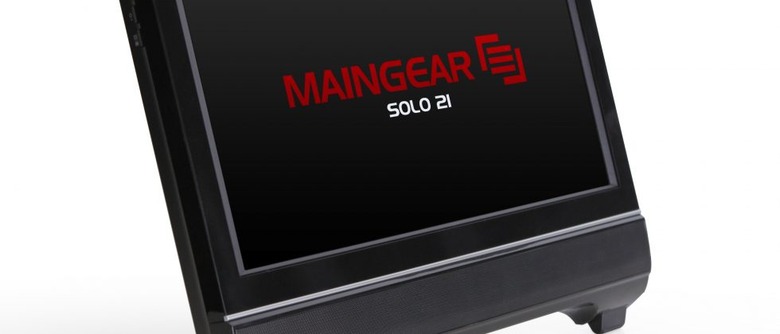 MAINGEAR has outed its latest custom PC, the Solo, a 21-inch all-in-one which promises to be the most flexible of its ilk. Fronted by a 1080p Full HD display – with an optional 10-point multitouch touchscreen – the Solo kicks off with a Core i3-2125 processor and 4GB of memory, but can be upgraded to a Core i7-2600S and 16GB of DDR3-1333. MAINGEAR also slots in 32GB of SSD caching memory as standard, to turn any regular HDD into a hybrid drive for up to 8x the performance, supposedly.
500GB of HDD space is standard, upgradable to a 2TB 7,200rpm drive, and there's a DVD burner with a Blu-ray burner option. Connectivity includes USB 3.0, WiFi b/g/n and Bluetooth as standard, along with gigabit ethernet and a memory card reader.
In fact, the only drawback to going the all-in-one route is the graphics; unlike MAINGEAR's other gaming-centric PCs, the Solo is a little less ambitious in the GPU department. The only option is Intel HD Graphics, certainly enough for the basics but not likely to impress anyone into their gaming.
Still, perhaps the range of case color options – including red, white, green or a custom hue of your choosing – will prove sufficient distraction from that. The MAINGEAR Solo kicks off at $999, but throw a touchscreen, maxed-out Core i7 chip and full RAM at it, and you're looking at around $1,500. Shipments begin later this month.