Mailbox app finally arrives on the iPad

The popular new email app for the iPhone, called Mailbox, has made its way to the iPad in the latest version 1.3 update that arrived today. iPhone users who have used Mailbox before will be familiar with the iPad version's layout, only this time around it sports a two-pane interface that makes it even easier to get down to inbox zero.
Essentially, the iPad app lets you scroll through your email while you have individual messages open in a larger pane on the right side. Of course, this type of layout isn't new as we've seen similar layouts in other iPad email apps, but if you're committed to Mailbox, you'll no doubt be pleased to be able to churn through email on a larger display.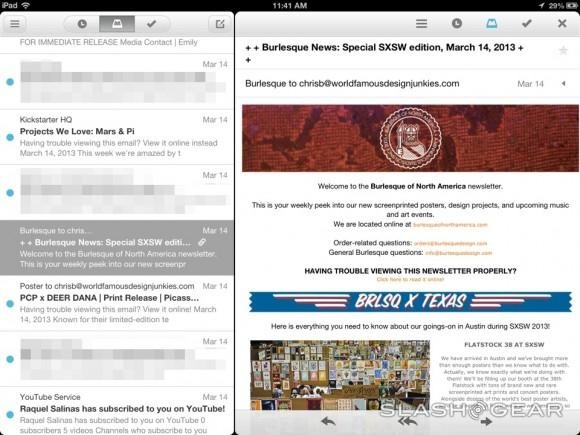 Mailbox first made its debut back in February for the iPhone, and most users were immediately greeted with a wait list status, meaning that a lot of users couldn't start using the new app right away, with hundreds of thousands of users waiting in line in front of them. However, the company recently removed the wait list and let anyone in, allowing full access to Mailbox.

Back in March, popular cloud storage service Dropbox acquired Mailbox for an undisclosed amount. The two companies didn't exactly detail what the future plans would be, but we're guessing that Mailbox will end up coming with some sort of Dropbox integration at some point, although two months later, we haven't heard from Dropbox about their plans for the email app.
If you're interested in using Mailbox, it's available for free, but it only supports Gmail at this point, with no word on whether or not other email services will get integration. Granted, a lot of people use Gmail anyway, but for those using Yahoo or Outlook, you'll have to hold up for a bit to see if Mailbox gets support for other service.
SOURCE: Mailbox