Magic Leap's CEO just defended the secretive startup's honor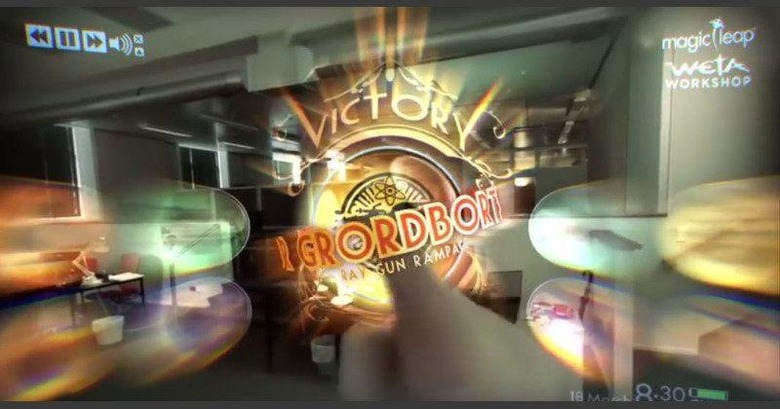 Magic Leap's CEO has come out fighting after reports suggested the company's augmented reality was more movie-style FX trickery than anything else. Rony Abovitz, chief executive at the clandestine startup, took to Twitter to respond to claims earlier this week that, far from the seamless blending of digital and real content its demonstrations suggested, Magic Leap was in fact an underwhelming experience.
The initial report, published by The Information, took particular issue with the involvement of Weta Workshop in one of Magic Leap's earliest demo reels. That's the special effects company which has worked on major motion pictures including the Lord of the Rings series, and which Magic Leap apparently turned to for all its post-processing. The video shows a normal office that, when viewed through the startup's headset, turns into a battlefield, with robots folding out of walls and gun turrets dropping from the ceiling.
According to insiders, at the time the video was released there was no such game at the company, however. In fact, its creation is only underway now the sources suggest. A subsequent video released by Magic Leap showed what, according to the small print, are visuals actually captured by pointing a video camera through the eyepiece, though it's a very different experience compared to the office scene.
One of the biggest concerns voiced, though, was just how far down the line Magic Leap's technology was compared to, say, Microsoft HoloLens. Rumors pegged the fiber-optic system Magic Leap's eyewear relies upon as being far from ready, and current headsets being oversized and clunky. More damning, the experience of them is said to be subpar compared to what HoloLens delivers.
Not so, CEO Abovitz responds. Although Magic Leap is yet to issue an official statement on the matter, the chief executive did take "grumpy mouse tech bloggers" to task for their skepticism. They will eventually get to see the results for themselves, he insists.
To a few of the grumpy mouse tech blogger writers: you too will get to play the real thing when we ship

— Rony Abovitz (@rabovitz) December 9, 2016
As for the chatter of a vast and cumbersome headset, Abovitz dismisses that as merely the fact that the few hands-on reports so far permitted have only tried the earlier prototypes. These bulky test-rigs, the CEO says, are a long way from the first production system, described as "small, sleek, cool". Magic Leap is, apparently, currently undertaking a small run of these headsets.
We have always used test rigs, breadboards, bench testing – to gather requirements and specifications

— Rony Abovitz (@rabovitz) December 9, 2016
In our factory now: we are making mini-production test runs of our first system: small, sleek, cool

— Rony Abovitz (@rabovitz) December 9, 2016
It's not especially surprising that Abovitz would be upbeat about his company, and there's plenty riding on what Magic Leap is doing. The startup has raised $1.4bn since being founded in 2010, with backers including Google, Qualcomm, and Andreessen Horowitz. Although it has not shown off its hardware publicly yet, that hasn't stopped Magic Leap from gathering plenty of headlines, as well as picking up some big names. Author Neal Stephenson is on the payroll, and Weta's Richard Taylor is also part of the company.
Details are in short supply, but according to previous comments the headset actually projects light directly onto the wearers' retinas with so-called light fields. That's not a new technology as such, but Magic Leap claims to have made improvements in usability and resolution to differentiate itself from previous prototypes. For now, we're still far from any sort of confirmed launch date, and none of Abovitz's tweets have suggested when, exactly, the broader hands-on time might be allowed.
Update: Abovitz has followed up his tweets with a post on the Magic Leap blog, setting out four of the key milestones the company has achieved or is facing:
We have completed our first PEQ (Product Equivalent) build of our target form factor, in our new facility.

We are about to start a much bigger PEQ run, which will exercise our supply chain and manufacturing/quality operations.

The units we are building now are for engineering and manufacturing verification/validation testing, early reliability/quality testing, production line speed, and a bunch of other important parameters.

There is also a lot more going in our development of software, applications, cool creative experiences and overall operational readiness.