Maemo "Contagious Content" concept promises geo-linked collaborative media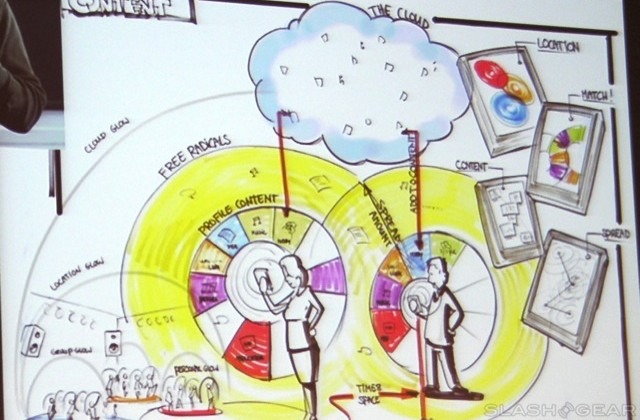 Nokia's various open-source teams are well on their way to being the flirting teases of the mobile OS world; after last week's Symbian Foundation demo video, showing a nifty amalgam of augmented reality, geo-location services and combined social network streams, head of Maemo marketing Peter Schneider took to the stage at Nokia's The Way We Live Next 3.0 event to discuss his team's vision of "contagious content".  According to Schneider, one day our mobile devices will be able to spot hot topics of information – whether they be Twitter messages, photos or something else – nearby to us, and flag them up to better involve us.
For instance, if one person attending a concert tweeted about it from their mobile device, and another person at the concert retweeted that message, or added a photo to a public Flickr feed, then other users at the concert might be matched up with them.  That way users would build and encounter different bubbles of collaborative content, discovering crowd-shared media and opinion that they might otherwise have missed.
Unfortunately, as with last week's video – which you can find here – you're unlikely to see contagious content on a Maemo device any time soon.  Schneider told us that "there's no plan on when it might be built", instead showing us a page of current and upcoming widgets, UX plug-ins, codecs and other tweaks to the Maemo 5 platform.  More on those tweaks in our video demo.