Symbian Foundation concept UI blends augmented reality & social networks [Video]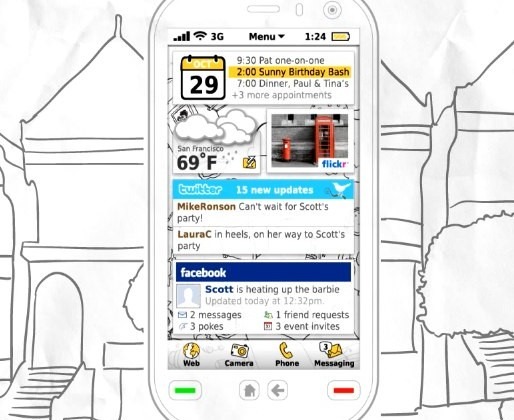 Like an ex-partner suddenly hitting the gym and prompting some relationship regrets (yes, we're shallow here in the tech world), Symbian Foundation have caught our eye with a new demo video of what they're suggesting might be a nifty future UI for the platform.  Part of Lee Williams' keynote at SEE 2009 last month, the video shows a device with lashings of augmented reality and location-based services, together with social networking integration.
Video demo after the cut
In the demo, there's a combined "event" stream from Facebook accessed from the homescreen, controlled by gestures; an invitation links into messaging, with Exchange-style meeting responses, and is automatically added to the device's calendar.  While on the move, meanwhile, an augmented-reality view of the street is overlaid with specific directions to the event complete with messages from other users ("the back gate is open").
Unfortunately, like discovering after a make-up date that your ex is still wedded to their old, destructive ways, Symbian Foundation aren't doing the sensible thing and leaping on this new idea.  Instead, they say, "this concept is not part of the Symbian UI Roadmap, but we hope some of the cool features and effects will make it into our reference UI and/or delivered handsets."  Disappointing, and for a platform that's rapidly being overlooked in favor of Android and webOS, potentially very short-sighted.
[via Gear Diary]