Maemo 6 UI concept revealed; capacitive & multitouch support confirmed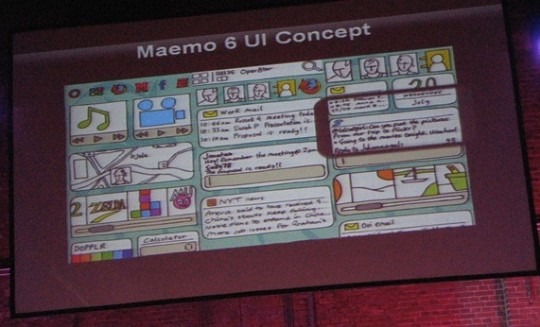 In the second chunk of Maemo 6 news today, Nokia have been spilling details regarding the upcoming OS at the Maemo Summit.  Steve from UMPC Portal has snapped some of the slides, with confirmation that Maemo 6 will support multitouch and capacitive touchscreens – as we already knew – together with some previews of potential UI designs.
Nokia are describing Maemo 6 as delivering an "iconic user experience and integrated internet services in one aesthetic package", which smacks of PR hyperbole – I'm sure Apple, Google, Microsoft, Palm and all the others would describe their own mobile platforms as offering the same.  Still, there are some interesting advancements on top of Maemo 5, such as the idea that the device screen is a window on the desktop, otherwise known as the "canvas principle".
As shown in the image above, the desktop is filled with widgets and controls and the device screen pans over it, showing different elements.  Nokia also intend both portrait and landscape support for Maemo 6, which up until now only supports the latter.  Unfortunately this will all be some time in coming; Maemo 6 isn't expected to launch until late in 2010.