MacBook Touch tipped to be Apple's secret development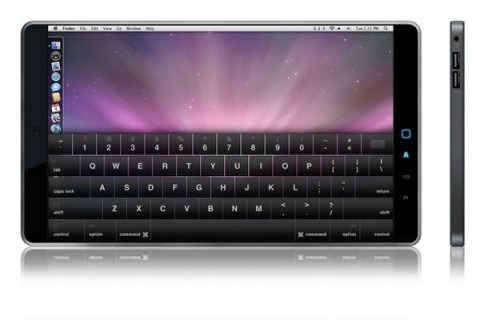 Shortly after Apple reignited rumors of a touchscreen Mac Tablet with the disclosure that the company is "very excited" about a new project incorporating fresh "technologies and features", MacDailyNews has heard from a trusted tipster that the product is indeed a multitouch keyboard-free tablet.  Describing the device -  MacBook Touch – as a little smaller than a MacBook display with an iPhone-style glass surface, advanced gesture library, slot-loading SuperDrve, accelerometer and GPS, the source claims the new tablet will launch "by October at the latest".
"Think MacBook screen, possibly a bit smaller, in glass with iPhone-like, but fuller-featured Multi-Touch. Gesture library. Full Mac OS X. This is why they bought P.A. Semi. Possibly with Immersion's haptic tech. Slot-loading SuperDrive. Accelerometer. GPS. Pretty expensive to produce initially, but sold at "low" price that will reduce margins. Apple wants to move these babies. And move they will. This is some sick shit. App Store-compatible, able to run Mac apps, too. By October at the latest" MacDailyNews source
The source has previously tipped Apple's introduction of wireless iTunes downloads direct to the device, a week before the company themselves announced it.  MacDailyNews has offered no suggestion as to whether the news comes from inside Apple, from a supplier or from another source; they are also unable to substantiate the rumor independently.
Nonetheless, the prospect of a "low" cost OS X tablet is not only something well rumored but also oft-demanded by Apple fans.  The renders you see here were produced in anticipation of a similar device being announced at MacWorld.