MacBook Pro sales beat total Surface Book sales in less than five days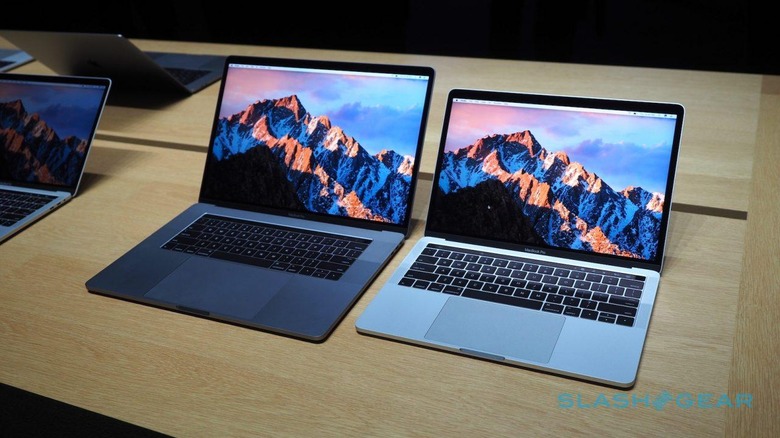 The reaction to Apple's changes with the new MacBook Pro will vary depending on who you're talking to, but it would seem that the Apple faithful have come out in force for these new machines. According to a new report from Slice Intelligence, the new MacBook Pros have been quite successful out of the gate. Sales have managed to outpace not only Apple's competitors, but also the previous 12-inch MacBook.
According to Slice's findings, the new MacBook Pro has sold seven times as many models as the 12-inch MacBook did when it launched back in March 2015. Slice Intelligence notes that sales of the MacBook Pro already total 78% of the revenue pulled in by the 12-inch MacBook since launch. That isn't bad when you consider that the MacBook Pro has only been available for less than a week.
The difference begins to look even more drastic when we shift away from Apple. According to this report, the MacBook Pro has outsold Microsoft's Surface Book nearly 5-to-1 during this launch period. The Surface Book turned one-year-old last month, so the MacBook Pro's performance has been impressive to say the least.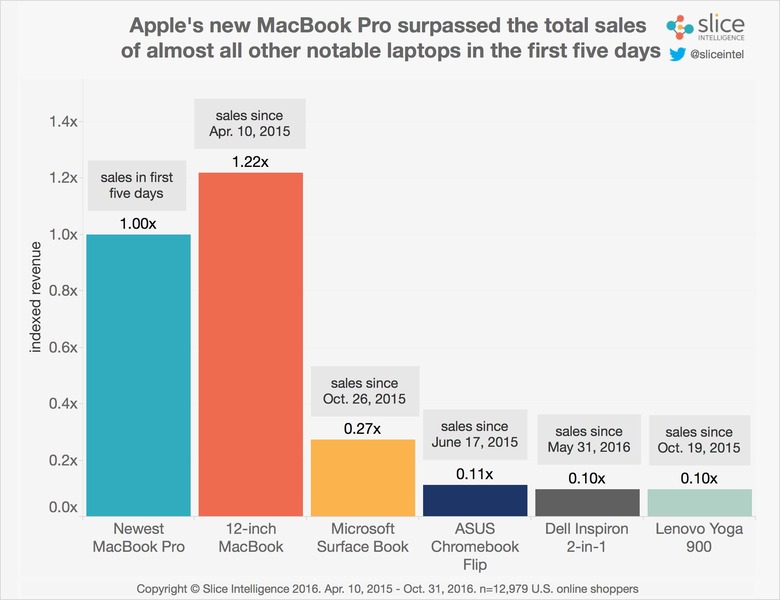 Notebooks from other companies like Dell, Lenovo, and ASUS have an even harder time keeping up. One interesting thing to note, however is that some of these models from Apple's competitors seem to target a different audience than the MacBook Pro. That much is at least true for the ASUS Chromebook Flip, which the MacBook Pro is being compared to in this analysis.
Apple has some work ahead of it, though, as Slice also discovered that nearly 40% of people who purchased an Apple laptop in 2014 went to a different company for their subsequent notebook. Slice says that it collected e-receipt data from 4.4 million online shoppers to come up with these numbers, making the results here somewhat more accurate than traditional polls.
Since Apple hasn't shared sales numbers yet, we don't have any official word on how the MacBook Pro is performing. However, should these numbers from Slice turn out to be accurate, then it looks like the new MacBook Pro is off to an excellent start.
SOURCE: Slice Intelligence