MacBook Pro reboot appears in benchmarks for 13 and 15-inch iterations

Those of you waiting for the next-generation MacBook Pro line will do well to keep eyes tuned to the benchmark world this week where two new models have appeared with GeekBench, a 15-inch reboot popping up today. This set of new devices do not yet have one whole heck of a lot of details attached to them as such, but what we can see is telling. Both devices, for instance, work with a custom build of Apple's newest desktop operating system OS X Mavericks.
You'll be seeing the 15-inch MacBook Pro reboot appearing with the 13-inch MacBook Pro later this year – likely with Retina displays ready to roll, but here we'll be seeing what early test models have to bring to the game for computing power. As it stands here, the machines – the both of them – won't necessarily be bringing much higher total benchmark scores to battle, with battery life leading the charge similar to what we've seen with the newest range of MacBook Air units.
Both devices will be rolling out with 4th Generation Intel (Haswell) processors eventually, and if the battery life boost we've seen in the MacBook Air range from this Spring is any guide to go by, we'll be kicking out far more than the current average 7 hours of life of the newest 15-inch MacBook Pro. With the MacBook Air's advertised 80% increase in battery life applied here, that'd be well over a full day's work on a high-powered machine.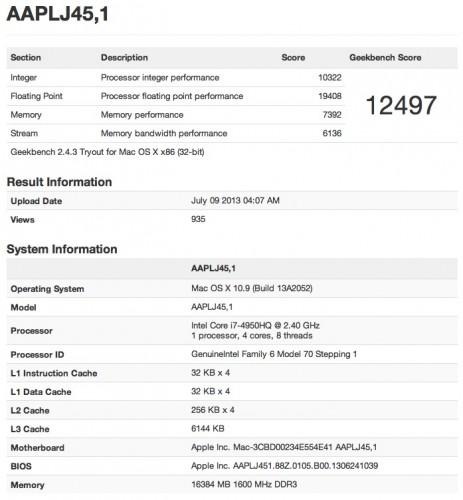 Have a peek at SlashGear's MacBook Air 13-inch Review (mid-2013) to see the big differences between generations and you'll have an OK idea of the boosts to this new range.
According to Primate Labs' John Poole speaking with MacRumors, GeekBench should be seeing discreet GPU results if these notebooks do, indeed, have said technology aboard. At the moment it would appear that even if these machines had discrete GPU action aboard and had the on switch flipped off, GeekBench would still be showing the technology aboard. Cross your fingers anyway!