MacBook Pro 15/17 Get 2.8GHz Core I7 Options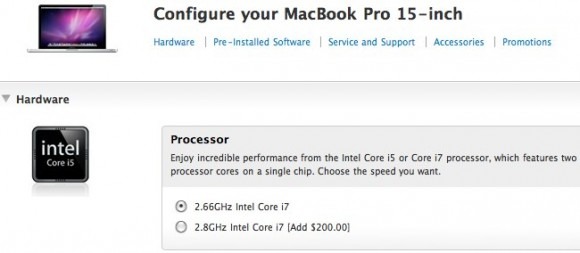 Apple's "Back to the Mac" event may have been all about OS X 10.7 Lion and the new MacBook Air range, but the company's web gibbons have also been fiddling with the processor options for the MacBook Pro.  Intel's 2.8GHz Core i7 processor is now listed as an option for both the 15-inch and 17-inch MacBook Pro notebooks, though you'll need to opt for the high-spec versions in order to select it.
Only the top-tier Core i7 15-inch MBP has the new 2.8GHz option available; that's $2,199 to begin with, and then the CPU upgrade is another $200 on top.  The 17-inch MacBook Pro, meanwhile, starts at $2,299, but the 2.8GHz CPU is $400 more.
Sadly there's no sign of a CPU refresh for the 13-inch models, which still get Core 2 Duo processors rather than any of Intel's more recent chips.
[Thanks Tony!]