OS X 10.7 Lion Official: Mac Meets the iPad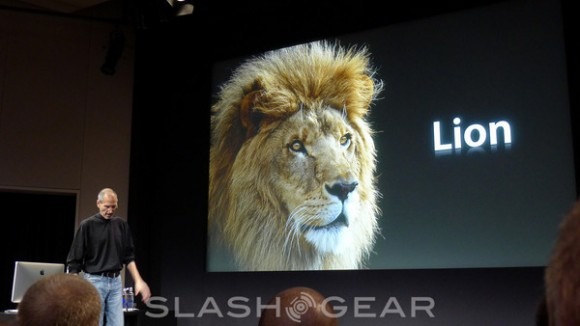 After 7 major releases of Apple's OS X platform over the last decade, it's all come to this. Apple has just announced the brand new version of OS X, and it's called Lion. Just as we had suspected. The new version brings plenty of upgrades to the OS, and there's even a few surprises in store, just as Apple had suggested on their revenue call earlier in the week.
All the talk about a touchscreen iMac turned out to be true, but ony a half-truth. The end result is actually a MacBook that features a touchscreen, plus everything else you might expect to find on an iPad, and now it's on the MacBook. You'll get applications. The main effect of Lion is that it was specifically inspired by iOS, and this is the result.
The MacBook will feature an App Store, which will feature an application amount that many would expect. There will also be App Home Screens, Auto Save, and applications will resume from where you left off, depending on the app, after you launch it again after closing it. Stay tuned as more is still coming.
Two things to point out here, one of which will be very obvious. The applications won't work in a vertical screen, as the MacBook's display is horizontal by default. And, while the Mac App Store is one feature of the announcement, the implementation of the LaunchPad is great. It basically brings up a list of your applications on your desktop display, just as you'd see on an iPhone or iPad. Lined up in a horizontal grid, and easily accessible right there.
As for a release date? It looks like Apple is keeping Lion in the oven for awhile longer. They just announced that it will be available in the Summer, 2011. No exact dates yet, but that will change soon enough.
Press Release
Apple Gives Sneak Peek of Mac OS X Lion

CUPERTINO, California—October 20, 2010—Apple® today gave a sneak peek of Mac OS® X Lion, the eighth major release of the world's most advanced operating system. Shipping next summer, Lion is inspired by many of iPad's software innovations. Today's sneak peek highlighted just a few of Lion's features, including the Mac® App Store℠, a new way to discover, install and automatically update desktop apps; Launchpad, a new home for all of your Mac apps; system-wide support for full screen apps; and Mission Control, which unifies Exposé®, Dashboard, Spaces® and full screen apps into an innovative new view of everything running on your Mac, and allows you to instantly navigate anywhere.

"Lion brings many of the best ideas from iPad back to the Mac, plus some fresh new ones like Mission Control that Mac users will really like," said Steve Jobs, Apple's CEO. "Lion has a ton of new features, and we hope the few we had time to preview today will give users a good idea of where we are headed."

The Mac App Store brings the revolutionary App Store experience to OS X, making discovering, installing and updating Mac apps easier than ever. Like on iPad™, you purchase apps using your iTunes® account and they download and install in just one step. App updates are delivered directly through the Mac App Store, so it's easy to keep all of your apps up to date. The Mac App Store will be available for Snow Leopard® within 90 days and will be included in Lion when it ships next summer.

Launchpad makes it easier than ever to find and launch any app. Similar to the Home screen on iPad, you can see all the apps on your Mac elegantly displayed just by clicking the Launchpad icon in the dock. Apps can be organized in any order or grouped into folders, and you can swipe through multiple pages of apps to find the one you want.

Lion includes system-wide support for full screen applications. With Lion, you can enter full screen mode with just one click, switch from one full screen app to another with just a swipe of the trackpad, and swipe back to the desktop to access your multi-window applications.

Mission Control presents you with a unified view of every app and window running on your Mac, so you can instantly navigate anywhere. Mission Control also incorporates the next generation of Exposé, presenting all the windows running on your Mac grouped by application, alongside thumbnails of full screen apps, Dashboard and other Spaces.

Apple designs Macs, the best personal computers in the world, along with OS X, iLife, iWork, and professional software. Apple leads the digital music revolution with its iPods and iTunes online store. Apple is reinventing the mobile phone with its revolutionary iPhone and App Store, and has recently introduced its magical iPad which is defining the future of mobile media and computing devices.