MacBook Air Gets Half-Power Thunderbolt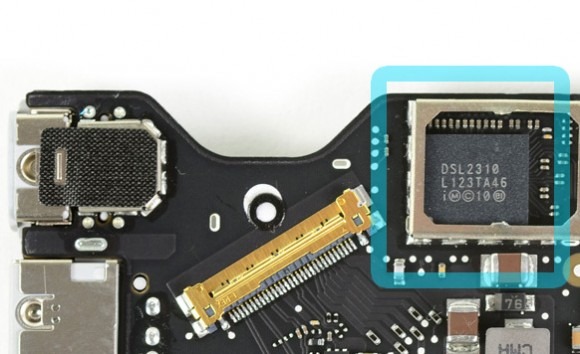 Apple's new MacBook Air may have a Thunderbolt port, but size and cost constraints have led to the updated ultraportable offering reduced external display support in comparison to its MacBook Pro, iMac and Mac mini siblings. The Air uses an Eagle Ridge Thunderbolt chip, AnandTech reports, which only supports half the data channels of the chip found in the other recent Apple models, as well as a single DisplayPort output.
That means that, while Apple's new Thunderbolt Display is capable of daisy-chaining its Thunderbolt connection to support two such monitors coming off of a single MacBook Pro, iMac or Mac mini, the MacBook Air can only handle a single screen. It's unlikely to be a hugely restrictive factor for most Air owners – after all, the Thunderbolt Display is $999, the same as the entry-level 11.6-inch ultraportable itself – but it's worth bearing in mind if you wanted to make the notebook the center of a triple-screen workstation.
The limitation is because Apple uses a different Thunderbolt chipset on the other products: the original Intel Light Ridge controller. That offers four Thunderbolt data channels, each supporting 10 Gbps of bi-directional traffic for 80 Gbps of aggregate bandwidth, and two DisplayPort outputs. The physically smaller Intel Eagle Ridge chipset, meanwhile, is available in a SFF (small form factor) design, and it's presumably that compact construction (as well as the fact that it's a cheaper chip than Light Ridge) which led Apple to include it in the MacBook Air.
As Thunderbolt peripherals become more common, meanwhile, Apple's decision could mean that users find their Air less capable of shuttling data around than, say, one of the other models in the company's computing range. More on the MacBook Air in the full SlashGear review.