MacBook Air 11 2013 teardown breaks up baby Haswell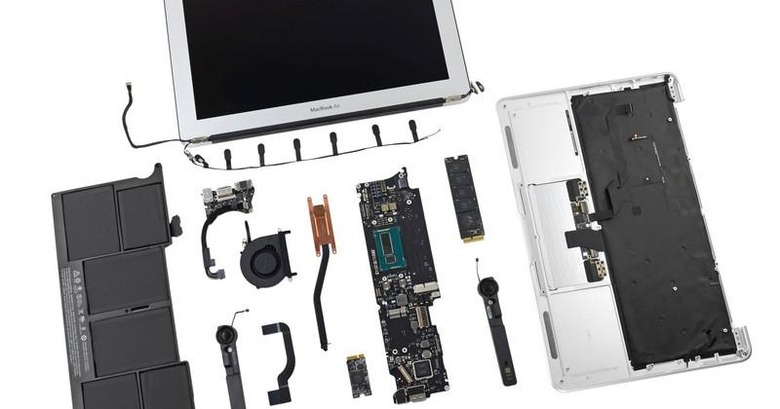 It's a rite of passage, the post-launch teardown, and one the 11-inch MacBook Air couldn't escape after its bigger sibling suffered the indignity on Wednesday. iFixit stripped the slimline ultraportable to its component boards in the hunt for something electronically interesting, finding a bigger battery than the old model, as well as new flash storage that's a little less Samsung dominated.
In fact, the 128GB flash drive – which is, again, proprietary – uses components from three different suppliers. Where the 13-incher's storage was from Samsung, the 11-inch version gets SanDisk NAND, a Marvell PCIe SSD controller, and Samsung SDRAM.
Meanwhile, the battery has climbed from last year's 35Whr pack to a 38.75Wh pack, though jumps up to 8.08oz from 7.90oz in the process. Apple claims up to 9hrs runtime from a single charge, if you're doing solid browsing over WiFi, and on that subject there's now 802.11ac which is supplied by exactly the same AirPort card as in the 13-inch Air.
Otherwise, it's the 13-inch model but smaller. The SSD is more compact, there's no separate platform controller hub, and there's a new heat-sink clamp.
Apple's Macs have been getting progressively worse ratings from repair companies like iFixit over the years, as Apple trades user-replaceable parts for slicker, lighter design and custom components. The 11-inch MacBook Air is little different in that respect, with some early praise for how easy it is to open up and access the parts, but then slammed for all of the key parts being either proprietary or soldered in place.
In short, when you first buy an Air, make sure you buy the model you think you'll eventually want, since you won't be able to upgrade it down the line.