Mac Retina Display looking likely: High-res apps hit Mac App Store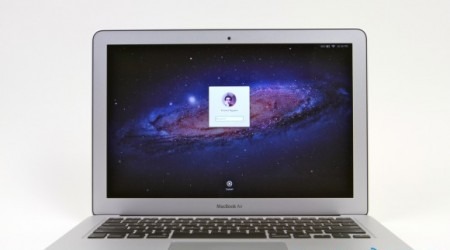 Further evidence of a Retina Display upgrade for Apple's new Macs has emerged, with Mac App Store apps being quietly updated to apparently support the pixel-dense panels. File sync tool FolderWatch [iTunes link] has been spotted mentioning Retina graphics in a recent update, and while Apple is yet to confirm that the new computers - expected to make their debut at WWDC 2012 next week – will indeed follow the new iPad with a high-resolution display, it's nonetheless looking increasingly likely.
FolderWatch developer Brothers Roloff makes no extra mention of the Retina provision in its detailed release notes, and it's possible that this is a speculative feature-add rather than something based on Apple's own roadmap. However, with each title being approved by Apple before it drops into the Mac App Store, that perhaps seems less likely.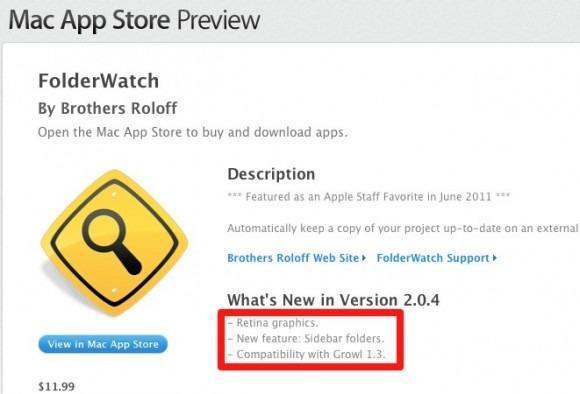 Exactly which models will offer Retina Display graphics and which will not is also something of a mystery at the moment. The screen technology has been linked with the new MacBook Pro line-up, though not necessarily with the refreshed iMac, and while Apple's Mac Pro is also expected to receive a long-overdue upgrade, it's not clear whether that will be accompanied by high-res Thunderbolt Displays.
There's more on what to expect at WWDC 2012 in our full wrap-up ahead of the developer event next week. SlashGear will be liveblogging the keynote – with iOS 6 details also likely to be on the agenda – from 10am PST on July 11, so join us at live.slashgear.com for all the news as it happens!
[via TNW]