Mac Pro 2019: Prices, options & the maxed-out monster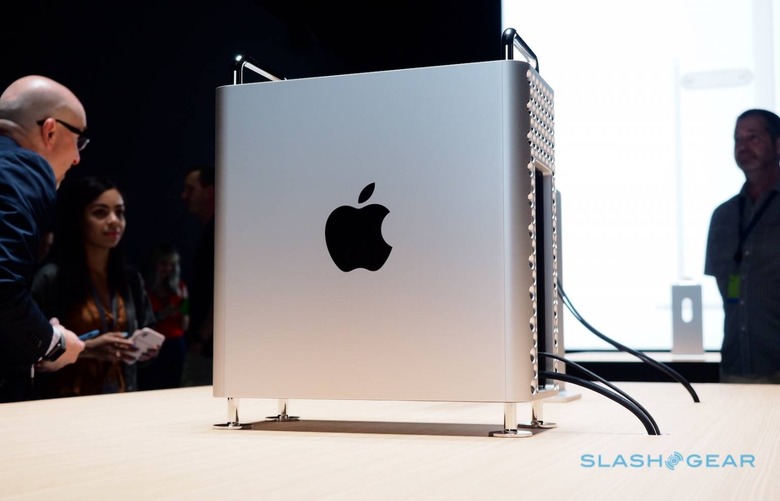 It's new Mac Pro day, and if you've been saving up for Apple's 2019 flagship then now's the time to smash open the piggy-bank and hope you've got enough in there. Apple previously told us that it would be pricing the new macOS desktop from $5,999, but unsurprisingly things get even more expensive when you start checking off the options. Read on for what's on offer – and what a maxed-out Mac Pro will set you back.
Processor
The entry-level Mac Pro gets Intel's 3.5GHz 8-core Xeon W processor, with Turbo Boost up to 4.0GHz. There are four optional upgrades, offering up to 28-cores. It's worth noting that, if you also want the maximum memory in your Mac Pro, you'll need the higher-end 24- or 28-core CPUs too.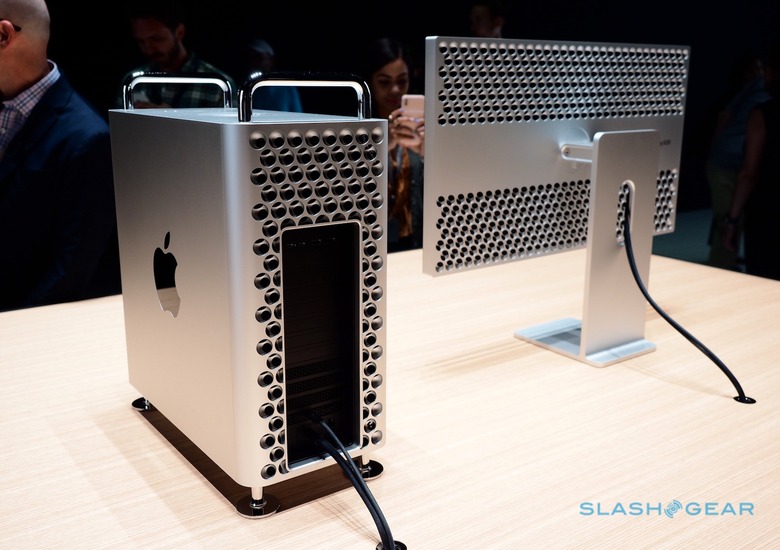 The 3.3GHz 12-core Xeon W (with 4.4GHz Turbo Boost) adds $1,000, while the 3.2 GHz 16-core version (with the same Turbo Boost) adds $2,000 to the base price. The 2.7GHz 24-core Xeon W is $6,000 on top of the base price. Finally, the 2.5GHz 28-core Xeon W is $7,000.
Memory
Apple's entry-level model its 32GB of DDR4 ECC memory, as four 8GB DIMMs. However the sky is the limit, with up to 1.5TB of memory potentially supported. You might find shopping around for third-party DIMMs is cheaper, and since the Mac Pro is designed to be easily upgraded that's just a matter of unlocking the top handle and sliding off the aluminum housing.
If you're happy to go with Apple's RAM, 48GB (6x8GB) is $300 on top of the base price. 96GB (6x16GB) is $1,000, while 192GB (6x32GB) is $3,000. 384GB (6x64GB) comes in at $6,000, while 768GB can be had in two layouts: 6x128GB for $14,000, or 12x16GB for $10,000.
Finally, 1.5TB of memory – filling all twelve slots with 128GB DIMMs – is $25,000. Remember, you'll need a 24-core or 28-core CPU to support that.
Graphics
The entry-level Mac Pro gets AMD Radeon Pro 580X with 8GB of dedicated GDDR5 memory. Add $2,400 for the Radeon Pro Vega II with 32GB of HBM2 memory, or $5,200 for two of those cards (with 32GB of memory each).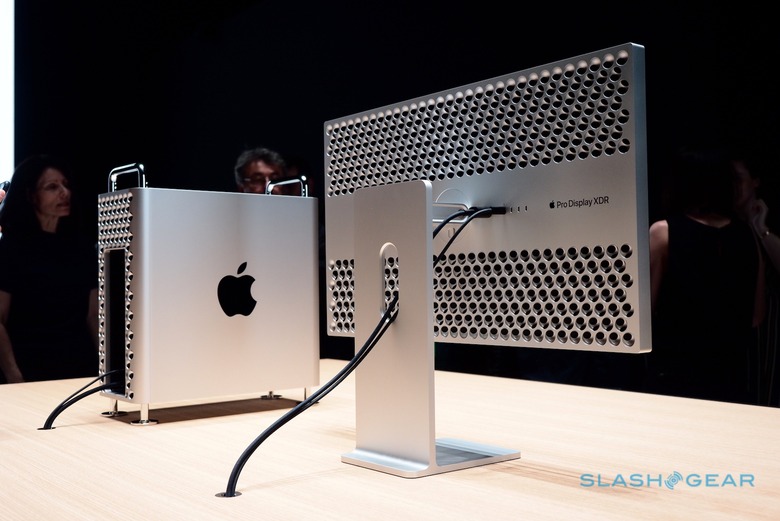 A Radeon Pro Vega II Duo, with 2x32GB of HBM2 memory, is also $5,200 on top of the base Mac Pro price. At the moment, the maximum configuration is two Radeon Pro Vega II Duo each with 2x32GB of HBM2 memory. That's $10,800.
Coming soon, Apple says, are two other graphics options. That'll include a Radeon Pro W5700X with 16GB of GDDR6 memory, and two Radeon Pro W5700X with 16GB of GDDR6 memory each. Pricing has not been confirmed yet.
Another option to consider is the Apple Afterburner. That's a PCIe accelerator card, which can take on decoding of ProRes and ProRes RAW video codecs in Final Cut Pro X, QuickTime Player X, and supported third-party applications. It's installed into PCI Express slot 5 (x16), and is priced at $2,000.
Storage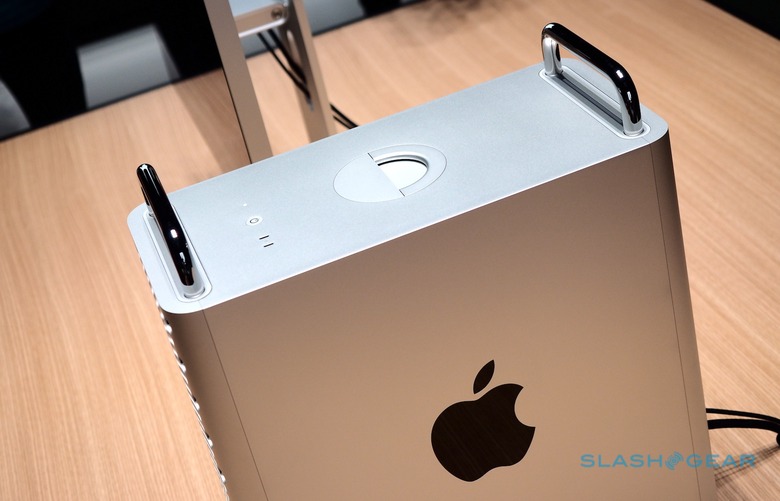 By default, all storage in the new Mac Pro is SSD, and the base model gets 256GB. Bumping that to 1TB is $400, while 2TB is $800. 4TB is the current maximum Apple is allowing, at $1,400.
However, there'll be an 8TB SSD available to configure "soon," the company says. Until then, there are plenty of Thunderbolt 3 ports to add external drives if you prefer.
Accessories
Apple has a short list of accessories you might want to consider with the Mac Pro 2019. The base model comes with a black Magic Mouse 2 and matching black Magic Keyboard with Numeric Keypad, along with a black power cord and a black USB-C to Lightning cable to charge the peripherals. You can add a black Magic Trackpad 2 for $50, or get both the mouse and the trackpad for $149.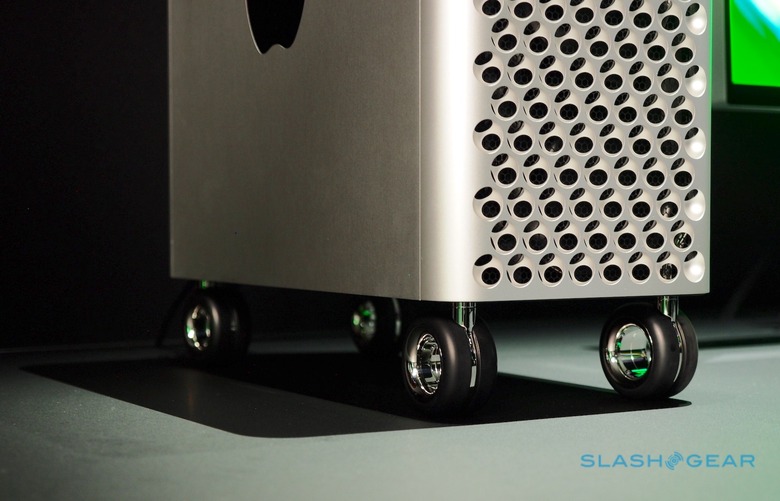 As for transportation, the standard Mac Pro has stainless steel feet. You can swap those for wheels, however, if you want to trundle your computer from room to room, or just make it easier to rotate it on a desktop. They're $400.
A maxed-out Mac Pro 2019...
So you've got a company credit card to flex, no limit on your expenses, and are in the mood for a new Mac... good for you! If you max out the 2019 Mac Pro you're looking at a whopping $52,748. That's before any software, but with all the current accessories. Apple says such a configuration will ship toward the end of January 2020 or early in February 2020.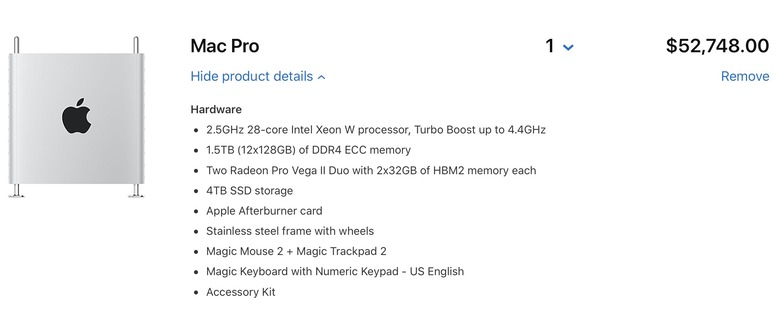 Of course, there's also the Apple Pro Monitor XDR to consider. That's $4,999 for the standard 32-inch Retina 6K model, or $5,999 for the version with nano-texture glass. Add $999 for the matching Pro Stand.