Mac mini 2010 review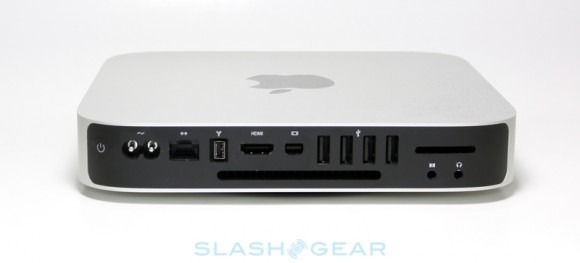 Apple's Mac mini was always the compact computer with a few frustrations. Perfectly scaled for doing duty as your HTPC, the absence of a native HDMI port meant hooking the Mac mini up in your living room was never quite as easy as we'd like to expect from Apple. Now, with a slick unibody refresh, more media-friendly specs and a reworked I/O selection, the new Mac mini looks set to take on SFF PCs for the home entertainment crown. Check out the full SlashGear review after the cut.
At first glance you could be mistaken for thinking the new Mac mini looks pretty much the same as its predecessor; in fact there are plenty of differences. Rather than the plastic shell of before, Apple have switched to CNC machined aluminum like their unibody MacBook Pro notebooks. It's also lower and wider than the computer it replaces, but by shifting the power supply brick internally the overall footprint is less. Bar the Apple logo on the top and the slot-loading DVD drive up front, the unibody shell is clean and clear; all of the ports are at the back.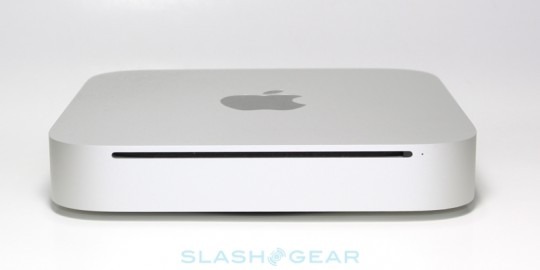 It's the port selection that marks the new Mac mini's other great departure: Apple has finally dropped the DVI socket and replaced it with an HDMI output (alongside the existing Mini DisplayPort). You lose a USB 2.0 in the process – it's down to four – but also get an SD/SDHC/SDXC card slot along with the FireWire 800, gigabit ethernet and audio in/out (which double as both analog and digital). Inside there's WiFi a/b/g/n and Bluetooth 2.1+EDR as standard.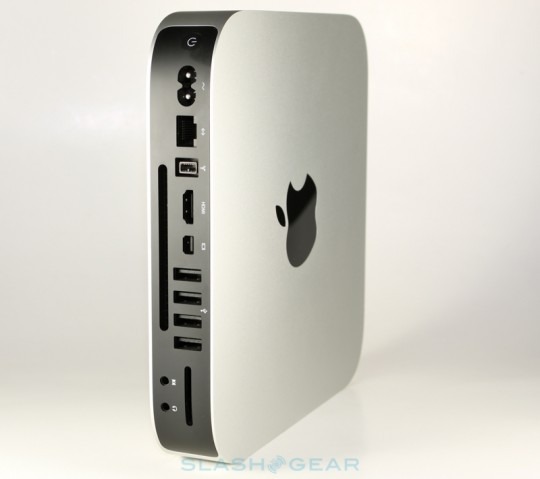 In one fell swoop, Apple has given home entertainment users a super-straightforward machine that takes seconds to set up. Plug in the power cord, hook up via HDMI to your HDTV (the connection carries audio as well as video), and pair a Bluetooth keyboard/mouse set – not included, and of course you can use USB 2.0 peripherals too, though the Mac mini obviously works great out of the box with Apple's own keyboard and mouse – and you're ready to go. Not only does this new model use 25-percent less power than its predecessor (about as much in normal use as a regular lightbulb, in fact), it's also incredibly quiet: 14dBa at idle means it's likely to be overwhelmed by background noise in all but the most mausoleum-like of environments, and even when active we could hardly hear it running.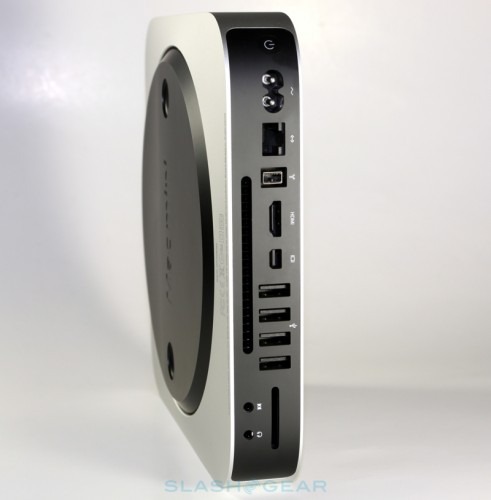 That's a surprise, given Apple hasn't really stinted on the specifications. Standard is a 2.4GHz Core 2 Duo CPU with 3MB L2 cache and 1066MHz frontside bus, paired with 2GB of RAM and a 320GB hard-drive; options include a 2.66GHz CPU, up to 8GB of RAM and up to 500GB storage. Incidentally, the Mac mini with Snow Leopard Server – which replaces the optical drive with a second hard-drive – comes as standard with the 2.66GHz CPU and 4GB of RAM, along with two 500GB 7200-rpm hard drives built in.
[sgbenchmark id=100 show=system]
We ran Geekbench on the Mac mini, a synthetic test that measures processor and memory performance. Altogether, it scored 3550, around 100 points less than the similar architecture and processor in the current-generation 13-inch MacBook Pro (which, it's worth remembering, starts at $1,199). That's respectable for a small-form-factor desktop, and well in excess of what we've seen from Atom-based nettops.
[sgbenchmark id=100 show=score]
Graphics on both models are courtesy of NVIDIA's GeForce 320M, which shares 256MB of the main memory. That means it's unlikely to be a gamers' dream machine, but can still pump out up to 2560 x 1600 resolution over Mini DisplayPort or 1920 x 1200 via HDMI (an HDMI to DVI adapter is included in the box, or you can buy a Mini DisplayPort to VGA adapter separately). Still, it happily crunched through the test video files we processed in iMovie – part of the included iLife suite Apple preload, as well as iPhoto, GarageBand and other apps – though took a little longer than the heftier CPU/GPU combos in the MacBook Pro line.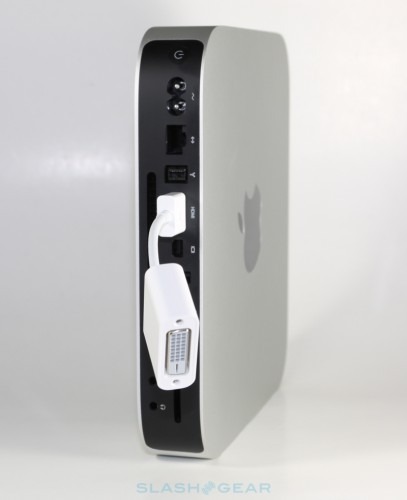 Thanks to OS X and iLife there's plenty that you can do with the Mac mini out of the box, including use it as a media center. We're disappointed that Apple didn't bundle their infrared remote in the box – it's a $19 accessory – since it works so well with Front Row, the company's sofa-friendly UI that offers easy access to iTunes music, iPhoto photos, Movies and DVDs. Saying that, we've a feeling many Mac mini owners will look to third-party HTPC apps like Boxee, which add in features like internet streaming audio and video access (such as YouTube), on-demand content and, platform depending, premium pay-per-view TV episodes and films. We'd love to see Apple turn their attention to Front Row and boost its online abilities, but judging by their attitude to Apple TV they seem content to leave the niche to independent software vendors.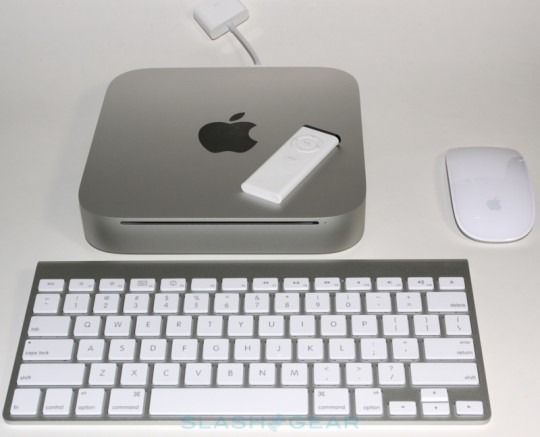 While you might assume the Mac mini was a relatively closed box when it comes to user upgrades, you'd not be entirely correct. Upend it, twist off the circular base-plate and you can easily access the two RAM slots so as to upgrade the memory (something we'd recommend doing yourself, since Apple's factory-fit upgrades are, as ever, on the expensive side). Unfortunately the easy access ends there: if you want to switch out the hard-drive, for instance, you'll need to get out the screwdrivers and set aside a fair chunk of time, since Apple has had to perform some origami to get everything to fit.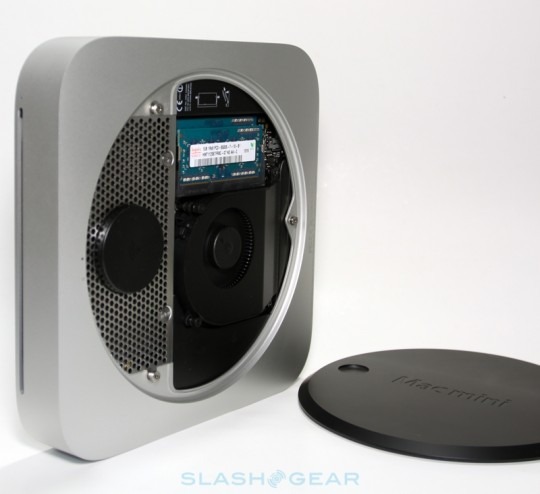 So, is the Mac mini the perfect second-computer, lounge media machine or MacBook alternative? It's certainly a strong contender, though there is aspects, which we wish Apple, had addressed along with the new chassis and HDMI addition. An eSATA port is the most obvious one, though Apple point to their FireWire 800 port as an alternative, and for that matter we wouldn't have argued with USB 3.0 rather than 2.0. It's entirely likely that Mac mini users will be plugging in ever-increasing external hard-drives, and so boosting the interfaces accordingly would seem like a sensible plan. The Cupertino company's consistent refusal to add a Blu-ray drive is also a pain, given the Mac mini's obvious HD abilities.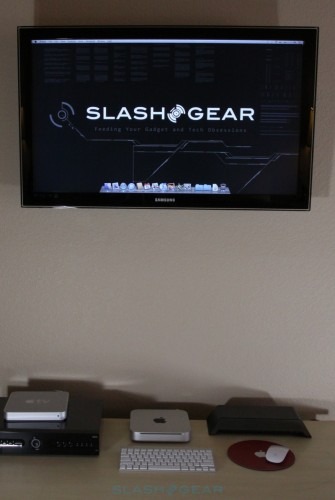 Still, we're big fans of the Mac mini in its current form. Yes, the price has seen a roughly $100 boost over the last-gen model, but if you consider a Mini DisplayPort to HDMI adapter is currently around $35, plus the CPU and GPU boost, and throw in the SDXC card reader too, that doesn't sound like too bad a deal to us. At $699 we'd certainly pick it over the white entry-level MacBook for home use, and it would make for an ideal family PC in the living room: showing multimedia content one minute, browsing the internet the next. If you've already amassed a huge Blu-ray collection – rather than, say, HD-quality digital content – then the absence of a suitable optical drive may be a deal breaker, but the majority of people will find a whole lot of their boxes ticked by, ironically, a very small Apple box.
Mac mini unboxing and walkthrough video:
[vms 8714c029b37a6ad3006f]