MacBook Pro 13-inch Review (Early 2010)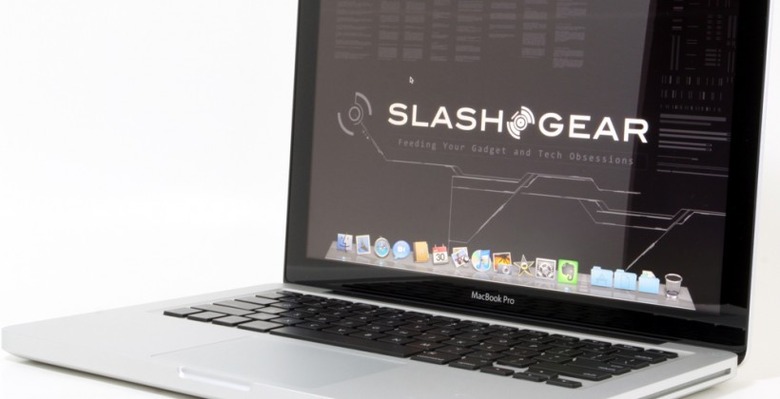 Apple's recent MacBook Pro update brought a long awaited processor update and new GPU options, but much of the attention was lavished on the larger models in the company's professional notebook range. In contrast, the 13-inch MacBook Pro saw a more modest refresh; check out the full SlashGear review after the cut.
Frustrating to many frequent travelers, Apple saved the Core i5 and Core i7 processors for the 15- and 17-inch MacBook Pro refresh, leaving the 13-inch notebook with Core 2 Duo chips. Our test unit has a 2.4GHz Core 2 Duo processor paired with 4GB of RAM, a 250GB hard-drive and integrated NVIDIA GeForce 320M graphics borrowing 256MB of the notebook's memory.
Options include a faster, 2.66GHz Core 2 Duo processor, up to 8GB of RAM and a 320GB hard-drive, or alternatively up to 512GB of SSD storage. The slot-loading DVD burner is still in place, and the previous array of ports remain: gigabit Ethernet, FireWire 800, Mini DisplayPort, two USB 2.0, an SD card slot, combined audio in/out and a Kensington lock slot. Unlike the 15-inch MacBook Pro there's no Full HD display option, only the standard 13.3-inch LED-backlit 1280 x 800 panel; we don't so much miss the extra pixels, but we wish Apple would offer an antiglare screen finish.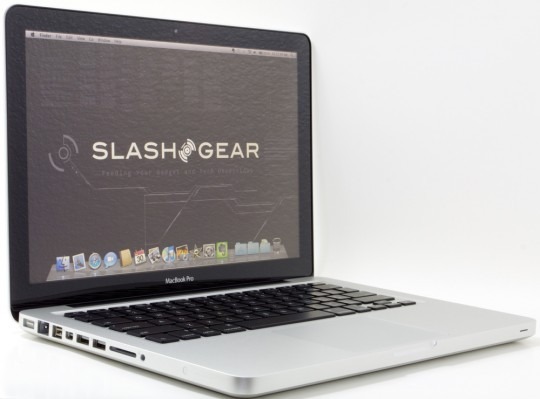 Standard wireless options include WiFi a/b/g/n and Bluetooth 2.1+EDR, while there's also an integrated webcam, a backlit keyboard and the usual multitouch trackpad. Apple reckons the non-swap 63.5Wh battery is good for up to 10hrs runtime with wireless turned on.
Physically, then, little has changed from the last generation 13-inch MacBook Pro, and that's generally a good thing. Measuring 12.78 x 8.94 x 0.95 inches it's still a relatively compact machine, and though the 4.5lb weight makes it heavier than other 13-inch notebooks the upside is the sturdy unibody aluminum build quality. Display quality is on a par with the previous model, being bright and crisp with deep, rich colors. Of course, if you're the sort of frequent-traveler to whom the 13-incher will appeal, you may find reflections in the display prove frustrating if working outside.
The MacBook Pro 13's CPU marks it out as the only Pro-line Apple notebook to lack an Intel Arrandale processor. While that may be a price consideration on the company's part, it does mean users miss out on newer features like Hyper Threading, which create "virtual" cores for use by compatible software. We ran our usual Geekbench benchmarking tests on the notebook, a synthetic test of processor and memory performance, and the MacBook Pro scored 3702 overall. That's actually a little less than the previous generation 13-incher we tested midway through last year, which scored 3892, though it's worth noting that particular machine was the 2.53GHz Core 2 Duo MacBook Pros not the entry-level model of the time. (SlashGear 13-inch and 15-inch, Mid 2009 Review)
MacBook Pro (13-inch Early 2010)
[sgbenchmark id=97 show=score]
MacBook Pro (13-inch Mid 2009)
[sgbenchmark id=72 show=score]
MacBook Pro 15-inch Core i7 Review
[sgbenchmark id=93 show=score]
In day-to-day use, the MacBook Pro kept up with everything we asked for it, though it understandably lacked the responsiveness of its more powerful, larger siblings. The absence of Hyper Threading is only noticeable in apps that have been coded to support it: this includes titles such as Adobe's Photoshop and other graphics and video design packages. Arguably Apple has made a sensible choice with their CPU picks: the type of buyers who'd be doing video editing is perhaps unlikely to choose to do so on a 13-inch notebook. When it comes to media playback, Internet access, mild video processing and other day-to-day chores, the 2.4GHz Core 2 Duo is more than sufficient.

As for the graphics, without the discrete GPU from the 15- or 17-inch machines (or their intelligent switching technology) it's another good reason for video pros to look elsewhere, but the rest of us should find it a noticeable boost from the previous -gen MacBook Pro 13's GeForce 9400M. It's certainly decent enough to deal with iMovie – though you probably won't want to do much multitasking while it's rendering – and HD playback isn't a problem (though of course you'll want to output to a standalone display for Full HD, since the notebook's own display won't support it). Apple still refuses to fit an HDMI port for ready connection to an HDTV, but at least the Mini DisplayPort now includes audio-out.
Battery life fell short of Apple's 10hr prediction, which presumes nothing but light web browsing and text editing with the screen brightness set to half (still a reasonably viewable setting, to be fair). With more typical use, throwing some music and video into the mixture, we managed between roughly 7-8hrs of wireless use, which is impressive. Loading up a DVD or gaming obviously had an impact on that figure, as did video editing, pulling it down to more like 4-5hrs.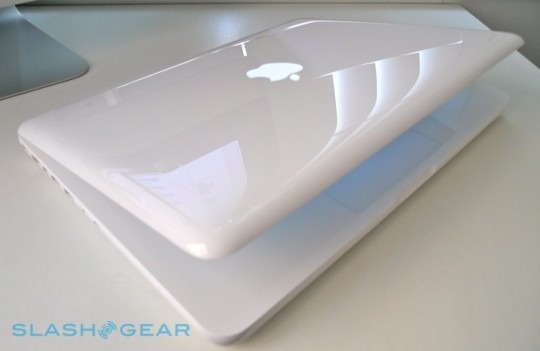 The 13-inch MacBook Pro remains in the shadow of its bigger, more expensive range-mates, though given the price increase for the entry-level 15-inch model (up to $1,799, now that a discrete GPU is standard across that line) in comparison to our $1,199 review unit (or even the $1,499 2.66GHz version) it's a costly step up for their improved graphics and processing performance. $200 does get you a considerably better machine than the plastic-bodied MacBook (SlashGear review), however, which has a slower processor, half the RAM, poorer graphics and promises less battery life. Unless you simply have to come in at under $1k, that's certainly where we'd expect to see the new 13-inch MacBook Pro bite into sales. Existing owners of the last-gen 13-incher probably shouldn't upgrade this time around, but this new version has plenty to recommend it to new buyers. http://www.apple.com/macbookpro/
MacBook Pro (13-inch Early 2010) Specification
[sgbenchmark id=97 show=system]
MacBook Pro (13-inch Mid 2009) Specification
[sgbenchmark id=72 show=system]
MacBook Pro 15-inch Core i7 Specification
[sgbenchmark id=93 show=system]