MacBook Pros (13-inch and 15-inch, Mid 2009) Review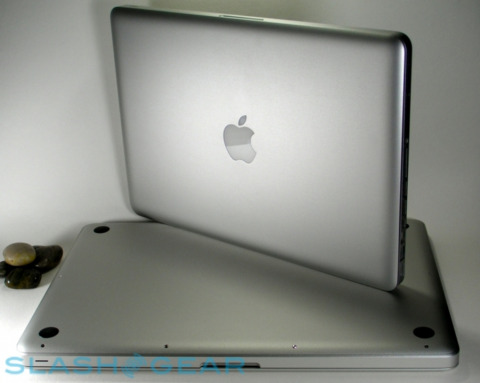 We're over the surprise of seeing new MacBook Pro models arrive at Apple's WWDC keynote, and on paper the new 13- and 15-inch notebooks certainly tick most of the consumer boxes.  Our first-impressions – which you can find with our video unboxing – were that the new Pros have emphasized the most-used functionality at the expense of dropping some of the more marginally used features.  Have those opinions changed?  Check out our full review after the cut.
We listed the main changes in our unboxing post, but aside from the inevitable processor, RAM and storage tweaks the biggest changes are Firewire 800, SD card compatibility, new displays and integrated batteries.  Most of the time we found – Pro branding or not – that using the two notebooks was exactly the same as using their previous-gen unibody versions.  That means you get the same, well-balanced and tactile keyboard, highly-glossy display coating, excellent build quality and an integrated DVD drive.
Turning to the 13-inch model first, we feel this is where new MacBook Pro buyers are getting the most for their money.  Apple claim their new LCD panel offers a much-improved color gamut, and from switching between it, its predecessor and our MacBook Air we'll certainly agree that the newest screen is also the most usable.  Colors are richer – assuming you're not battling reflections – and viewing angles are far greater than before.  Dropping the ExpressCard slot is probably not something 13.3-inch notebook buyers will find especially distressing, and the addition of an SD card slot makes perfect sense for this portable machine.  You also lose a separate audio-in socket, gaining iPhone headset compatibility with the remaining socket.
The integrated battery has done its work polarizing opinion in the MacBook Air and 17-inch MacBook Pro, so it comes as little surprise to see Apple rolling it out across more of their range.  Their argument has always been that by sacrificing user-access they can fit in a larger, hence longer-lasting pack, and that bore out with our review unit.  With casual use – browsing over WiFi, a little Office document work – we generally noticed an extra hour of runtime above the last-gen 13-inch model with its accessible pack.  Apple suggest you'll see the equivalent of five years use out of the battery before a replacement is required, though more frequent charge/discharge cycles will impact on that estimate, and in our experience most users have chosen to upgrade their notebook before that sort of time has passed.  If you do need to upgrade, Apple charge $129 for the new battery and fitting it; as we've seen in teardowns, it's also relatively straightforward to do so yourself, and we're told Apple's warranty will generally look kindle on anybody who does so, assuming they avoid other notebook injury along the way.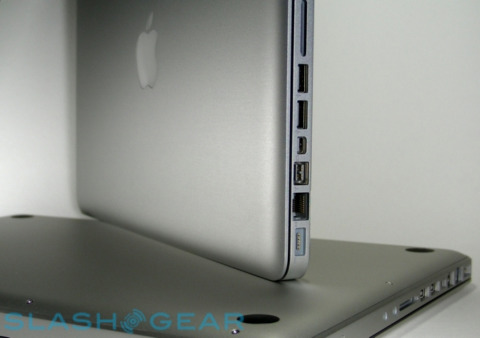 Our battery experience proved less impressive on the 15-inch MacBook Pro.  Runtimes were generally a little longer than on the last-gen model it replaces, but Apple's predictions of up to 8hrs use seemed hopelessly optimistic; we generally achieved a little over half of that, and that's with what we'd describe as "normal" use.  With the longevity failing to materialize, we're less enthusiastic about having a non-removable pack in the mid-range Pro, and from talking to other users considering upgrades it's a common concern.  Our experience – both anecdotally and from trawling the tradeshows – is that those people buying the 15-inch model are more likely to carry a spare battery.
That concern has carried over to the missing ExpressCard slot.  What seems a reasonable exchange on the newly promoted 13-inch Pro feels less so on this more mainstream model.  The 15-inch Pro has found plenty of favor with the sort of people who regularly make use of ExpressCard audio or video interfaces, and those users face either investing in USB or FireWire peripherals or stepping up to the bigger, more expensive and less portable 17-inch Pro.  It's always ambiguous to compare one manufacturer's design to another's, but we can't help but look at rivals that squeeze ExpressCard, SD, optical drive and more into the same – or smaller – dimensions and wish Apple had prioritized the same.
In terms of performance, there's an obvious boost over the last-gen models.  Our 13-inch MacBook Pro review unit came with the top-spec 2.53GHz Core 2 Duo P8700 processor, paired with 4GB of RAM and the NVIDIA GeForce 9400M graphics.  In Geekbench, the notebook scored a healthy 3847 overall.
As for the 15-inch MacBook Pro, that came with the 2.80GHz Intel Core 2 Duo T9600, 4GB of DDR3 RAM and dual graphics: switchable between the NVIDIA GeForce 9400M integrated chipset and the GeForce 9600M GT with its own 512MB of memory.  As with previous Apple notebooks offering such a setup, changing between the two graphics options demands logging out and back in again.  It scored 4211 in Geekbench.
The new MacBook Pro models are just as attractive, portable and capable, performance-wise, as their predecessors, and they remain a strong option for anybody looking for either a portable or mainstream notebook.  The 13-inch model benefits well from the spec decisions Apple has made, though we might argue that it sits somewhere in-between what we'd traditionally think of as the MacBook and MacBook Pro ranges.  At this level, an SD card slot seems far more likely to get used than ExpressCard ever did, and the extra hour or so of battery independence is a welcome addition.
We're not so convinced by the changes brought to the 15-inch MacBook Pro, however.  An SD card reader is something we've long been asking for, but we've a feeling that many people may have held their tongue if they'd known it would come at the expense of the ExpressCard slot.  That sort of connectivity, paired with Apple's legendary A/V-friendliness, has seen the 15-inch Pro gain quite the following among media-manglers, and we'd imagine they're not too impressed by what, from their perspective, is a considerable change in hardware direction.  Mainstream features have arrived at the expense of some flexibility, and while we've no doubt that Apple's statistic – that most users never actually slotted in an ExpressCard to the models that support it – is well supported by their market research, it's little consolation by those in the minority percentage.
With the range of configuration options already on offer, we're keeping our fingers crossed for a more adaptable 15-inch MacBook Pro in future.  At least a paid ExpressCard option would mean that users committed to the format could still keep the notebook on their shortlist.  As it stands, like the 13-inch model it's a usable, attractive and undeniably appealing laptop, with a great display, admirable performance and an OS that not only works well now but that's set to improve once again when Snow Leopard arrives.  Let's just hope that for their next generation Apple decides to reconnect with the minority users that, in many cases, have been its most vocal advocates.
Unboxing Apple MacBook Pro 13 and 15-inch
[vms 0a9c4655800e8a7b9ea2]