Apple MacBook Pro 13 and 15-inch Hands On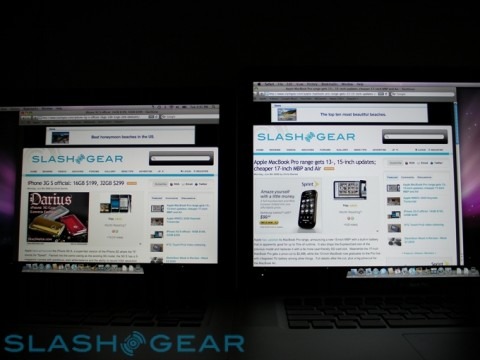 Apple's new 13-inch and 15-inch MacBook Pro notebooks were a surprise for their WWDC 2009 keynote, not least because most people were only expecting the iPhone 3G S.  Still, we won't turn our noses up at new unibody machines with boosted specifications, and so when Apple invited us to check out their new MacBook Pros we gladly accepted.  Check out our hands-on first impressions after the cut.
You could say that the two new MacBook Pro machines are more of the same.  They each keep the unibody casings of their predecessors, making them thin and light, but they now use non-user-serviceable batteries as in the MacBook Air and the 17-inch MacBook Pro.  Apple say this allows them to squeeze high-capacity Li-Poly cells in there, boosting runtime to up to 7hrs; we won't know whether that pans out until we've spent more time with our review units.
What we can tell from these first-impressions is that the new display is brilliant, with bright, rich colors that certainly seem the most impressive of the Apple panels we've seen.  They're still glossy, which we know some people find frustrating, but we reckon we could live with that for the quality of the display.  The keyboard and multitouch trackpad are the same as we've already used, but there's a new SD card port on the side that replaces the ExpressCard slot.  If we're honest we do wonder whether Apple really couldn't fit both in – the company says their research indicates only a "single figure" of users actually took advantage of the ExpressCard slot – but they insist it's a tight arrangement.  Still, it's great to be able to slot an SD card in straight out of a camera or camcorder, but pro-photographers will likely miss a CF slot.
In terms of hard specifications, Apple offer the 13-inch MacBook Pro with a choice of 2.26GHz or 2.53GHz Intel Core 2 Duo processors (each with 1066MHz FSB and 3MB of L2 cache), up to 8GB of 1066MHz DDR3 RAM, up to 500GB of 5,400rpm HDD or 256GB of SSD storage.  There's a DVD burner but no Blu-ray option, while graphics are courtesy of NVIDIA's GeForce 9400M with 256MB of DDR3 SDRAM.  Connectivity includes WiFi a/b/g/n, Bluetooth 2.1+EDR and gigabit ethernet, plus a FireWire 800 port, Mini DisplayPort, two USB 2.0 ports, audio in/out and an iSight webcam.  The range starts at $1,199 for the 2.26GHz model and $1,499 for the 2.53GHz model.
The 15-inch MacBook Pro has the same ports, wireless connectivity and RAM options, but scales up the processor choices to 2.53GHz, 2.66GHz, 2.8GHz or 3.06GHz Intel Core 2 Duo chips.  Graphics on all but the entry level model are NVIDIA GeForce 9400M and 9400M GT (the 2.53GHz model makes do with just the 9400M), and storage is up to 500GB of 7,200rpm HDD or up to 256GB of SSD.
We're taking away both a 13-inch and 15-inch MacBook Pro to put through their paces in a full SlashGear review, but our first-impressions are that Apple has taken two of their already attractive notebooks and made them even better.  Yes, the dropped ExpressCard port may frustrate a few people, but in terms of mass-use the SD card slot is probably a better bet.  We'll be keeping an eye on the runtime the fixed batteries offer – our experience with the MacBook Pro 17-inch is that the stated figures are very much a best-case-scenario prediction – and contrasting them with the last-gen models to see whether there's a real difference.  Keep reading SlashGear for the full reviews!
Unboxing Apple MacBook Pro 13 and 15-inch
[vms 0a9c4655800e8a7b9ea2]