Mac App Store for OS X launches in next 90 days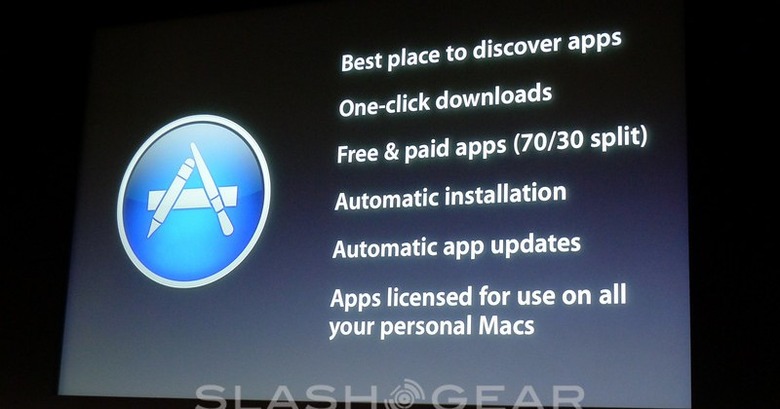 Apple has announced the Mac App Store, taking the same developer and user-friendly software distribution platform from their iOS products to OS X 10.7 Lion. Described as "the best place for apps on Mac", the Mac App Store will offer one-click downloads of free and paid titles, all with automatic installation.
The Mac App Store will sort titles by what's hot, staff favorites, top paid and top free, as well as categories, just like the mobile version. Bought titles will sit in the new Launchpad, a full-screen pane of all apps downloaded, with iPad-style pages of icons that can be flipped between with the apps.  You can also organize the icons by clicking and dragging, and create folders by dropping icons on top of each other. Updates are either handled individual, en-mass, or can be set to update automatically.
As for developers, they'll get the same 70/30 revenue split as in mobile. Titles can be reviewed and rated, just as now, and when you buy – with the one-click button – it flies out from the Mac App Store and lands in the OS X Dock.  Titles can be used full-screen, flicking from side-to-side, or in windows.
Apple has decided to release the Mac App Store for OS X 10.6 Snow Leopard rather than waiting until Summer 2011 and OS X 10.7 Lion.  In fact, it will launch within 90 days, while developer submissions will be accepted from November 2010.