It's time to have a close-up look at the newest model wearable camera ready for 1080p recording, direct-to-Facebook live streaming, and the ability to connect to your smartphone for remote control – the Looxcie HD. This machine builds on the abilities of the past with the original Looxcie Bluetooth video camera that we reviewed back in April of 2011. Back then the camera was an ear-wrap sort of situation while here we've got a slightly larger machine, made for mounting to your hiking backpack, your helmet, or basically anything flat that you'll be able to stick to with the sticky pads included in the box.
This machine is roughly the size of a harmonica, able to fit in your pocket quite easily with the included soft material drawstring bag. Also in the box is a Ball Cap Clip, a Helmet Mount, and a Bike Mount, the helmet mount including a couple of stickers and mounts so you can work with more than one helmet if you do so desire. Though the camera is not meant to be tossed down a flight of stairs, it is delivered in such a form as to be damage resistant – you wont have to worry too much about dropping this device out of your pocket onto a hard surface, essentially.
This machine connects to your smartphone via wi-fi this time around, working with a variety of apps like the "Looxcie Mobile app" as well as the Facebook app and LooxcieDesktop. Each of these apps works with iPhone and Android, Facebook, or Windows and Mac, so you'll be compatible almost no matter what. You'll be able to control what quality video you're recording on the camera from your smartphone, turn on streaming (and collect video at the same time if you like), and connect to Facebook – where the stream will be streaming.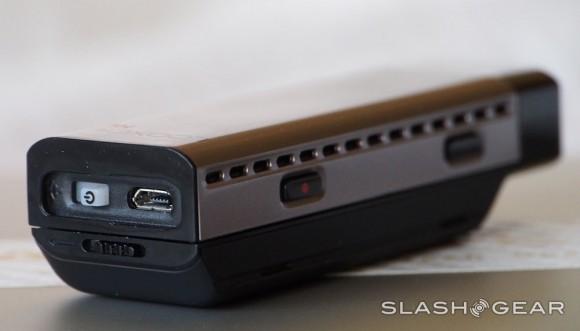 You'll be connecting to your computer to move video to your machine with a microUSB slot that sits at the back of the device, the back being covered by a "water resistant" cover included in the box. The battery that attaches to this unit is a 1200mAh in capacity, this being able to stay alive for several hours (we've not run out yet) of video at a time. You'll be collecting video on a microSD card that you'll have to supply yourself, the slot under the battery inside the device able to hold up to 32GB class 10 microSD/microSDHC cards for lots and lots of video storage.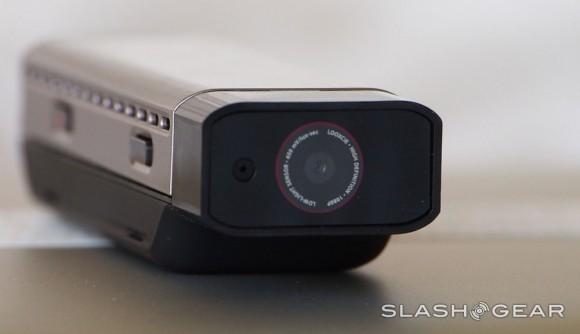 The camera's sensor is able to capture up to 1080p HD, but you'll be able to switch between that and 720, 480, or 320p resolution if you like. You've got a 650 mV/lux-sec low light-friendly sensor working here with automatic light correction (hooray!) for indoor/outdoor operation – you'll see this in action in the hands-on video above. Each video clip is saved to MP4 format – that being iTunes friendly, they make sure to note – and is easily uploaded to any number of online services without conversion.
There's a variety of additional accessories you can buy for this machine including a windshield mount and a carrying case, and the folks at Looxcie have been around long enough now that you can bet they'll be keeping the ecosystem strong for some time. This machine will cost you a grand total of $329 USD if you pick it up online right this minute, and it's available on the market now.