Logitech Ultimate Hub ditches dedicated remote for smartphone control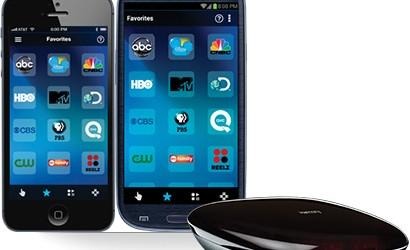 Logitech has broken its smartphone universal remote bridge away from its dedicated remotes, and will offer it as a standalone gadget for iPhone and Android users as the Harmony Ultimate Hub. The Hub had previously been available only as part of a bundle with the Harmony Ultimate and Harmony Smart Control, but will be sold separately for the first time in August for those who only want to turn their phone into a universal remote.
The compact adapter hooks up to a wireless network using WiFi b/g/n, and blasts out IR commands to control your TV, Blu-ray player, or other AV kit. However, it also has Bluetooth, which means it can control consoles such as the PS3. Support for IR blasters – which plug into ports at the back – means the Hub can even command devices that are in closed cabinets.
However, whereas the previous bundles intended users to control the Hub with the included remote control, the standalone version will rely entirely on Logitech's free apps for smartphones. Available for iOS and Android, those apps can replicate the functionality of up to eight normal remotes, with support for up to 50 favorite channel icons for easier access.

Logitech says it has preconfigured command settings for over 225,000 pieces of A/V kit, and the setup process is done on the mobile app itself, along with macro creation. If you've already got a Logitech Harmony Touch remote then adding the Hub basically brings it up to the equivalent of the Harmony Ultimate bundle.
Considering most households have a smartphone or two lying around (if not everybody in the house having their own) then avoiding the dedicated remote may well help clear up the coffee table with no loss in functionality. Logitech says the Ultimate Hub will go on sale in the US and Europe from August, priced at $99.99