Logitech Slim Folio gives 9.7-inch iPad a keyboard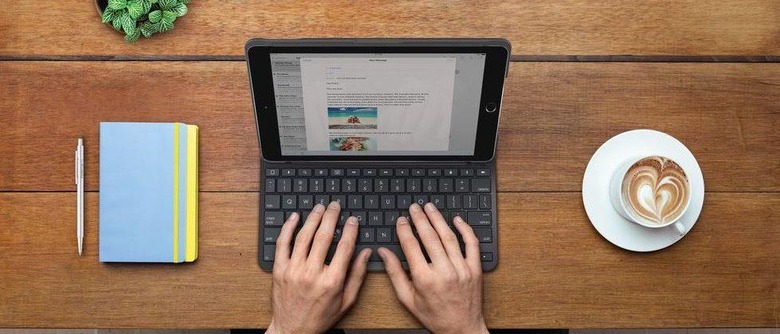 Apple's new 9.7-inch iPad is resolutely targeted at those wanting to ditch their laptop for something easier to carry, and Logitech thinks it has the perfect keyboard companion. The Logitech Slim Folio keyboard case promises more notebook-like text entry for the iOS tablet, complete with a magnetic locking mechanism for more flexibility in where you use your tablet, not to mention impressive battery life.
As you'd expect, there's a full set of QWERTY keys and a dedicated numbers row too. Logitech also squeezes in a narrower row of function keys along the top. They include things like music control, volume, brightness, and navigation.
Of course, because the fifth-generation 9.7-inch iPad doesn't have the Smart Connector of its iPad Pro cousins, Logitech uses a wireless connection instead. Still, the Bluetooth radio is impressive in its frugality. While the Slim Folio Keyboard Case does still require its own power supply, that's just a set of coin cell batteries.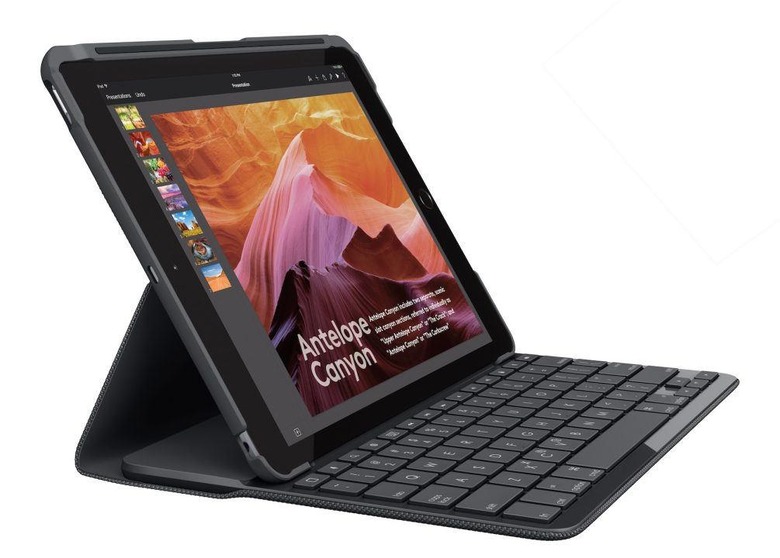 They're user-replaceable, as you'd hope, but you shouldn't need to do it that often. According to Logitech, a set of fresh batteries should last for up to four years, though that's assuming you're typing for two hours per day. The keyboard automatically shuts off when you close it, and turns back on when you open it up again and slot the iPad into the typing position.
Logitech's design also promises to lock the iPad into place magnetically when you set it up. While that could make it a little more fiddly to flip from typing to ready to go in your bag, it also means that you can use it on your lap or any other surface without having to worry about it flapping around.
In all, the Slim Folio case is 435 grams (0.96 pounds) including the batteries. Closed, it's 20 mm (0.79 inches) thick. It's up for pre-order from today, priced at $99.99, and will begin shipping later this month.