Logitech G adds G560 LIGHTSYNC speakers and G513 keyboard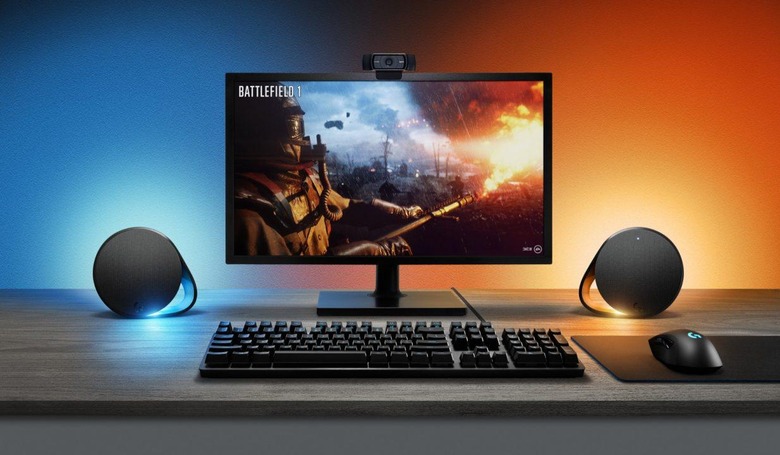 Logitech G, the company's gamer-centric division, has added a new G513 Mechanical Keyboard and G560 PC Gaming Speaker to its line-up, complete with plenty of color-changing LEDs. The two new peripherals join Logitech's existing range of keyboards, mice, and headsets, all of which have been designed with hardcore gamers in mind.
Logitech G513 Mechanical Gaming Keyboard
Logitech has given the G413 a bigger brother, taking the ethos of its affordable gaming keyboard and giving it a premium twist. Now, it uses an anodized and brushed, aircraft-grade 5052 aluminum top-case, and has a detachable USB cable for easy replacement. There's also an integrated USB pass-through port, which supports both power and data.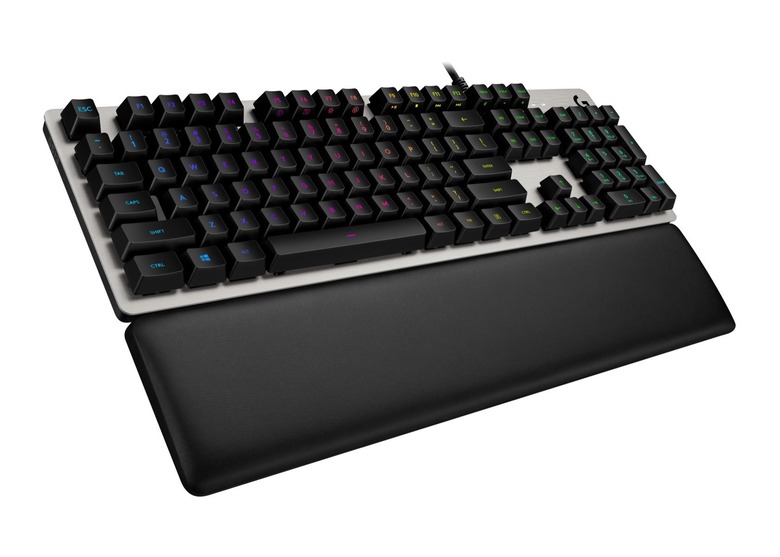 Unlike the G413, there's also a wrist-rest that comes with the G513. That's made of high-quality memory foam and wrapped with a premium leatherette. Logitech has designed it to be individually adjustable in addition to the keyboard angle, too.
However it's not just aesthetic changes that Logitech has made. The company is also introducing a new version of its homegrown Romer-G key-switches, with two different types available on two different models of G513. Although the company isn't saying anything on the record quite yet, we get the impression that this could be the start of a new series of switch options.
So, you can have the G513 with the same keys as used in the G413, which are now being referred to as the Romer-G Tactile. They have a higher trigger point and a tactile feedback during actuation, but for those who don't like that, there are the new Romer-G Linear. They're more Cherry Red-like in their action, with a smoother keystroke.
Either way, you get LIGHTSYNC RGB lighting that's programable in Logitech's companion app, and can be customized in different layouts according to app or game. They also promise up to 25-percent faster actuation than rival 'boards, at a distance of 1.5mm, along with low-force 45g actuation.
The Logitech G513 will arrive at retailers in April. It'll be priced at $149.99, and will be offered in two colors: Carbon, which will be available worldwide, and Silver, which will be available in select markets and with the Romer-G Tactile keys only.
Logitech G560 PC Gaming Speaker
Logitech's second addition to the G family is its first set of gaming speakers, the Logitech G560. On the one hand, it's a 2.1 stereo system borrowing technology from the accessory-maker's well-esteemed consumer range, in this case with 240 watts of peak and 120 watts of RMS power.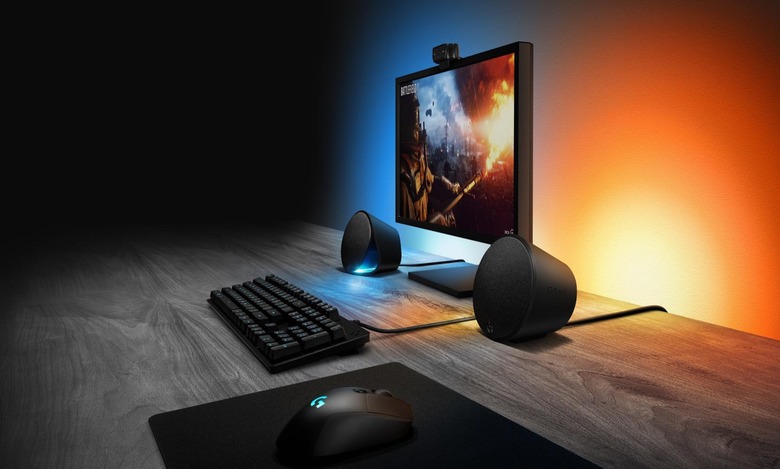 You get DTS:X Ultra 1.0 3D audio support, and a down-firing subwoofer. Inputs include Bluetooth, USB, and a 3.5mm aux-in; there's also a 3.5mm output, for plugging in a set of headphones. Cleverly, Logitech's Easy-Switch system means you can have simultaneous connections with up to four connected devices, so that you can have music coming through from your phone while still getting game sounds too.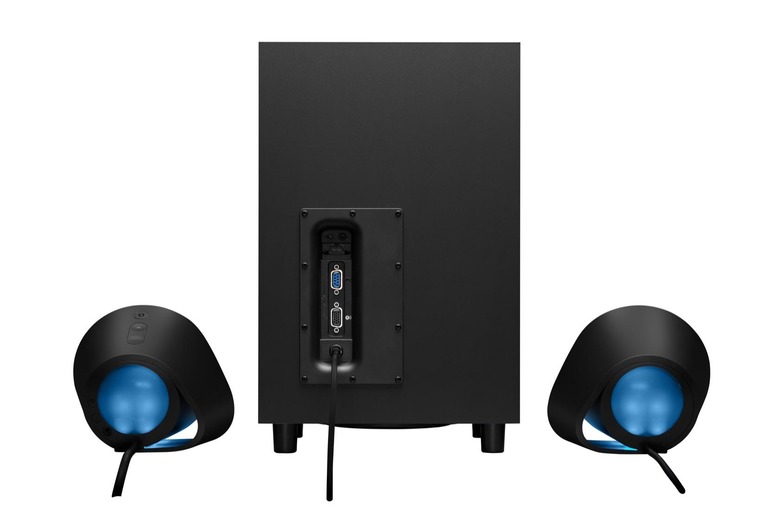 As for LIGHTSYNC, it's Logitech's attempt to borrow some Philips Ambilight drama but for gaming. Of course, you can choose whatever color palette you like for the speakers' LEDs, including patterns that change according to the music that's playing. However, courtesy of the LIGHTSYNC API there's integration with games, too.
In an ideal world, the game developers themselves will synchronize the audio, on-screen play, and colors: Logitech says there'll be several games at the G560's launch which do that. However, if your favorite title doesn't have native support, you'll be able to add it yourself with the company's companion app. That gives you four lighting zones, resizable sections that monitor the predominant color in user-selectable portions of the display, which are mapped to the front and rear lights on the left and right speakers.
The Logitech G560 speaker set will go on sale in April. It'll be priced at $199.99.