Logitech launches G413 mechanical gaming keyboard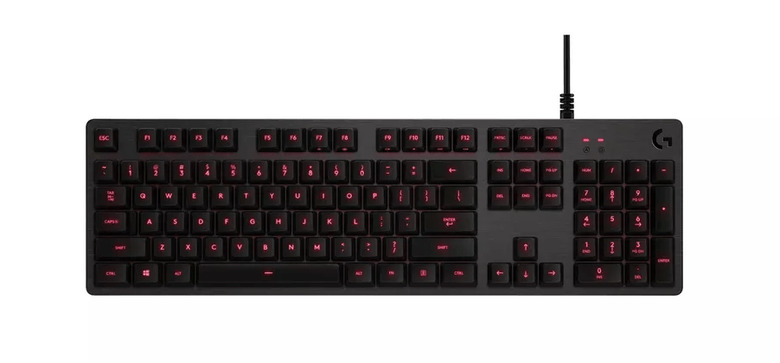 Logitech has revealed a new mechanical keyboard for gamers, and while it may not be an RGB device, it still seems like a solid piece of hardware. We mean that quite literally too: the G413 mechanical gaming keyboard features a brushed aluminum frame, putting it a step above other keyboards made out of plastic. If you happen to be a button masher, this might just be the keyboard for you.
Beyond the durability provided by an aluminum frame, one of the main draws of the G413 will almost certainly be Logitech's own Romer-G switches. Developeed as an alternative to Cherry MX mechanical switches, many of Logitech's keyboards released over the past few years have used Romer-G switches. Each key has a total travel distance of 0.12-inches and has a durability rating of 70 million presses, so again, this is a good choice if you tend to mash more more often than making strategic keystrokes.
There are two configurations for the G413: carbon and silver. In the carbon model, you'll get a red backlight, while the silver model comes with a white one. Though these colors are static, you can cycle between five different brightness levels, giving you a degree of customization even without RGB features.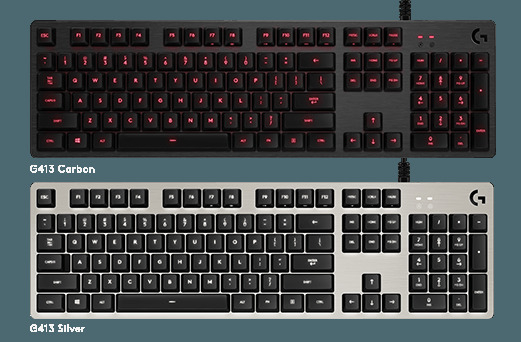 Beyond all of that, the G413 comes with a few other features aimed at gamers. The function keys can be used as macro keys in-game, and a USB pass-through allows you to plug your mouse into the side of the keyboard or charge your phone while you're playing. Finally, you can enable game mode to cut off Windows key functionality while you're playing, stopping you from accidentally hitting it and interrupting your game.
The G413 is available now, though the G413 carbon will be more widely available. If you're looking to pick up the G413 silver, you'll need to head to Best Buy, as it's exclusively available there. The keyboard will set you back $89.99, which is a pretty respectable price when you consider how expensive gaming keyboards can be. Be sure to head down to the comments section and let us know what you think of the G413!
SOURCE: Logitech